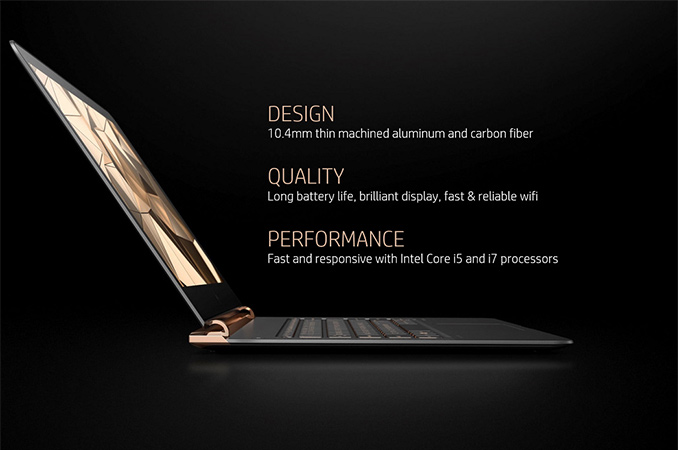 HP has announced its new Spectre laptop - the world's thinnest 13.3" notebook. Despite its miniature size, the Spectre uses Intel's Core i5/i7 microprocessor, a PCIe-based SSD, a full-size keyboard as well as an advanced audio system developed by Bang & Olufsen. To build its new notebook, HP had to use a number of innovative technologies, although to make the system so small and thin it had to sacrifice upgradeability and serviceability. On top of it all, the HP Spectre comes across as very price competitive.
The HP Spectre is just 10.4 mm thick and weighs 1.10 kilograms (2.45 lbs). To build it, HP had to use CNC-machined anodized aluminum and combine it with carbon fiber, a custom display panel with Gorilla Glass 4 as well as special recessed piston hinges. To maximize battery life (which is officially listed at 9 hours 30 minutes), HP had to use two types of batteries of different shapes inside its Spectre laptop, giving four cells in total. As part of a premium line, it comes in black and gold finish as well as with a different varient of HP's logo, emphasizing the position of the system.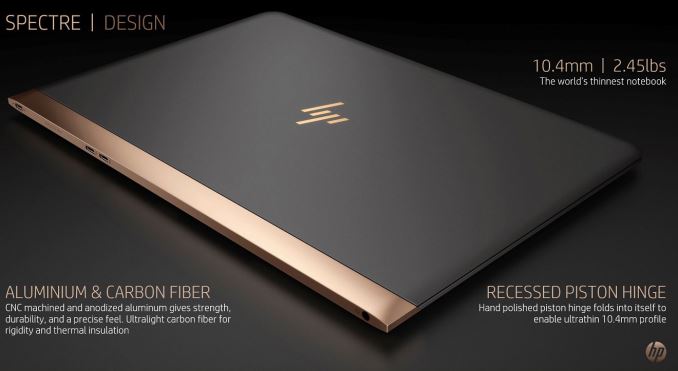 The HP Spectre laptop is based on the Core i5-6200U (two cores with Hyper-Threading, 3 MB L3 cache, Intel HD Graphics 520) or the Core i7-6500U (two cores with Hyper-Threading, 4 MB L3 cache, Intel HD Graphics 520), but the manufacturer does not disclose exact clock-rates of the CPUs. HP notes that the microprocessors may not necessarily work at their default frequencies all the time, but indicates that the chips are still considerably faster than the Core M processors used inside the Apple MacBook. These could either be the full fat 15W parts, or the models could be in cTDP down mode.
Comparison of Ultra-Thin Notebooks
HP Spectre
Apple MacBook (2015)
ASUS UX305UA
Screen Resolution
1920×1080
2304×1440
1920×1080
3200×1800
CPU
Intel Core i5-6200U
Intel Core i7-6500U
Intel Core M 1.1 GHz
Intel Core M 1.2 GHz
Intel Core M 1.3 GHz
Intel Core i3-6100U
Intel Core i5-6200U
Intel Core i7-6500U
Graphics
Intel HD Graphics 520
(24 execution units)
Intel HD Graphics 5300 (24 EUs)
Intel HD Graphics 520
(24 execution units)
RAM
8 GB (LPDDR3?)
8 GB LPDDR3
4 GB LPDDR3
8 GB LPDDR3
Storage
256 GB SSD
512 GB SSD
256 GB SSD
512 GB SSD
128 GB SSD
256 GB SSD
512 GB SSD
Wi-Fi
Wi-Fi
802.11ac Wi-Fi
802.11ac Wi-Fi
USB
3.1
3 × Type-C
-
-
3.0
-
1

× Type-C

2 × Type-A
2.0
-
-
1 × Type-A
Thunderbolt
2 × Thunderbolt 3
-
-
HDMI
-
-
micro-HDMI
Other I/O
Microphone, stereo speakers, audio jack
Thickness
10.4 mm
up to 13.1 mm
16 mm
Weight
1.10 kilograms
0.92 kilograms
1.30 kilograms
Price
256GB:
$1170 (Core i5)
$1250 (Core i7)
256GB:
$1300 (1.1 GHz)
$1600 (1.3 GHz)
$750 - $1200
To cool-down the CPUs, HP uses its so-called 'hyperbaric cooling technology', which features two ultra-thin fans, a heat-pipe as well as a special copper radiator. The fans intake cool air from the outside and create significant air pressure inside the chassis to blow away hot air. The company does not disclose how loud such cooling system is, but implies that noise levels created by the Spectre should be comfortable.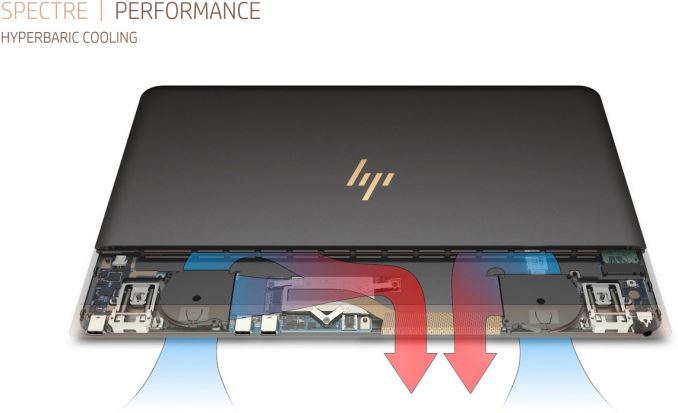 The Spectre is equipped with 8 GB of memory (we believe LPDDR3) that is soldered to the motherboard, which means that it cannot be upgraded. The notebook is also equipped with a standard 256 GB or 512 GB SSD, but HP does not release performance figures or which model this is. The company also says that since the design of its laptop is "sealed", it is impossible to upgrade the storage drive at home, suggesting a soldered down version of an M.2 drive. Keeping in mind that it is impossible to add storage to the majority of tablets and 2-in-1 hybrid PCs, it is not surprising that HP chose to limit upgrade capabilities of its Spectre notebook. When creating Spectre, HP focused mostly on making an extremely thin design, but not to offer capabilities for further modernization.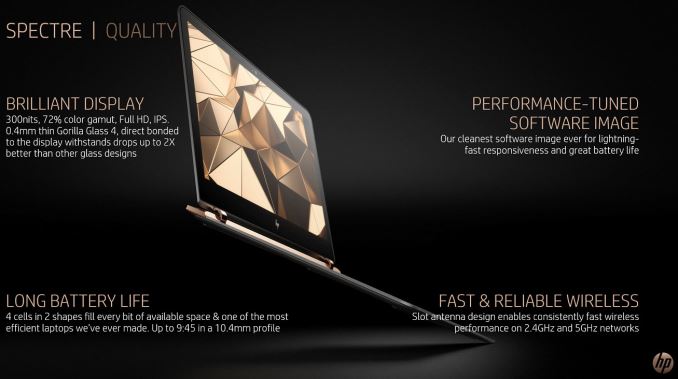 Due to thin design and relatively limited battery capacity of the HP Spectre, the manufacturer did not have much choice when it comes to display panels. HP uses a 13.3" full-HD (1920×1080) IPS panel with 300 nits brightness, which covers 72% NTSC. According to HP, the panel provides the right balance between resolution, power consumption, the brightness, and the price. Nevertheless, the most important feature of the panel is its thinness. The whole display assembly is just 2 mm thick.
The HP Spectre also comes with three USB type-C ports, two of which support Thunderbolt 3. These will be powered by Intel's Alpine Ridge controller, though HP has not disclosed how many are in use (either one controller for both ports, or two controllers for one each). The TB3-enabled ports can be used to connect external displays as well as Thunderbolt 3 peripherals. It is noteworthy that since HP does not talk about connecting things like external graphics adapters to its Spectre notebooks, this feature may not be enabled right now.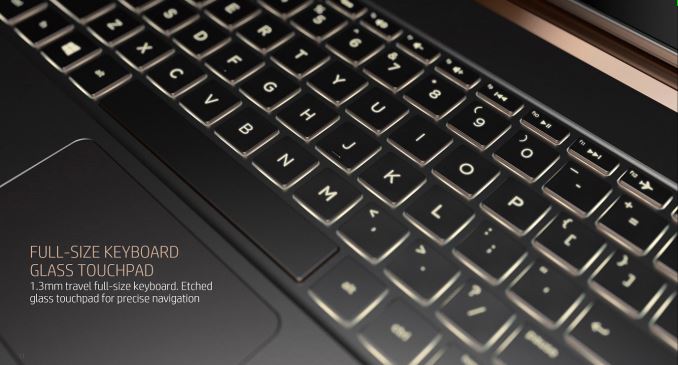 The notebook is also equipped with a keyboard that has 1.3 mm travel as well as a trackpad with full-travel etched glass. HP compares it Spectre to Apple's MacBook and claims that the keyboard, as well as the touchpad of the MacBook, are less comfortable to use than those on the HP machine, something that needs to be verified by independent reviews.
Communication capabilities of the HP Spectre include a Wi-Fi and Bluetooth module that supports 2.4 GHz and 5 GHz networks. The module supports only one "slot" antenna, therefore, its performance may be lower when compared to other modern notebooks, another thing that HP may have had to sacrifice for portability. HP also does not specify if the Wi-Fi is 802.11ac or 802.11n only.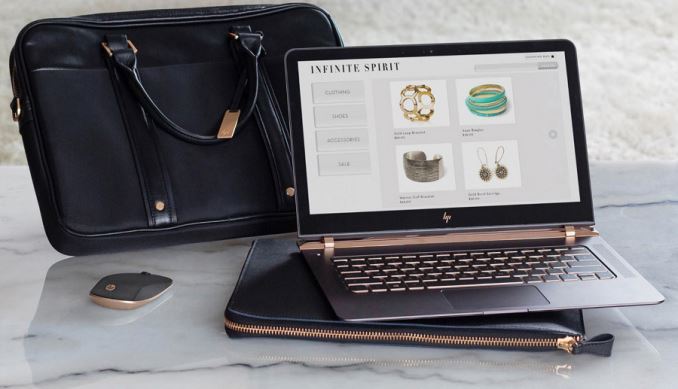 This month HP will begin to sell its Spectre laptop at hp.com as well as at Best Buy in the U.S. The Spectre based on the Intel Core i5-6200U and equipped with 8 GB of RAM and 256 GB SSD will cost $1169.99, whereas the model featuring the Intel Core i7-6500U, 8 GB of memory and a 256 GB SSD will be priced at $1249.99. There is no word on the cost of the 512GB models as of yet, although we expect another $100-$150 on top of that. In May, the manufacturer plans to start selling its thinnest laptop in other countries, but it does not reveal the list of countries or recommended prices. In the US, HP will also offer limited edition systems co-developed with famous designers combining a golden finish and Swarovski crystals. In addition, the company will also sell accessories (a Bluetooth mouse, a carry bag and a leather sleeve) that match the design of the Spectre notebook.
Source: HP