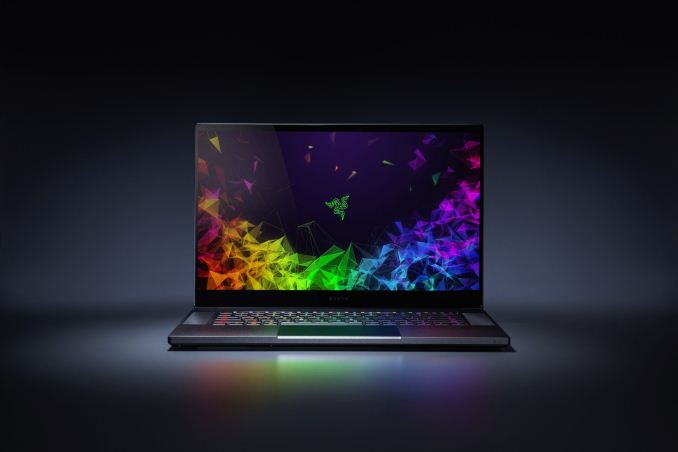 Today Razer is taking the wraps off a new model in their lineup. The Razer Blade 15.6 slots in as a replacement for the 14, and boasts some features we've not seen in the rest of their lineup yet. They'll be offering it in a variety of configurations, with different displays, and either a NVIDIA GTX 1060 Max-Q, or GTX 1070 Max-Q GPU.
Razer has done a fantastic job of taking their best-in-class CNC aluminum chassis and evolving it to keep it fresh. With the 15.6, it's what you'd expect in a Razer Blade: thin and light. It also boasts some very narrow bezels, at just 4.9 mm, but with the top bezel slightly larger to accommodate the webcam in the correct location. Razer has moved to a clickable touchpad, letting them add a slightly larger one as well, and it ships with Precision drivers. And to fit in with the rest of the thin lineup, the GTX 1060 model is just 16.8 mm thick, while the GTX 1070 is only a half millimeter thicker. Weight is 2.07 – 2.15 kg (4.56 – 4.73 lbs) depending on the specs.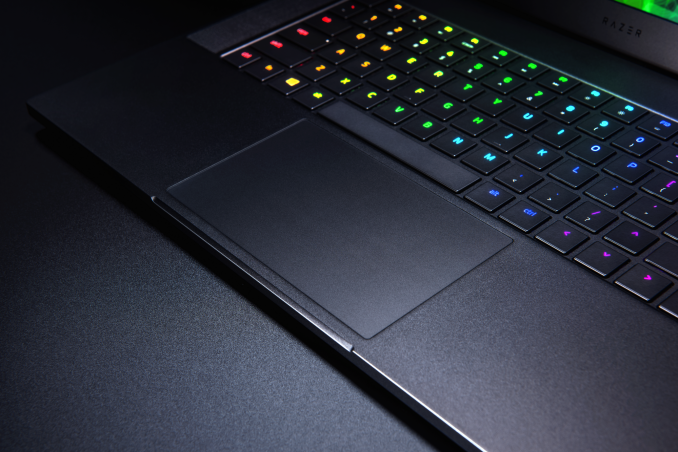 Let's talk about specs. The Razer Blade 15.6 is shipping with the Intel Core i7-8750H CPU as the only processor option. This offers six cores, twelve threads, and up to 4.1 GHz of turbo. It's shipping with 16 GB of DDR4, although the system will be offered with32 GB as well. The base SSD is a 512 GB PCIe model, with up to 2 TB available. GPU options, as mentioned, are either GTX 1060 or 1070 Max-Q models, which should offer good performance but thermals that this thin laptop can support.
Razer Blade 15.6
Models
GTX 1060
GTX 1070
CPU
Intel Core i7-8750H
6 Cores, 12 Threads
2.2 GHz - 4.1 GHz, 45W TDP
RAM
16 GB - 32 GB DDR4-2667
GPU
NVIDIA GTX 1060 Max-Q
1280 CUDA Cores
6 GB GDDR5 192-bit
NVIDIA GTX 1070 Max-Q
2048 CUDA Cores
8 GB GDDR5 256-bit
Storage
512 GB - 2 TB PCIe NVMe SSDs
Display
1920x1080 60Hz IPS matte
1920x1080 144Hz IPS matte (optional)
3840x2160 60Hz IPS with touch
factory calibrated displays
Wireless
Intel Wireless-AC 9260
802.11ac 160MHz channel support
MU-MIMO 2x2:2
Bluetooth 5
Connectivity
Thunderbolt 3 USB-C x 1
USB 3.0 x 3
mDP 1.4 x 1
HDMI 2.0b x 1
Battery
80 Wh
200 W Adapter
80 Wh
230 W Adapter
Dimensions
355 x 325 x 16.8 mm
14 x 9.3 x 0.66 inches
355 x 235 x 17.3 mm
14 x 9.3 x 0.68 inches
Weight
2.07 kg / 4.56 lbs (non-touch)
2.15 kg / 4.73 lbs (touch UHD)
Price
$1899.99 and up
$2399.99 and up
There's plenty of connectivity as well, and starting with wireless, Razer has gone back to an Intel Wireless solution with the latest generation Intel Wireless-AC 9260. Razer had been using Killer Wireless for the last couple of generations, but interestingly they've moved back to an Intel one when Killer is also using this same NIC as the platform for their 1550. But regardless, the 9260 is a solid looking update over the 8260, with the same 2x2:2 configuration, but adding support for 160 MHz channels as well, so the max connection rate is now 1.73 Gbps if your router has 160 Mhz available. Razer is of course also offering Thunderbolt 3 on a USB-C port, which is required for their eGFX enclosures, including the just launched Razer Core X. In addition, there's three USB 3 ports, mini DisplayPort 1.4, and HDMI 2.0b.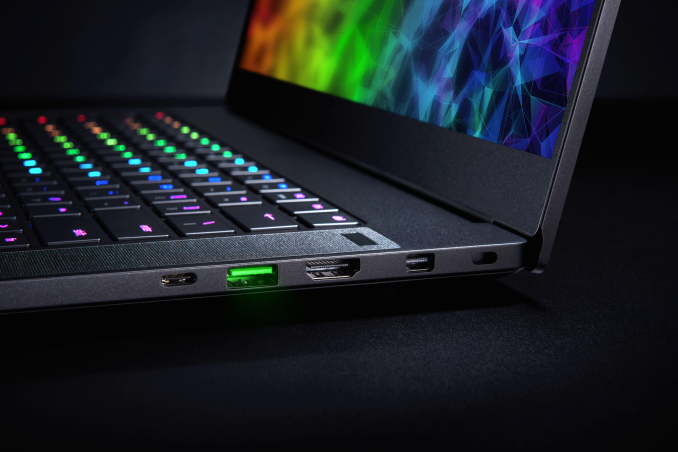 Razer is offering three display choices as well, to hit a wider range of client needs. The base model is a 60 Hz 1920x1080 display, but for those that want nothing but smoothness, you can also move to a 144 Hz 1920x1080 panel with 100% sRGB coverage. For those that want clarity at the expense of refresh rate, there's also a 3840x2160 panel offered with a 60 Hz refresh, and 100% Adobe RGB support. And, Razer is now individually calibrating each panel at the factory which should improve panel performance tremendously. That's fantastic to see, since Razer tends to be on the premium end of the price range.
Battery life should be decent as well, since the laptop ships with an 80 Wh capacity, and it includes NVIDIA Optimus support to bypass the GPU when its not needed. For charging, it ships with either a 200-Watt, or 230-Watt adapter, depending on the GPU.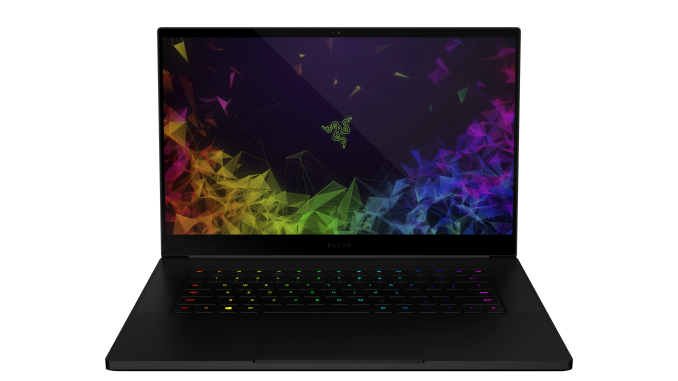 And in case you aren't up on the standard features on the Razer laptop lineup, the new 15.6-inch model also comes with per-key RGB lighting, which can be controlled with Razer's Chroma software, and the keyboard is also anti-ghosting. The stereo speakers flank the keyboard, offering forward facing audio as well.
Razer is yet again offering one of the nicest looking gaming laptops around, and it's packed with the latest tech too. It's great to see them move to calibrated displays, highlighting the premium nature of their lineup. Their lineup now offers a wide variety of models, which should let them attract more of the market than before. We're hoping to get a review unit for this new model soon, so stay tuned.
Source: Razer