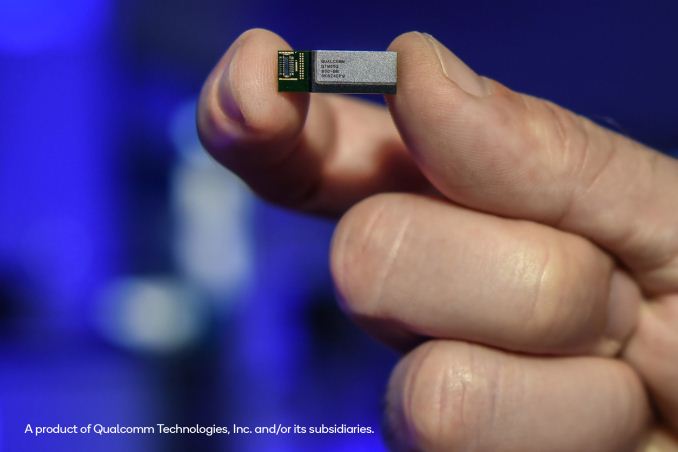 For the past couple of years now, Qualcomm has been very publicly putting together the final pieces of the puzzle that are 5G cellular. The company announced their discrete 5G NR modem – the Snapdragon X50 – all the way back in 2016. Meanwhile in 2017 they demonstrated their reference phone design, which integrated the in-development X50 with a prototype millimeter wave (mmWave) antenna, allowing Qualcomm and its OEM customers to begin field testing the technology in a handheld form factor. Now in 2018 as the launch of 5G NR networks close in, the company is announcing the final version of their mmWave antenna module, the QTM052.
Although the antenna isn't getting an especially memorable name, it's one of the key components of the 5G hardware ecosystem Qualcomm is building, and one they're understandably proud of. mmWave is a critical component of the 5G specification, as it's going to be these high (and relatively unused) frequencies that are going to give 5G enough spectrum to hit its multi-gigabit target speeds. And while the more traditional the sub-6GHz spectrum of 5G will see some improvements as well, it's a much smaller gain tempered by limited spectrum and decreasing spectral efficiency gains.
The QTM052 is a complete antenna module, integrating the necessary mmWave radio transceiver, RF front end, power management IC, and the phased antenna array necessary to send and receive signals. The module is exclusively for mmWave frequencies – so everything over 24GHz – while separate antennas and RF modules will handle sub-6GHz bands. Of those high frequencies, the module supports bands n257 (800Mhz spread through 26.5 to 29.5GHz), band n261 (27.5 to 28.35GHz) and band n260 (37 to 40GHz). And while not explicitly called out by Qualcomm, as our resident mobile guru Andrei Frumusanu has noted, those bands mean that this antenna module is primarily going to be used in the United States, as it doesn't include band n258 (24.25 to 27.5GHz) which is one of the principal bands for Europe and China.
Unfortunately Qualcomm isn't disclosing some of the technical details of the module – particularly the number of individual antennas that make up the array size – nor the physical size of the module. As far as the array size goes, we have a suspicion that it's 8x8, but that remains to be seen. However the module's physical dimensions are easier to take a stab at. Having thankfully included a penny in their stock photo that we can use as a size comparison, some quick paper napkin math puts the module at roughly 19mm x 7mm, and 2.9mm thick. So while the module is small, it's not tiny. Which is an important distinction when adding up how many modules will be needed.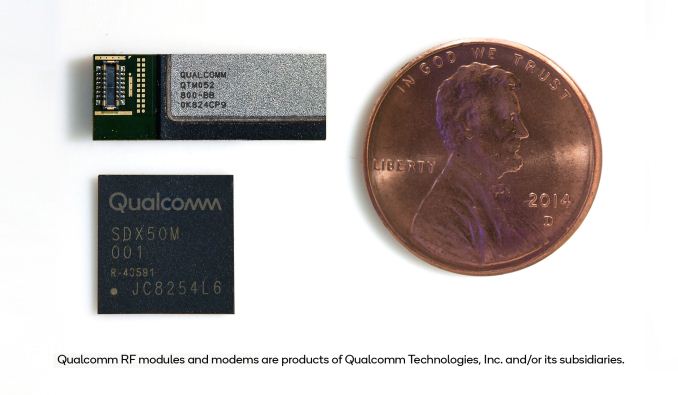 Altogether the X50 modem supports up to 4 mmWave modules, and while Qualcomm mentions this number in their press release as well, talking to Qualcomm's representatives they believe we're more likely to see just 3 in smartphones. This will be on top of the antennas and supporting equipment necessary for the sub-6GHz bands – and we're not even counting 4G and WiFi radios – which is why there's such an emphasis on size.
The use of multiple antenna modules, in turn, is all about getting around the basic limitations of mmWave's frequency: poor signal propagation. 24GHz+ is part of what the ITU defines as the "extremely high frequency" band, and signals in this band are attenuated and absorbed by essentially everything. The atmosphere, the weather, the phone body, and especially human hands are all blockers here, and even when the signal isn't blocked, it's functionally line-of-sight. So having 3 separate antenna modules is necessary to ensure that a phone has a chance of achieving line-of-sight with a base station. Even then, the 5G standard relies on high-precision beam forming & steering in order to send signals in the right direction, which is why the modules internally use such a sizable array of antennas. And while Qualcomm's press release talks up this point a bit too loftily – saying that it was "previously thought unattainable" – it's none the less not an easy problem to solve. And even if the technology works, the LOS requirements mean that the market considerations for mmWave are very different from the traditional cell tower paradigm, as many smaller base stations are required for good coverage.
Meanwhile, tangential to today's antenna module announcement, Qualcomm is also announcing their more conventional RF modules for sub-6GHz 5G, the QPM56xx RF module family. These will be paired with the mmWave module, providing the necessary "baseline" (and building-penetrating) 5G connectivity.
Finally, as these are Qualcomm's commercial antenna modules, the company is already ramping up their production. OEM customers are being sampled now, with volume shipments set to begin in November/December. Potential network readiness aside, the company thinks that their OEM partners can have mobile broadband adapters on the market before the year is out. Otherwise 5G-enabled smartphones are expected to start hitting the market in the first half of 2019.
On which note, it's worth reminding everyone that the X50 is a discrete, 5G-only modem. So any of the first-generation phones integrating 5G connectivity with Qualcomm's solution will require this separate modem on top of whatever they use for 4G connectivity, meaning there will be power and size trade-offs made that we haven't seen since the first generation of LTE phones.
Source: Qualcomm