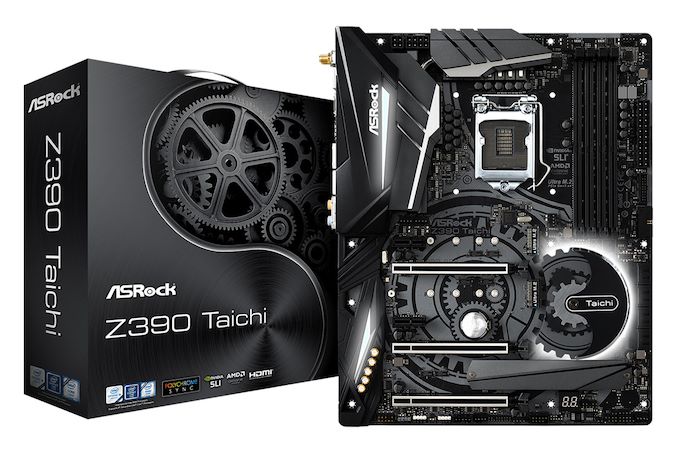 In the first of our new Z390 motherboard reviews, we're taking a look at the ASRock Z390 Taichi. This model sits quite high up in the product stack and offers users 2x1G LAN, three PCIe 3.0 x4 M.2 and a total of eight SATA ports. ASRock has taken the unique Taichi design and implemented the new Z390 chipset into the mix for a high-performance and feature-packed offering designed for enthusiasts looking to push the new Intel processors.
AnandTech 9th Gen CPU and Z390 Motherboard Coverage
The ASRock Z390 Taichi Overview
The ASRock Z390 Taichi motherboard is an ATX sized offering which is primarily targeted towards enthusiasts and users looking to push the envelope on the new Intel 9th Gen Core processors, such as the Core i9-9900K and Core i7-9700K. The Z390 boards also support 8th Gen as well.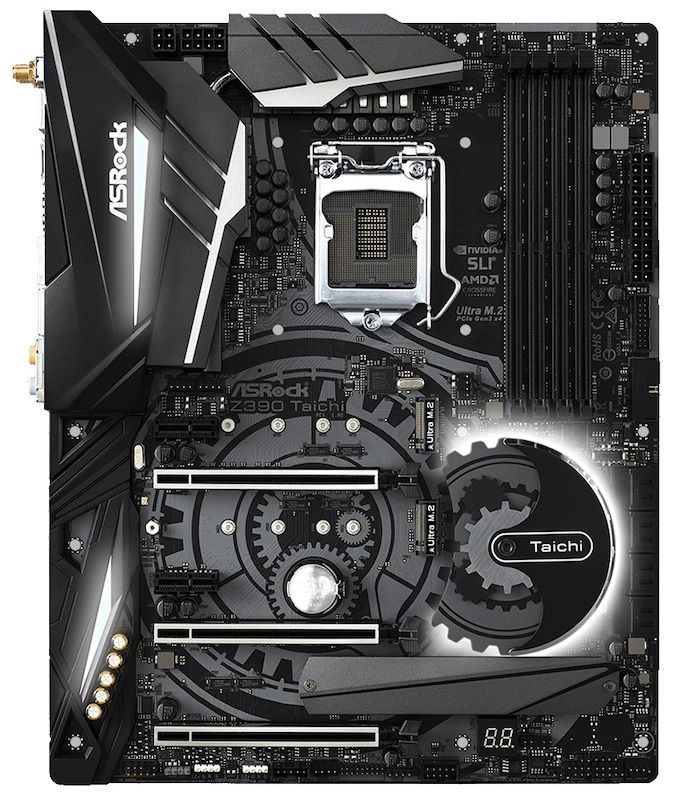 The Z390 Taichi is quite similar in specification and design in comparison to the ASRock's previous Z370 Taichi which we reviewed in July with an upgrade. First of all the chipset heatsink on the newer Z390 Taichi resembles that of the one we saw on the ASRock X470 Taichi Ultimate with the design similar to that of a working cogwheel. Even the power delivery heatsinks look noticeably bigger than the previous Z370 variant with ASRock using a similar 5+2 power delivery to the Z370 Taichi, but with different componentry. One of biggest design upgrades ASRock has improved over the Z370 Taichi is the extended rear panel cover which covers the PCB gap between the rear IO and the power delivery heatsink; this does look much better visually.
In regards to what's new on the ASRock Z390 Taichi, a solid looking 10-phase power delivery with an IR35201 8-channel PWM controller operating in a 5+2 configuration. The CPU VCore section is made up of ten Texas Instrument 87350D NexFET power blocks which are doubled by IR3598 dual drivers. Each individual phase is complemented with a dedicated 60A choke and the Z390 Taichi uses 12K capacitors throughout. It is worth noting that the ASRock Z390 Taichi, the ASRock Z390 Taichi Ultimate and the more gaming focused ASRock Z390 Phantom Gaming 9 all feature the same power delivery across all three models.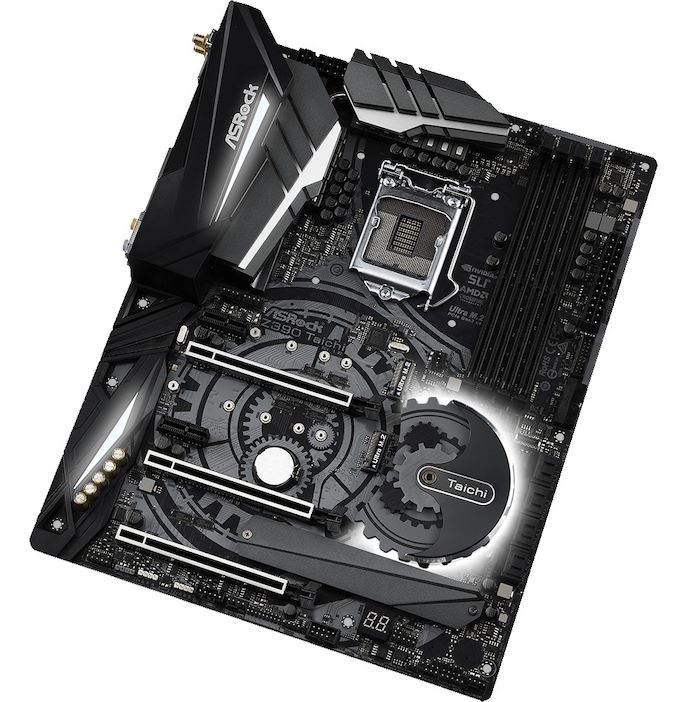 Also featured is a triplet of M.2 slots and eight SATA ports. Of the eight SATA ports, six are being fed from the Z390 chipset and the other two coming from an ASMedia ASM1061 SATA controller. None of the full-length PCIe 3.0 slots shares bandwidth with any of the M.2 slots, but two of the M.2 slot shares SATA privileges with two SATA ports and one M.2 shares bandwidth only when a SATA based drive is installed with one SATA port, so even if a user is using a PCIe 3.0 x4 capable drive in the slot, two associated SATA ports will be disabled regardless. The configuration is as follows:
If M2_1 slot is in use, SATA3_0 and SATA3_1 are disabled and visa versa
If M2_3 slot is in use, SATA3_4 and SATA3_5 are disabled and visa versa
If M2_2 slot is populated with a SATA drive, SATA3_3 will be disabled and visa versa
Memory support seems to have dropped slightly on paper when compared against the Z370 model as the ASRock Z390 Taichi is advertised as having support for DDR4-4200 with a total of four slots offering up to 64 GB of total capacity; the Z370 Taichi officially supports DDR4-4333. The Z390 Taichi is packing some serious cooling potential with a total of eight 4-pin fan headers which are split between one dedicated CPU fan header, a secondary CPU fan header and six system fan headers. All bar the primary CPU fan header supports water pumps which have a maximum power rating of up to 12 W (1A), while the other seven headers offer support for up to 24 W (2A) of fan or pump power. The Z390 Taichi also makes use of a debug LED, a single addressable RGB LED header, two regular RGB LED headers, a performance mode/Easy OC header as well as a single Thunderbolt AIC 5-pin connector onboard.

On the rear panel is a host of connections including three USB 3.1 Gen2 Type-A, a single USB 3.1 Gen2 Type-C and four USB 3.0 Type-A ports, as well as a DisplayPort 1.2 and HDMI video output. In addition to this are a clear CMOS button, a PS/2 combo keyboard/mouse port and a total of five 3.5mm audio jacks with a S/PDIF optical output. Touching on the networking capabilities of the Z390 Taichi reveals dual Intel Gigabit LAN ports with one being powered by an Intel I219V and Intel I211AT pair of Gigabit NICs. Also present on the rear panel is a set of antenna connectors for the integrated 802.11ac Wi-Fi adapter; unfortunately there is no Wave 2 support with wireless speeds limited up to 433 MB/s.
The performance outputted by the ASRock Z390 was typical of what we were expected given the tweaks to the benchmark suite and the slight variation to the test bench from previous LGA 1151 motherboard reviews. The most notable victories came in our POST test with some slick booting times, as well as in our POV-Ray rendering and 7-Zip encoding tests. Given the slight difference in test benches, the power results can be attributed to the use of a beefier cooler with extra fans, but as more Z390 motherboards roll in for testing the power draw across the spectrum looks higher than it potentially might be. There were no obvious pitfalls experienced in testing with the only anomalies seemingly coming down to a change in the benchmarking suite and through an alteration to the test bench hardware, but more will become apparent as we test more Z390 boards.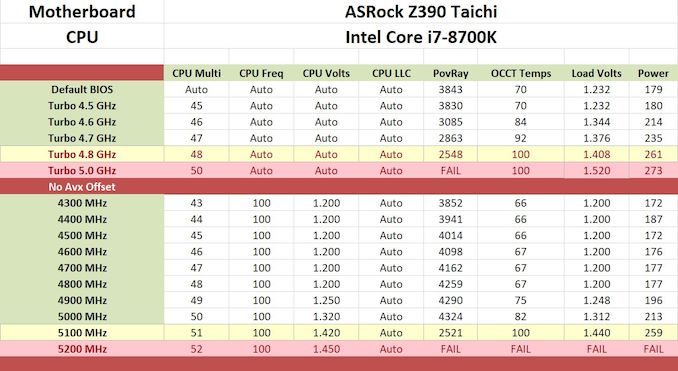 For users looking to use the Z390 Taichi to overclock the unlocked core i3, i5, i7 and i9 8th or 9th generation Intel processors, the ASRock is certainly well equipped to do so. With a comprehensive 12-phase power delivery which is split into a 5+2 configuration with the use of doublers on the CPU Vcore side of things, the overclocking performance was as good as could be expected. The VDroop control was quite tight with an automatic load-line calibration applied by the BIOS with manually set voltages, but the predefined profiles hammered an excessive amount of voltage through our i7-8700K. This equated to a load voltage on the Turbo 5.0 GHz profile of 1.52 V on the VCore which instantly failed our stress testing before it had the chance to begin. Manually we needed a VCore of just 1.30 V in the BIOS to run stable at 5.0 GHz which puts the EZ OC mode into the danger zone.
The ASRock Z390 Taichi is one of the more premium enthusiast grade models on the Z390 chipset and as such currently commands a moderate price tag of $240. This puts the Z390 Taichi around $60 cheaper than the higher-end ASRock Z390 Taichi Ultimate ($300) and $30 cheaper than the gaming-focused Z390 Phantom Gaming 9 ($270). With a solid looking 12-phase power delivery, an auspicious MOSFET heatsink and with a quality controller set consisting of two Intel Gigabit NICs and a Realtek ALC1220 audio codec makes this model a very appealing investment for users looking to take advantage of power of both the 8th and 9th generation of Intel processors.
Flip on over to the conclusion for a summary of results, or for a deeper look into the motherboard, we cover the following over the next few pages:
Overview [this page]
Visual Inspection: Analysis of the Board Components
BIOS and Software: Looking that the non-hardware portion
Board Features and Test Bed: The full specification list, and how we test
System Performance: Component testing, such as power, boot times, and DPC Latency
CPU Performance
Gaming Performance
Conclusion