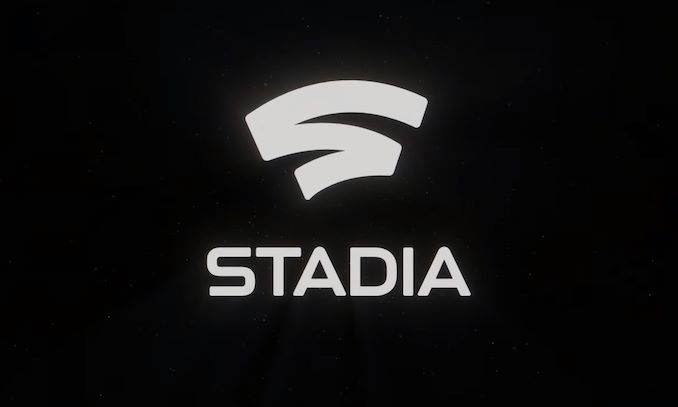 A couple months back at GDC 2019, Google announced their intent to step into the video game streaming market with Stadia. Based around Google's cloud computing platform that's been heavily augmented with AMD Vega 56-caliber video cards, Google pitched Stadia as a high-end game streaming service, capable of streaming games at up to 4K@60fps with HDR. With the initial announcement being mostly a technology intro and teaser of what the service could be capable of, Google promised more to come later this year, and now in a pre-recorded presentation this morning, the company has announced their launch plans for the service and how it will work for customers.
As revealed in their announcement, Google will ultimately have options for both subscription and subscription-free gaming, with the aptly named Stadia Pro and Stadia Basic services. However only the subscription service, Stadia Pro, is launching this year, and that will arrive in November. Even with that division, however, Google won't just be taking just anyone who wants to hand over $9.99/month for the Stadia Pro service. Instead, Google will be limiting access to the service (at least for 2019) to customers who purchase a $129 hardware and service bundle from the company, which Google calls the Stadia Founders Edition.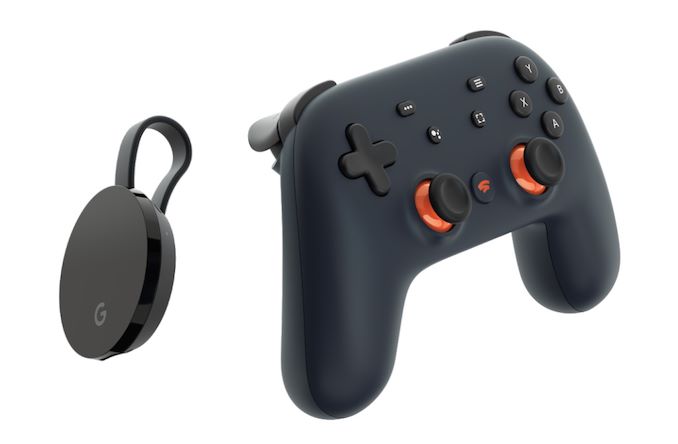 The Stadia Founders Edition bundle includes both 3 months of Stadia Pro service along with Google hardware and some extra perks. On the hardware front, Google will be including a Chromecast Ultra to use as a console, as well as the service's unique Stadia Controllers, which are Wi-Fi enabled and connect directly to Google's services rather than their host device. The Founders Edition bundle also includes a full copy of Destiny 2 as a bundled game (ed: thought I understand Destiny 2 is about to go Free-To-Play), along with whatever games are available as part of the regular Pro subscription.
Overall, the Stadia Founders Edition bundle seems to be an effort by Google to throttle early use of the service, so that they can avoid a Day 1 crush of user demand. This is a problem virtually any popular multiplayer game vendor can relate to – everyone wants to play right away – and due to Stadia's hardware requirements, Google can't just spin up more instances like they can over their generalized server infrastructure. None the less, it also means that at least for 2019, Stadia has a very literal buy-in requirement to use the streaming service.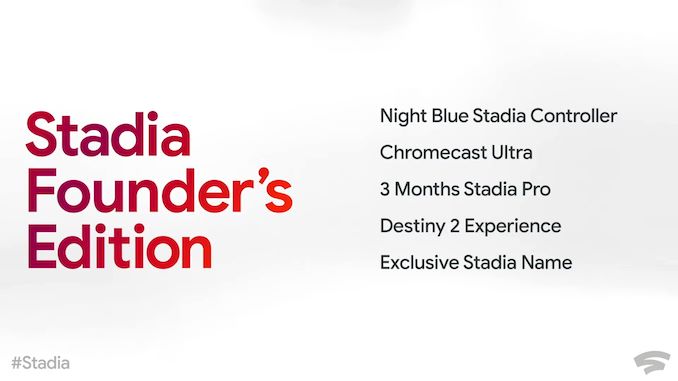 Meanwhile, nothing else has been said about the server hardware itself. While we still suspect that Google is going to be using Zen 2 processors here, Google hasn't added anything to what they announced back in March: AMD GPUs with Vega 56-like specifications, paired with a custom x86 processor that runs at 2.7GHz and supports AVX2.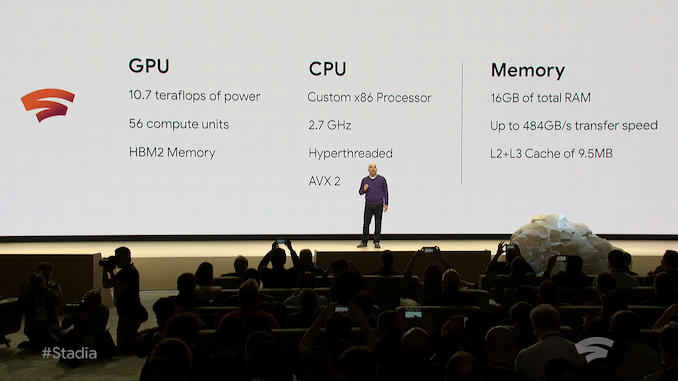 Looking at the service itself, Google has by and large copied the current Xbox 1/Playstation 4 business models. The Pro service that is launching this year is priced at $9.99/month (once the Founders Edition trial service period expires), and combines a mix of free games with access to higher quality streaming. Specifically, the Pro service will allow game streaming at up to Stadia's maximum resolution of 4K@60fps, along with 5.1 surround sound. Basic users, on the other hand, are capped at 1080p at 60fps, all with stereo sound. More nebulous is how the games included with the Pro service will work, but at a high level it sounds a lot like the Playstation Instant Game Collection/Xbox Live Games With Gold, where there will be a limited selection of games available, and subscribers will get discounted on buying further games.
Google Stadia Service Tiers
Pro
Basic
Max Resolution
4K @ 60fps
1080p @ 60fps
Audio
5.1
Stereo
"Additional Free Games"
Yes
No
Buy Games
Yes
Yes
Price
$9.99/month
Free
"Buying" being an operative word there. Along with the Pro subscription, Google will also be selling games on the service as well, and this will be how both the Stadia Basic service works and how Pro subscribers get access to games not included in the Pro subscription. For Stadia Basic users the concept is straightforward: if they buy games on Stadia they can stream them for free at any time, at up to the service's 1080p resolution limit. But with Stadia Basic not launching until next year, the details on how free streaming will work are slim – mainly whether it will be truly free, or if Google will be doing something (e.g. ads) to recoup the cost of the server time. As for Pro users who are already paying for a subscription, they'll be able to stream purchased games at 4K, like any other Stadia game.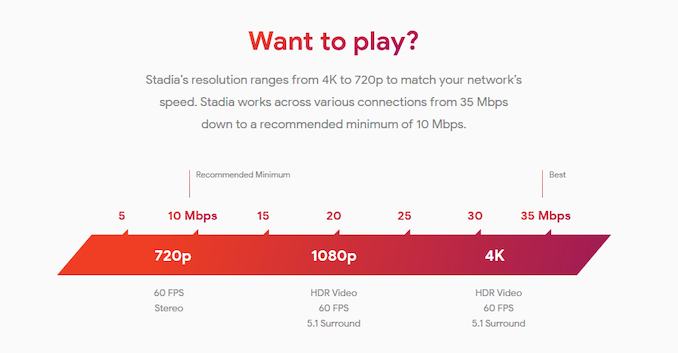 4K support will come at a cost, however, and not just the Pro subscription. As part of today's service announcement Google also announced how much bandwidth would be required for the service's various supported resolutions. Peak 4K streaming will require 35Mbps, or about 16 GB/hour of data. This is well within the abilities of most consumer residential broadband services, but it means that it's going to eat a fair bit of data in the process. And even then, there's an argument to be made that 35Mbps is a bit low for 4K@60fps streaming (UHD Blu-rays peak at over 100Mbps), but we'll see how things work in practice when the service launches. Meanwhile 1080p streaming will take things down a notch, with Google indicating that it will be around 20Mbps.
And, while these bandwidth ranges are also well within what a solid LTE service can provide, at least for now Google is pushing people towards using heartier, non-cellular connections for the service, telling The Verge "You should not expect your existing cellular connection to work". So while it can be accessed from an Android smartphone, for example, in practice it looks like Stadia is going to be a moderately tethered service for now, favoring Ethernet and local Wi-Fi connections.
Finally, on the client hardware side of matters, Google has also specified what devices and platforms Stadia will initially be supported on. Out of the gate, the service will be available on Chromecast Ultra devices, the Pixel 3 series (including the 3a), as well as any computer with the Chrome browser. Google has previously announced that they want to bring access to as many devices as possible, but for now this is a Google-only affair.
Overall, Google's plans for the service remain bold. However I'm hoping that this isn't all Google is going to say about the hardware and how resources are allocated. There are still a lot of interesting questions to answer, not the least of which is who's providing the Stadia CPU.
Perhaps the biggest outstanding question is what kind of image quality settings the service will be targeting – with respect to AMD, a single Vega 56 is generally a bit too weak for 4K with all the bells and whistled turned on – and what a 1080p instance gets allocated (half of a Vega 56?). There's also the multi-GPU factor; Stadia's infrastructure has the ability to support multiple GPUs, but will Google actually employ it, and will games devs be able to make good use of it? These are all fairly nerdy and in-depth questions, but if Google wants to be able to position Stadia as an alternative to high-end consoles, then it would be nice to see how the hardware and instancing truly stack up.
Source: Google Stadia