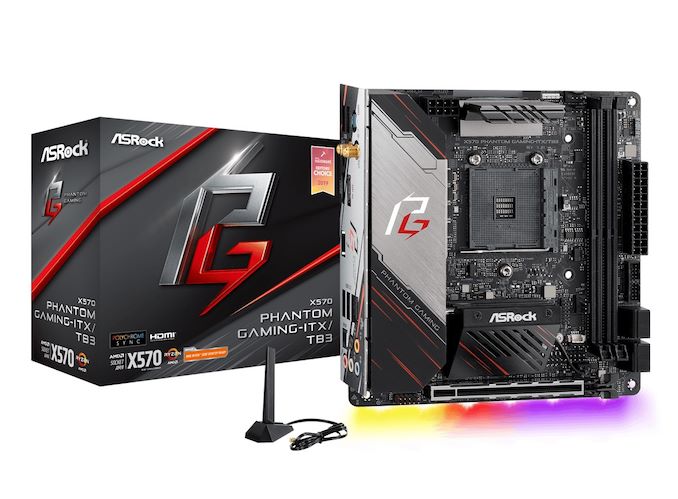 When it comes to small form factor systems, options are few and far between. For AMD's X570, out of the 35+ motherboards currently available, just four of them are smaller than mATX. This doesn't give users much to choose from. In this case, mini-ITX implementations have to get it right, and over the last few years ASRock has been at the forefront of the enthusiast small form factor market with an array of models. Today we are reviewing its latest mini-ITX motherboard, the ASRock X570 Phantom Gaming-ITX/TB3. This unique product incorporates Thunderbolt 3 into the frame, pairing it with 802.11ax Wi-Fi 6 as well. Read on for our review.
All the Small Things
Having a range of products to choose from can be a little daunting and when it comes to building a PC. Users have to strike a balance between features, quality, and budget, and all somewhat tedious to achieve in unity. High-end features can now be found on mid-range hardware, but some of them lack that special finesse. One particular section of products where things must be done correctly is in the small form factor, as being small shouldn't necessarily hinder performance from a high-performing desktop processor. There are obvious limitations on a small form factor platform such as mini-ITX, and the main one considered to be the biggest hindrance is the size.
The ASRock X570 Phantom Gaming-ITX/TB3 looks to dominate the AMD AM4 mini-ITX market with the implementation of some highly premium features including Thunderbolt 3, a DisplayPort 1.4 input to allow users to run multiple 4K screens from a discrete graphics card, and an Intel AX200 Wi-Fi 6 802.11ax wireless interface. The balance made to accommodate all of this is the presence of only a single PCIe 4.0 x4 M.2 slot, which is located on the rear of the board. However, there are four SATA ports with support for RAID 0, 1, and 10 arrays. Along the bottom of the board is a single full-length PCIe 4.0 x16 slot, with a range of front panel headers and connectors closely located around it.
If that wasn't enough, this motherboard also has Intel LGA115x cooling mounts, and not the regular AMD AM4 cooling mounts. We'll go into the reasons why and how later in the review.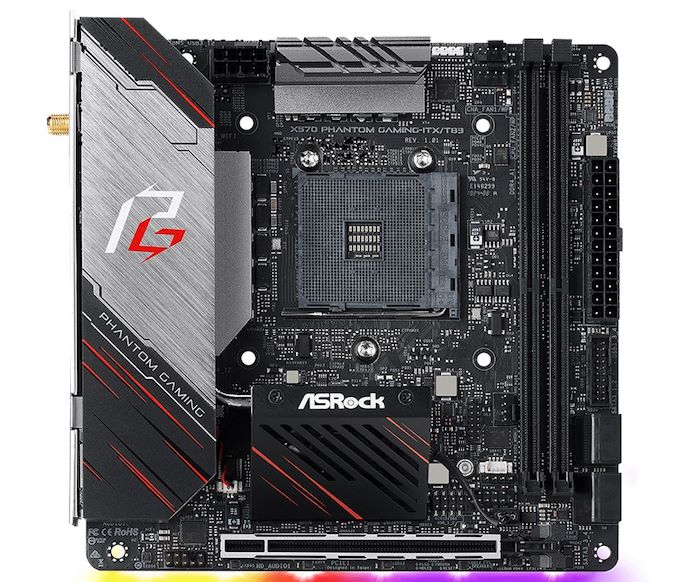 Memory support on the ASRock X570 Phantom Gaming-ITX/TB3 is also impressive, with support for up to DDR4-4533 and up to 64 GB across its two available slots. As it stands, this model has the highest-rated mini-ITX support out of the box in terms of memory speed, but to utilize it to best effect, users will need to tweak the Infinity Fabric clocks within the firmware.
Enthusiasts looking to utilize the overclocking capabilities of Ryzen 3000 and X570 will find a 10-phase power delivery which on paper, certainly looks capable for a board of this size. It's spearheaded by a Renesas ISL69147 PWM controller which is operating in a 4+2 configuration. The CPU section has eight ISL99227 60 A power stages which are doubled up with four ISL6617A doublers which are commonly used by vendors these days. The biggest aspect to consider aside from the quality of the power delivery is the heatsink cooling it and ASRock's implementation is very hearty in the weight and mass department. It has two heatsinks which are connected via a heat pipe which connects the power delivery section to the chipset heatsink, which also includes a small cooling fan within the main section. The SoC section of the power delivery has its own heatsink with all of the board's heatsinks affixed securely to the board with screws.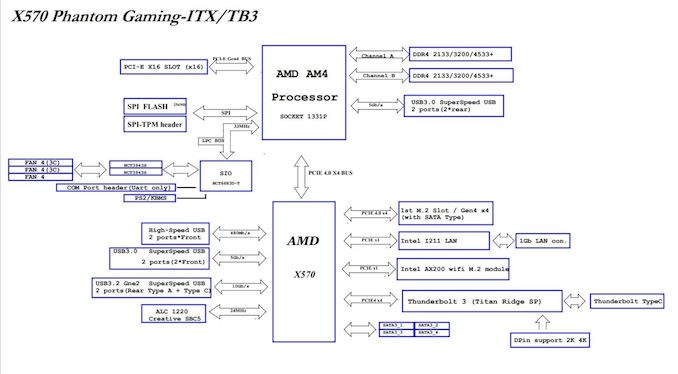 ASRock X570 Phantom Gaming-ITX/TB3 Block Diagram
Another notable aspect to consider on the ASRock X570 Phantom Gaming-ITX/TB3 is it comes supplied with Intel LGA115x cooling mounts. While the majority of users are questioning what the logic is behind this, this model is mini-ITX and as such, there aren't as many low profile coolers available on the market for AM4 as there are for LGA115x. Including an Intel mount on this smaller form factor AMD board actually improves cooler compatibility with some coolers, but the implementation of the heatsinks does cause concern that some coolers just will not fit. ASRock has a cooler compatibility list which is made up of supported Corsair, Silverstone, and Noctua coolers, but in retrospective, it's a little thin and something users should consider if looking to purchase this model.
The TL;DR on Performance
Judging the ASRock X570 Phantom Gaming-ITX/TB3 on performance, in our system tests we found it to perform very well with our system tests with low power consumption, quick booting times in our POST test, and good out of the box DPC latency performance. In our computational testing, we found the results to be competitive with scores at the top of the charts in our 3DPM point calculation test, but lower than expected performance in tests such as our Blender rendering test. It paints an average and overall picture in the grand scheme of things, but performance differences between most models previously tested are marginal, and as stated, its performance is competitive.
Our experience of overclocking our Ryzen 7 3700X processor on the ASRock X570 Phantom Gaming-ITX/TB3 was heavily focused around the VDroop when leaving the LLC profiles up to the firmware. When running our manual overclocks, we found that we experienced quite a bit of VDroop at all frequencies testing. At 3.6 to 4.2 GHz with 1.25 V set for the CPU VCore in the BIOS, we experienced around 0.019 V of VDroop. This isn't necessarily bad and we experienced no instability in our testing within our parameters. A noticeable benefit of the VDroop effect came in our power consumption with figures below what we have experienced on other boards at the same or with similar settings. Performance in our POV-Ray benchmark was good and consistent as we went up 100 MHz. Another point to note is those CPU temperatures were a little warmer than expected, but that can be attributed to the form factor and the density of components around a tightly packed AM4 CPU socket. This still doesn't explain the warmer than normal CPU temperatures at default settings and we noticed higher than usual CPU VCore voltage at load than the previous X570 models we've seen; applying PBO even though on the latest ABBA AGESA from AMD saw no improvement over stock either.
The Competition
Users have little to choose from in the SFF space, and the ASRock X570 Phantom Gaming-ITX/TB3 positions itself in the market well with a relatively low price of $240. Compared with what's currently on the market, the GIGABYTE X570 I Aorus Pro WIFI ($220), the ASRock X570 Phantom Gaming-ITX/TB3 looks to be the better of the two on specifications (we have a test of the GBT coming soon). The ASUS ROG Strix X570-I Gaming ($299) and the slightly bigger mini-DTX ROG Crosshair VIII Impact (£384) and both ASUS models are also competitive in the small form factor X570 space. The ASRock X570 Phantom Gaming-ITX/TB3 in a very good position for users looking to drive multiple displays from Thunderbolt 3 and build a high-performance small form factor gaming system. There are caveats such as a single PCIe 4.0 x4 M.2 slot and alas, no motherboard is perfect, but ASRock has a fine run of solid mini-ITX models across multiple chipsets and with Thunderbolt 3 and Wi-Fi 6 802.11ax wireless connectivity driving the feature set, small isn't always less.
Read on for our extended analysis.