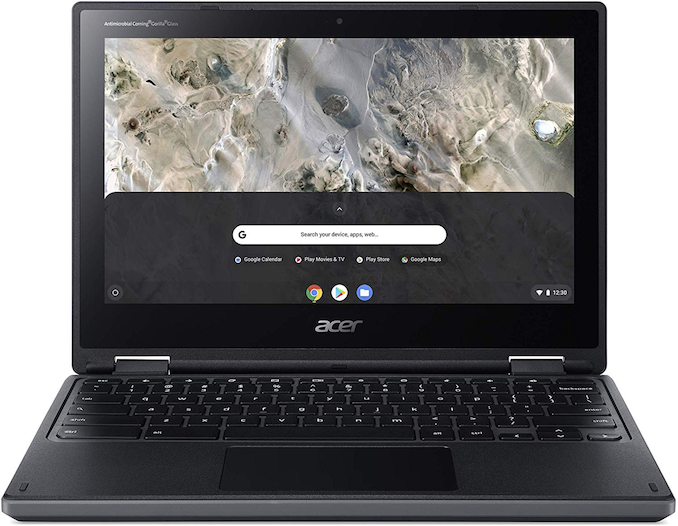 Acer has started sales of its new rugged convertible Chromebook laptop for corporate and educational markets. The Chromebook Spin 311 brings together a low price tag, sturdy design, and a 10-hour battery life.
Acer's Chromebook Spin 311 R721T comes equipped with a Corning Gorilla Glass-protected 11.6-inch multitouch IPS LCD with a 1366x768 resolution. The 2-in-1 has rather thick bezels, which makes the laptop noticeably bulkier. Being an inexpensive AMD-powered Chromebook, the PC is based on AMD's entry-level A4-9120C APU, which uses a dual-core Excavator module running at 1.8 GHz and the GCN 1.2-based Radeon R4 integrated GPU with 2 CUs operating at 720 MHz. The system has 4 GB of DDR4 RAM and 32 GB of NAND flash storage.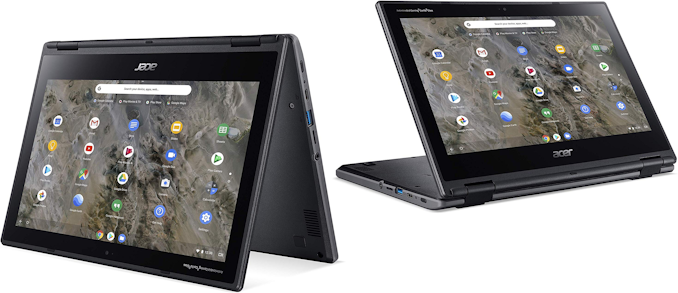 Moving on, wired and wireless connectivity available for the Chromebook Spin 311 R721T is typcial for today's machines. The list includes Wi-Fi 5, Bluetooth 4.1, two USB 3.1 Gen 1 Type-A ports, two USB 3.1 Gen 1 Type-C ports (with DP support), and a microSD card reader. Meanwhile, the absence of GbE will be a strong disadvantage for those who rely on wired networks. On the multimedia side of matters, the convertible notebook has a webcam, stereo speakers, a microphone array, and a 3.5-mm audio jack for headsets.

The Chromebook Spin 311 is made of thick plastic and features a design that can withstand drops from 122 cm and a drainage mechanism that can protect internal hardware if up to 342.5 ml of liquid is spilled on the computer. According to Acer, the Spin 311 has been tested to survive 59% - 88% humidity, temperatures between -32ºC and +49ºC, and vibrations of up to 7.7 G per axis. Rugged design has it price though: the laptop is 23.5 mm thick and weighs 1.5 kilograms, which is quite heavy for an 11.6-inch machine.
Acer Chromebook Spin 311
Component
R721T
APU
AMD A4-9120C
1.6-2.4 GHz, 1MB L2 cache
6-W TDP
Radeon R4 Graphics
RAM
4 GBl DDR4
Storage
32 GB eMMC
Display
11.6-inch 1366x768 IPS LCD
Dimensions
296 x 206 x 23.5 mm
Weight
1.5 Kg
Connectivity
Wi-Fi 5 (802.11ac)
Bluetooth 4.1
Battery
4,200 mAh Li-Poly, up to 10 hours
45 W USB-C Charger
Ports
2 x USB 3.1 Gen 1 Type-A
2 x USB 3.1 Gen 1 Type-C
microSD Reader
Headset jack
Other
Webcam, speakers, microphone array
Starting Price
~$200 (not confirmed)
At present, Acer's Chromebook Spin 311 R72T is available from select Japanese retailers as well as from Amazon UK. The latter sells it for £198.99, so it is reasonable to expect the unit's US MSRP to be around $200.
Related Reading:
Sources: Acer, PC Watch, Business DN'A