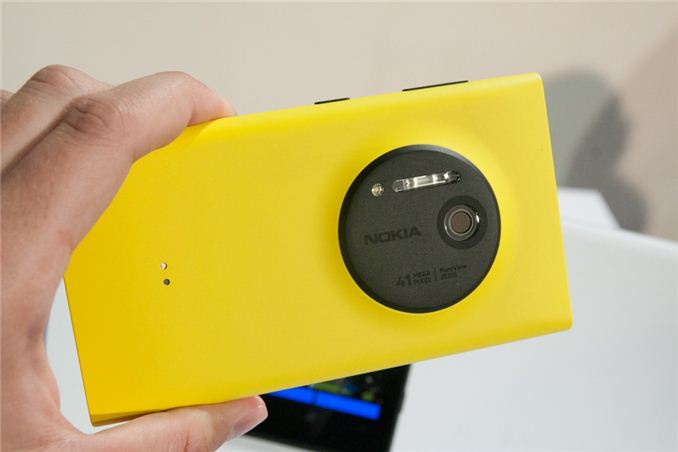 Today at Nokia's Zoom Reinvented event, the handset maker announced the newest member of its Lumia family of Windows Phone devices, the Lumia 1020. The handset includes a PureView 41 MP system and 6-element optical system with optical image stabilization, making it similar to the PureView 808. The Lumia 1020 is Nokia's new flagship with the most advanced imaging that Nokia has to offer. I've put together a table with the specifications that have already posted
Camera Emphasized Smartphone Comparison
Samsung Galaxy Camera (EK-GC100)
Nokia PureView 808
Samsung Galaxy S4 Zoom
Nokia Lumia 1020
CMOS Resolution
16.3 MP
41 MP
16.3 MP
41 MP
CMOS Format
1/2.3", 1.34µm pixels
1/1.2", 1.4µm pixels
1/2.3", 1.34µm pixels
1/1.5", 1.12µm pixels
CMOS Size
6.17mm x 4.55mm
10.67mm x 8.00mm
6.17mm x 4.55mm
Lens Details
4.1 - 86mm (22 - 447 35mm equiv)
F/2.8-5.9
OIS
8.02mm (28mm 35mm equiv)
F/2.4
4.3 - 43mm (24-240 mm 35mm equiv)
F/3.1-F/6.3
OIS
PureView 41 MP, BSI, 6-element optical system, xenon flash, LED, OIS
Display
1280 x 720 (4.8" diagonal)
640 x 360 (4.0" diagonal)
960 x 540 (4.3-inch)
1280 x 768 (4.5-inch)
SoC
Exynos 4412 (Cortex-A9MP4 at 1.4 GHz with Mali-400 MP4)
1.3 GHz ARM11
1.5 GHz Exynos 4212
1.5 GHz Snapdragon MSM8960
Storage
8 GB + microSDXC
16 GB + microSDHC
8 GB + microSDHC
32 GB
Video Recording
1080p30, 480p120
1080p30
1080p30
1080p30
OS
Android 4.1
Symbian Belle
Android 4.2
Windows Phone 8
Connectivity
WCDMA 21.1 850/900/1900/2100, 4G, 802.11a/b/g/n with 40 MHz channels, BT 4.0, GNSS
WCDMA 14.4 850/900/1700/1900/2100, 802.11b/g/n, BT 3.0, GPS
WCDMA 21.1 850/900/1900/2100, 4G LTE SKUs, 802.11a/b/g/n with 40 MHz channels, BT 4.0, GNSS
Quad band edge, WCDMA 42 850/900/1900/2100
LTE bands 1,3,7,20,8
From the outside, the Lumia 1020 looks a lot like the Lumia 920 but with a different camera module. The PureView system inside the 1020 takes either 16:9 and 4:3 pictures alongside a 5 MP oversampled version, rather than the either-or approach that the PureView 808 took. Nokia has also gone to its own camera application called Nokia Pro Camera which offers manual controls beyond the stock camera application from WP8. The Lumia 1020 also is compatible with an optional camera grip that includes a 1020 mAh battery, tripod mount, and two step camera button. There's also a wireless charging back add-on.
On the network side, the Lumia 1020 variant I've seen specs for have quad band GSM/EDGE and WCDMA, and LTE bands 1,3,7,20,8. Obviously the AT&T version coming will have LTE bands 4,17.
The Nokia Lumia 1020 will be available starting July 26th for $299.99 with a 2 year agreement, and preorders on att.com will start July 16th.
We're going to get hands on with the Lumia 1020 shortly.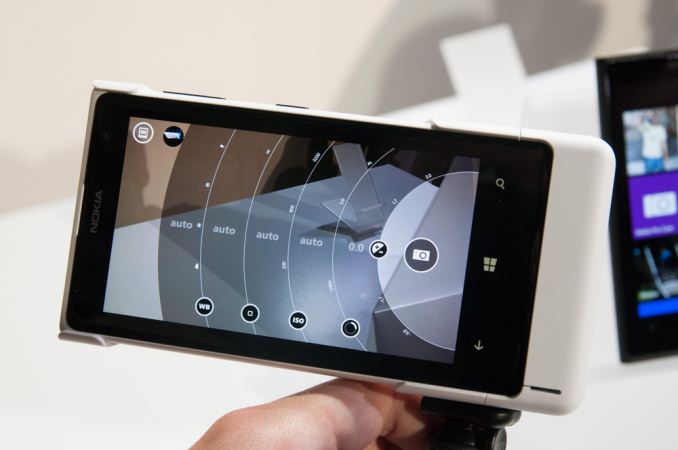 Update: Just got to play with the Lumia 1020. It's thinner than expected, and doesn't have much of a camera bulge at all. Nokia's camera application is buttery smooth and has excellent manual controls. I'm impressed with how easy it is to get around and quickly dive into custom exposure time, ISO, focus, and so forth, and reset those changes to default. It's somewhat similar to the Galaxy Camera, but whereas that UI was somewhat slow occasionally, the Lumia 1020 is very smooth and fast.
The camera grip feels very solid, not flimsy at all. The two stage camera button is communicative and works just like the button on the device and activates the application if you hold it down just like one would expect. I can see the camera grip being a popular accessory for people who want to extract every bit of camera from the Lumia 1020. I played with the rest of the camera UI and gallery, and on the whole it's essentially what you'd expect – like a better PureView 808 but running Windows Phone. On the whole smoother and more refined, in the chassis of a 920. Shot to shot latency is a bit long, but that's expected given the gigantic image size and processing, I suspect it might get faster if you disable the full size image storage and only keep the 5 MP oversampled versions, which there is an option for.
Source: Nokia