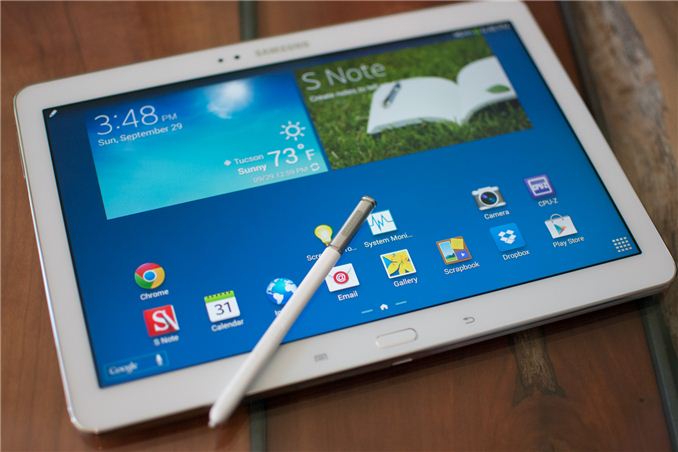 Ever since the arrival of the Nexus 10, it's been hard recommending other, lower resolution 10-inch Android tablets. Although not the knock out success that the Nexus 7 became, the Nexus 10 did offer a good alternative to the iPad at a lower price. Given that Samsung made the aforementioned 10-inch Nexus, complete with 2560 x 1600 display, we wondered when a similar panel might grace Samsung's own tablet lineup. A few weeks ago we got the answer we've been waiting almost a year for.
The latest iteration of Samsung's Galaxy Note 10.1, aptly named the 2014 Edition, ships with the firm's own 10.1-inch 2560 x 1600 display. It's not display alone that Samsung hopes to sell its latest Note 10.1 on, the rest of the package is similarly specced to the max.
Unlike the Galaxy Note 3 where the majority of devices sold will likely use Qualcomm's Snapdragon 800, the new Note 10.1 uses Samsung's own Exynos 5420 SoC for all WiFi models. It's only the LTE versions that will leverage Qualcomm silicon, but WiFi tablets still sell extremely well. All of this makes the 2014 Edition the first Samsung Android device to ship with its own Cortex A15 silicon in the US since the Nexus 10.
Add 3GB of RAM, tick the 802.11ac box and all you're missing is USB 3.0 from the Galaxy Note 3. The result is Samsung's first truly high end 10.1-inch Android tablet since the Nexus 10, and as its name implies, it comes with an S Pen. The entire bundle comes at a $150 premium to the much lower specced Galaxy Tab 3 10.1 and to the Galaxy Note 8.0:
Specifications
Samsung Galaxy Note 10.1 (2014 Edition)
Samsung Galaxy Tab 3 10.1
Samsung Galaxy Note 8.0
Dimensions
243.1 x 171.4 x 7.9mm
210.8 x 135.6 x 7.95mm
210.8 x 135.6 x 7.95mm
Display
10.1-inch 2560 x 1600 Super Clear LCD
10.1-inch 1280 x 800 LCD
8.0-inch 1280 x 800 LCD
Weight
535g (WiFi)
510g (WiFi)
338g (WiFi)
Processor
1.8GHz Samsung Exynos 5420 (4 x Cortex A15/4 x Cortex A7, Mali-T628MP6)

1.6GHz Intel Atom Z2560 (2 x Atom , PowerVR SGX544MP2)

1.6GHz Samsung Exynos 4412 (4 x Cortex A9, Mali 400MP4)

Connectivity
WiFi , Optional 3G/4G LTE
WiFi , Optional 3G/4G LTE
WiFi , Optional 3G/4G LTE
Memory
3GB
1GB
2GB
Storage
16GB—64GB + microSD
16GB/32GB + microSD
16GB/32GB + microSD
Battery
31Wh
25.84Wh
~17Wh
Starting Price
$549
$399
$399
Design


Balancing a desire to make tons of sweet cash with criticisms about material quality, Samsung revamped its 2014 Note family with a new design. Rather than the smooth glossy plastic back we've seen with the previous generation of Notes, the Galaxy Note 10.1 2014 Edition inherits the same back cover finished in faux leather from the Galaxy Note 3.
I've already gone into detail on the improvement this is over the previous slick plastic in our Galaxy Note 3 review, but in short it's a good step forward. There's a difference in finish between the white and black versions (the latter has more of a grip laden rubbery texture), but both are better than the previous generation. We're still talking about injection molded plastic and not real leather, but it's a big step forward and honestly feels quite good in hand. The fake stitching is a bit much for me personally, though those looking for a more organic feel might appreciate it.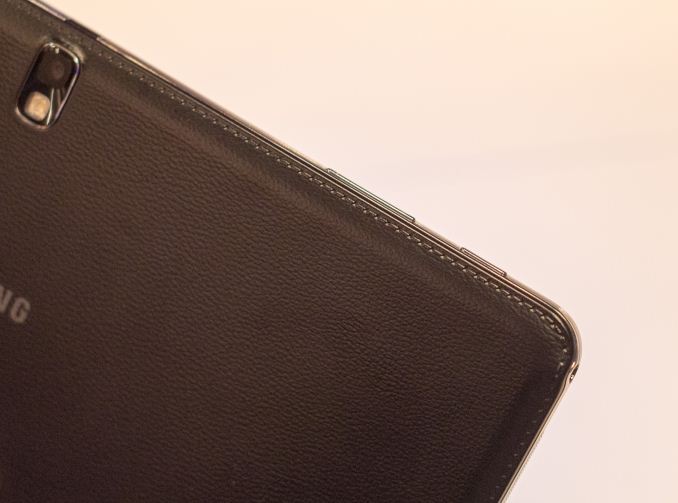 The new Note 10.1 maintains roughly the same dimensions as the new Galaxy Tab 3 10.1, although with far better internals and display.
The usual design staples are all here. There's a microSD card slot on the right hand side as well as stowage for the new S Pen. Up top you'll find the power/lock switch and volume rocker. There's a physical home button front and center, flanked by capacitive menu and back buttons. The design is distinctly Samsung.
Software & OS
The 2014 Edition of the Galaxy Note ships with Android 4.3, as well as the typical set of S Pen, multi-window and other productivity enhancements you'd expect from a Samsung Note device. I've already gone through these in our Galaxy Note 3 review as well as in our Galaxy Note 8.0 review, so I'll point you there for more details. In short, the S Pen is an interesting productivity addition to a tablet. It does a reasonable job of approximating a pen and paper experience, although understandably with more lag than you're used to (along with some other quirks).
CPU & Performance
The 5420 is Samsung's second Exynos 5 Octa SoC, pairing a quad-core Cortex A15 cluster with a quad-core Cortex A7 cluster. The Note 10.1's implementation still only supports cluster migration, with either the Cortex A15 or Cortex A7 cluster being active at once, effectively making the chip a quad-core SoC in the eyes of the user and OS. The point of having both A15 and A7 clusters on board is to be able to switch between the two depending on workload demands. If you need performance, a quad-core Cortex A15 is at your disposal, running at up to 1.8GHz (up from 1.6GHz in the previous Exynos 5410). If you need battery life however, the Cortex A7 cluster takes over running at up to 1.3GHz in the 5420 (up from 1.2GHz). Switching between the two is seamless as far as the OS is concerned, and for the first time the two clusters have a functioning cache coherent interconnect between the two (although it's not leveraged in the Note 10.1's implementation). Ideally Samsung's implementation would go one step further and feature a cache shared between both clusters (rather than a 2MB L2 for the A15 cluster and 512KB L2 for the A7 cluster), but we're still in the early days of big.LITTLE.
The 5420 performs understandably quite well. In lightly threaded tests the Note 10.1 pulls ahead of the old Nexus 10, but in those that exploit the tablet's four A15 cores we see a significant jump forward. Samsung was able to deliver a relatively good experience with four Cortex A9 cores in their Galaxy Note 8, the new Note 10.1's underlying hardware just does an even better job.
The four A15s are generally quicker then Qualcomm's Snapdragon 800/Krait 400s, but typically fall short of Intel's Atom Z3770 under Android as well as Apple's Cyclone cores in the A7.