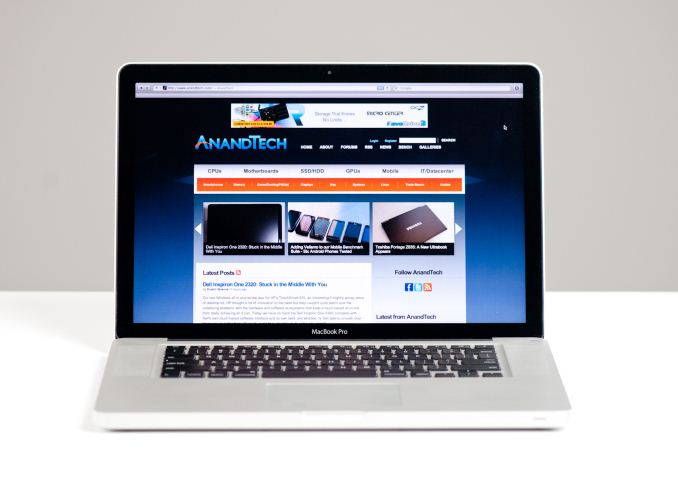 This week Apple has announced that they are initiating a new repair extension program for the MacBook Pro, in order to address video corruption and stability problems with certain models. The program offers extended repair service for the 15" and 17" 2011 MacBook Pros, along with the 2012 and Early 2013 15" Retina MacBook Pros.
Under the terms of the program, covered laptops that are experiencing video issues such as display corruption, system crashes, or other glitches will be eligible for free repairs through Apple. Furthermore all affected systems are eligible regardless of warranty status, making this a true extension in every sense of the word as the bulk of the systems this program covers are past their extended warranty expiration dates. Meanwhile in order to compensate any users who have already suffered from the issue, Apple is also offering reimbursements to those customers who have already paid for repairs.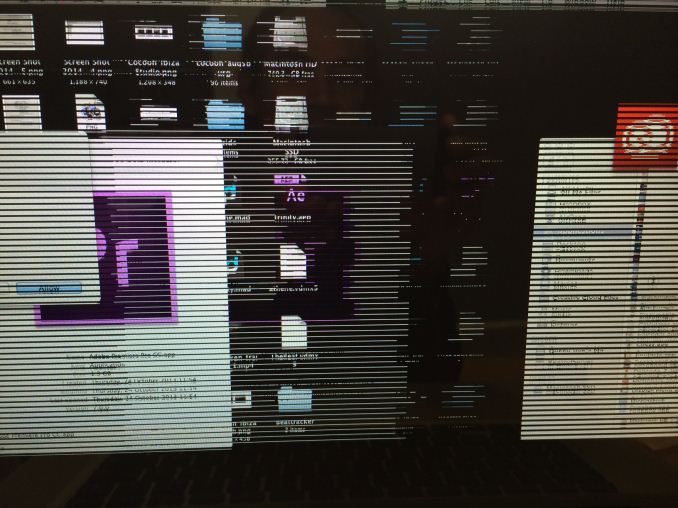 MacBook Pro Display Corruption (Image Courtesy 9to5Mac)
The MacBook Pro repair program comes less than 2 years after Apple's last repair program, which in 2013 saw Apple offering free video card replacements and repairs for the mid-2011 27" iMac. And given the similarities between the problems in the MacBook Pro and the iMac, this has raised a few eyebrows. While the 2011 iMac and MacBook Pros use different GPUs, both systems use GPUs from AMD's Radeon HD 6000M series, with the iMac using the higher-end 6970M while the MacBook Pros used the 6490M, 6750M, and 6770M GPUs.
However throwing a wrench into any common thread between these systems, the last of the MacBook Pros covered by the repair program, the first generation 15" Retina MacBook Pros, used NVIDIA's GeForce GT 650M instead. There is also the matter of differences in construction – iMacs used MXM cards, MacBook Pros use GPUs soldered on to the logic board – and even differences in operation. Namely, while the iMac used its dGPU exclusively the MacBook Pros all used switchable graphics, which means that the MacBook Pros are often being driven by their iGPU rather than their dGPU.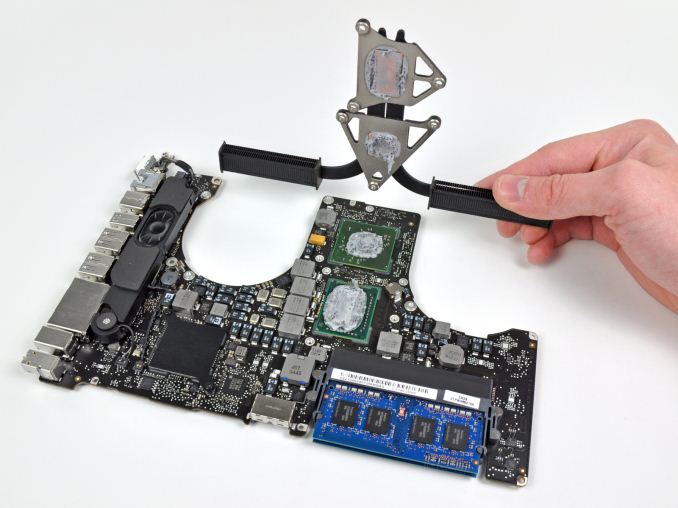 Early 2011 15" MacBook Pro: CPU & GPU Cooling; the GPU is the topmost chip (Image Courtesy iFixit)
Consequently while we first suspected that this is a common issue revolving around the Radeon HD 6000M series – and certainly we can't rule that out – there seems to be more that's going on here than a common failure in one line of GPUs. This could include Apple opting to address multiple modes of failure under a single repair program, or even just pure coincidence. At the same time we haven't seen a widespread repair program issued by other OEMs for any of these GPUs, which may mean that Apple is the only OEM being seriously affected, unlike NVIDIA's bumpgate which saw repair programs from a number of OEMs.
For that reason I find myself wondering whether another factor such as cooling has been playing a role here. Although these Apple devices all use different coolers, one common element in Apple's iMac and Retina MacBook Pro designs has been the comapny's aggressiveness in controlling the thickness of those devices, leading to them pushing the envelope on cooling relatively high TDP processors in tight spaces.
In any case, the full details of the program, including the affected models and repair instructions, are available over at Apple's website.
Source: 9to5Mac