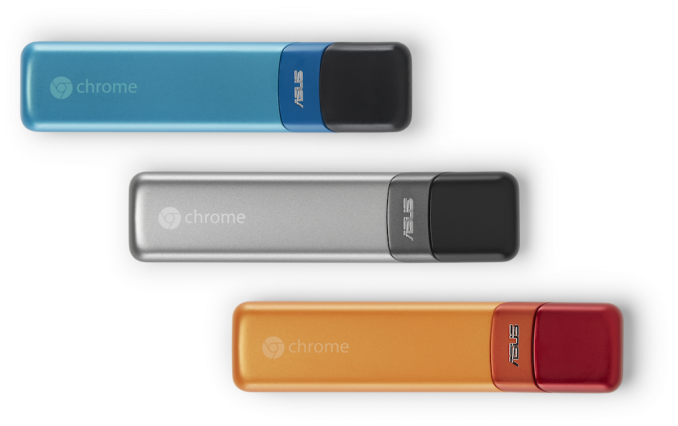 Earlier this year ASUS launched a pair of Chromebooks, and they also teased another product that would be launching later in the year. It was the Chromebit HDMI stick, and it's essentially a Chrome OS computer that you plug into the HDMI port on your monitor or television. ASUS thinks the Chromebit will be great for applications like digital signage, but pairing it with a Bluetooth keyboard and mouse allows it to be used as a consumer Chrome OS computer as well. You can check out the Chromebit CS10's specs below.
ASUS Chromebit CS10
SoC
Rockchip RK3288-C
4 x Cortex A17 + Mali T764
RAM
2 GB LPDDR3
NAND
16GB NAND
Dimensions / Mass
123 x 31 x 17mm, 75g
OS
Chrome OS
Other Connectivity
2x2 802.11a/b/g/n/ac + BT 4.0, HDMI 1.4, USB 2.0, DC-in
Price
$85
A combination of size and price means we're not going to be seeing something like an Intel Core i5 in an HDMI stick any time soon. Thankfully, Chrome OS tends to run pretty well even with minimal hardware power. At $85, the Chromebit CS10 comes with 2GB of RAM, 16GB of eMMC NAND, dual-band 802.11ac, and a Rockchip RK3288-C SoC. RK3288-C is a quad core Cortex A17 part paired with a Mali T764 GPU. The same SoC has actually shown up in some of ASUS's actual Chromebooks as well, so it's not surprising to see it in the Chromebit.
As with all HDMI sticks, you still need a separate power adapter because HDMI 1.4 can't supply nearly enough power for even such a smaller computer. Even with that, the Chromebit could still make for an interesting computer of sorts that can be taken anywhere in your pocket.
The ASUS Chromebit CS10 will cost $85, and it comes with a year of 100GB Google Drive space. It'll begin shipping today.