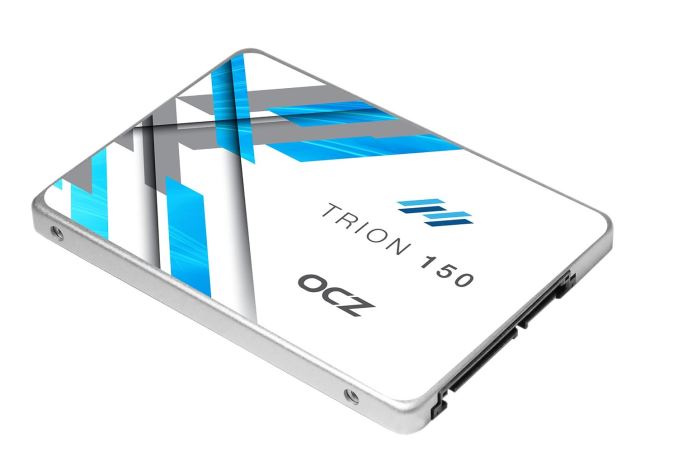 As previewed at CES, OCZ has released an update to their budget-oriented Trion 100 SATA SSD. The Trion 150 switches from parent company Toshiba's A19nm TLC to their 15nm TLC, the densest planar NAND on the market. The transition to 15nm NAND has been slow for Toshiba and SanDisk, and the release of the Trion 150 signals that the 15nm TLC is finally ready to compete in the most cost-sensitive market segment. This is also probably the end of the road for Toshiba's planar NAND and the Trion 150 will probably be the cheapest drive from Toshiba or OCZ until their 3D NAND ships, unless they introduce a drive with a DRAM-less controller.
The specifications for the Trion 150 are otherwise unchanged from the Trion 100, but the press releases have mentioned some improvements in sustained performance. Supporting the 15nm NAND required at least some firmware tweaks and it's possible that some performance optimizations were introduced as well. It's also possible that the Trion 150 adopts more overprovisioning or larger SLC-mode caches.
OCZ Trion 150 Specifications
Capacity
120GB
240GB
480GB
960GB
Controller
Toshiba TC58
NAND
Toshiba 15nm TLC
Sequential Read
550MB/s
550MB/s
550MB/s
550MB/s
Sequential Write
450MB/s
520MB/s
530MB/s
530MB/s
4KB Random Read
79K IOPS
90K IOPS
90K IOPS
90K IOPS
4KB Random Write
25K IOPS
43K IOPS
54K IOPS
64K IOPS
Endurance
30TB
60TB
120TB
240TB
DevSleep Power
6mW
Idle Power
830mW
Max Power
4.8W
Warranty
Three years
Price (Amazon)
$45.99
$69.99
$139.99
$269.99
We initially found the Trion 100 to be a fairly poor performer compared to other modern SSDs, but its pricing of late has been very low and more recent TLC drives like Crucial's BX200 have sacrificed even more performance for the goal of affordability. The allure of the cheapest TLC SSDs has been reduced by the availability of some decent MLC drives for only slightly higher prices, such as Mushkin's Reactor. With the switch to denser NAND, the Trion 150 may be able to widen the gap and take a clear lead in affordability over MLC drives. Even if the Trion 150 turns out to be another step in the race to the bottom among value SSDs, it will still vastly outperform hard drives, and that's all that value SSDs are really aiming for at the moment. On the other hand, if it does offer significant real-world performance improvements without any price increase, it can probably be competitive against other value SSDs at some capacities.
OCZ hasn't announced pricing for the Trion 150, but Newegg is currently listing the Trion 150 at around $0.29/GB for the 240GB and larger capacities and Amazon's listing (not in stock yet) has the 120GB drive slightly cheaper.
Source: OCZ