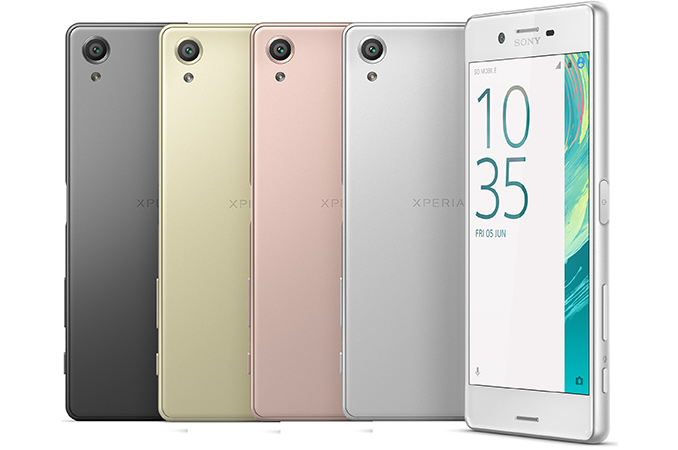 This week at Mobile World Congress 2016, Sony has introduced their new high-end Xperia X series smartphones. The new smartphones feature similar designs across the entire series and all sport 5" displays, but each is based on a different SoC and offers slightly different functionality. The Xperia X smartphones represent the company's new lineup, but it does not seem that Sony plans to position any of them as their flagship handset just now.
The new Sony Xperia X lineup consists of three models — the Xperia XA, the Xperia X and the Xperia X Performance — which are aimed at the entry-level, mid-range, and (quasi) high-end markets respectively. In keeping with a consistent family, all three smartphones look very similar and have a lot in common from design standpoint, along with sharing some technologies and components, but each phone is built around a unique platform.
Xperia XA
Xperia X
Xperia X Performance
SoC
MediaTek Helio P10
4x Cortex-A53 @ 1.1GHz
4x Cortex A53 @ 2.0GHz
ARM Mali-T860MP2
QC Snapragon 650
4x Cortex-A53 @ 1.4GHz
2x Cortex-A72 @ 1.8GHz
Adreno 510
QC Snapdragon 820
2x Kryo @ 1.6GHz
2x Kryo @ 2.15GHz
Adreno 530
RAM
2 GB LPDDR3
3 GB LPDDR3
3 GB LPDDR4
Storage
16 GB + microSD
32 GB + microSD
32 GB + microSD
Display
5" 1280x720
5" 1920x1080
5" 1920x1080
Network
LTE Cat 4
LTE Cat 6
LTE Cat 9
Dimensions
143.6 x 66.8 x 7.9 (mm)
142.7 x 69.4 x 7.9 (mm)
144.8 x 71.1 x 7.62 (mm)
Weight
137.4 grams
153 grams
164.4 grams
Rear Camera
13 MP, LED flash
23 MP, LED flash
Front Camera
8 MP
13 MP
Battery
2300 mAh
2620 mAh
2700 mAh
OS
Google Android 6.0 Marsmallow
Connectivity
Wi-Fi, Bluetooth, micro-USB
Wi-Fi, Bluetooth 4.2, NFC, micro-USB
Additional
-
Fingerprint reader integrated into Power button
SIM Size
nano SIM or dual nano SIM
nano SIM
nano SIM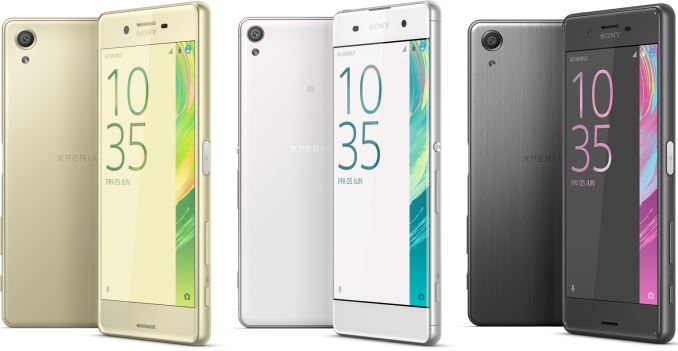 Sony Xperia X, Sony Xperia XA and Sony Xperia Performance
Starting things off is the Xperia XA. The XA is an entry-level model based on MediaTek's Helio P10 (MT6755) system-on-chip with a 5-inch 1280x720 in the display. The device features aluminum frame with plastic inlays. It is arguably the most stylish product in the Xperia X family, but is also the least powerful one: it features a rather low-resolution screen, only 2 GB of RAM and only 16 GB of storage. Sony equipped the Xperia XA model with a 13 MP rear camera and a 8 MP front camera, hence, its imaging capabilities should be rather good, even though it does not support the predictive hybrid autofocus technology found on the other X series phones. Meanwhile the device features 2300 mAh battery, which I'd expect to provide decent battery life, keeping in mind the 720p display and Sony's smart battery management.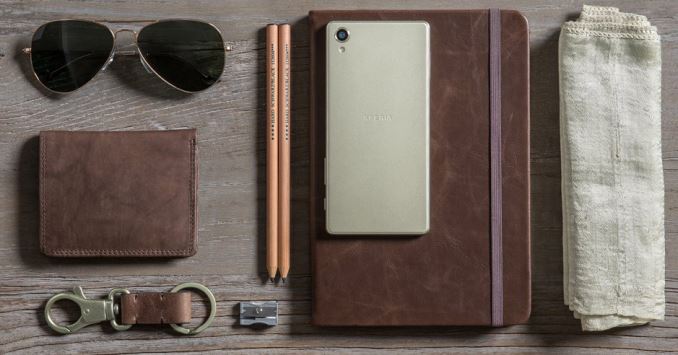 Next up, the Xperia X is the mid-range model of the new lineup. It features an aluminum body, a slightly curved 5" display as well as a fingerprint reader integrated into the Power button. The Sony Xperia X is based on Qualcomm's Snapdragon 650 SoC and is equipped with 3 GB of LPDDR3 memory as well as 32 GB of NAND flash storage. The smartphone has a 5" full-HD display, a 23 MP rear camera as well as a 13 MP front camera, with the rear camera supporting Sony's all-new predictive hybrid autofocus technology, which analyzes dynamic scene and attempts to predict motion of the subject to improve quality of focus. The Xperia X is equipped with 2620 mAh battery. Sony has not released pricing information on any of these at the moment, but the combination of a mainstream SoC along with a 5" 1080p display indicates that the Xperia X5 should not be too expensive.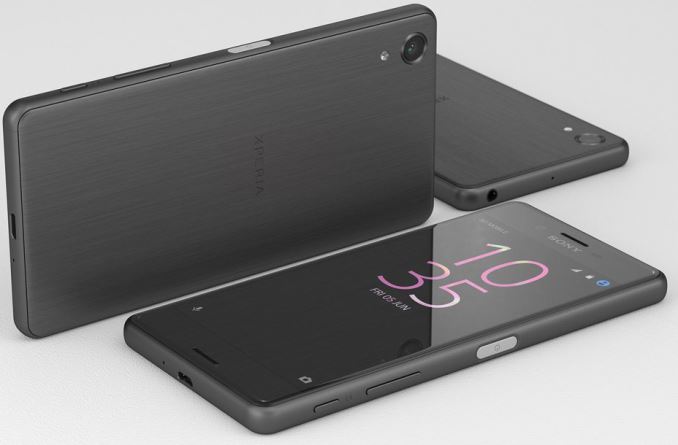 Finally, the Xperia X Performance will be the most powerful model in the family, and will feature Qualcomm's forthcoming Snapdragon 820 SoC, putting it into the running for one of the fastest Android-based smartphones available this year. Just like the Xperia X, the higher-end version will feature a 5" display with full-HD resolution, a 23 MP rear camera as well as a 13 MP front camera, the former of which supports Sony's predictive hybrid autofocus technology, and are presumably the same camera modules as used in the Xperia X . The X Performance will also be water-resistant, which will make it slightly larger and heavier than the Xperia X. However, Sony has mentioned that they will only offer the Xperia X Performance Asia, at least initially, so it will not be as widely available as the rest of the X series.
Otherwise from a shared platform standpoint, all Xperia X smartphones feature Qnovo's adaptive charging technology as well as Sony's new smart battery management that promises to stretch battery life to two days. Meanwhile, like other phones launching in this timeframe, all three phones will be shipping with Google Android 6.0 Marshmallow operating system. The phones will be available in four colors, including white, graphite black, lime gold and rose gold later this year.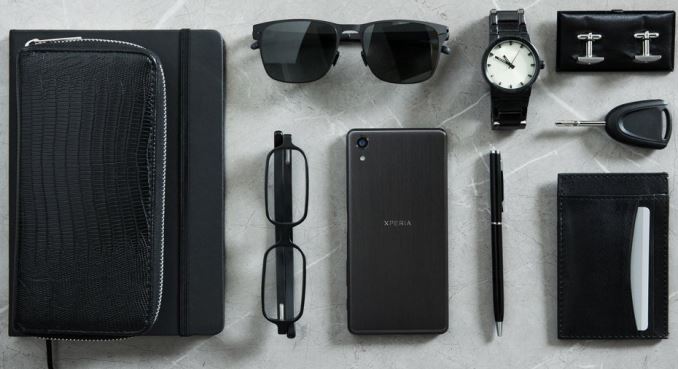 The Xperia X Performance uses Qualcomm's Snapdragon 820 SoC, the company's most advanced mobile processor today, and though it's not meant to be the company's flagship phone, one could argue it amounts to a second high-end phone for the company. The Xperia X and the Xperia X Performance are also equipped 1/2.3'' Exmor RS mobile sensor with 24 mm wide-angle lens that can shoot in low-light condition, which is also used on the Xperia Z5 handsets, another indicator that the new smartphones belong to the high-end of the market. However, unlike the Z5 Premium, the new models do not feature high resolution displays (either QHD or 4K) - something that has been a distinctive feature of all top-of-the-range smartphones in the recent years.
What is a bit strange is that the Xperia X Performance is not set to be available in the U.S. and Europe, at least initially. As a result, Sony's newest phone (the Xperia X with the Snapdragon 650) offered in these markets will be clearly less advanced than Sony's Z5-series products, which are based on the Qualcomm Snapdragon 810 processor and are waterproof. It remains to be seen how the new family of Sony's smartphones fits in the company's already dense lineup of handsets. Perhaps, Sony deliberately decided not to offer the Xperia X Performance in the U.S. and Europe so to avoid any possible competition or confusion between its own devices.
Devices will be available in the summer, with prices still to be determined.