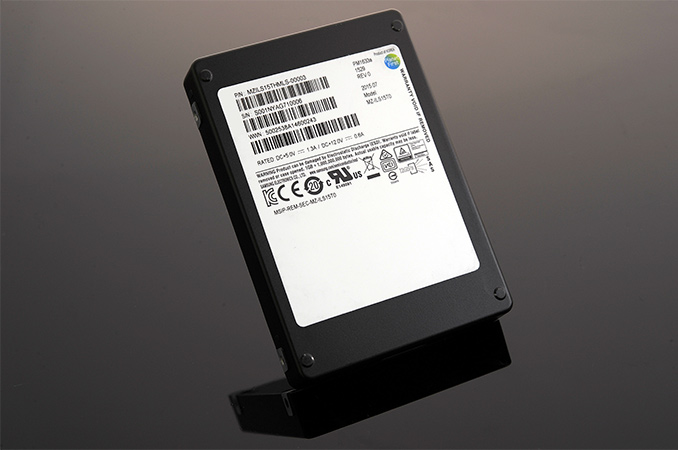 Samsung on Thursday introduced its new lineup of high-capacity SSDs for enterprises. The new Samsung PM1633a family of drives includes the world's first SSD that can store 15.36 TB of data and which leaves behind even the leading-edge hard drives. The solid-state drive not only offers the world's highest-capacity, but also boasts with increased reliability and high performance. The manufacturer is already shipping the new SSDs to select customers.
The Samsung PM1633a 15.36 TB SSD can deliver up to 1200 MB/s sequential read performance and features random read and write speeds of up to 200,000 and 32,000 IOPS respectively, according to the manufacturer. The 15.36 TB SSD supports 1 DWPD (drive writes per day) throughout the period of several years (unfortunately, Samsung does not specify of how many), which indicates very high endurance. The new solid-state storage solution features SAS-12 Gb/s interface and is compatible with servers that support drives in 2.5"/15 mm form-factor. Samsung does not reveal power consumption of the PM1633a 15.36 TB SSD, but based on power requirements the SSD can consume up to 13.7W.
Samsung PM1633a SSD Specifications
15.36 TB
Controller
Samsung proprietary controller
NAND
Samsung's 256 Gb 48-layer TLC NAND
DRAM Cache
16 GB DDR3 SDRAM
Sequential Read
1200 MB/s
Endurance
1 DWPD (Drive Writes Per Day)
Interface and Form-Factor
2.5"/15mm SAS-12 Gbps
The PM1633a drives are based on Samsung's new proprietary controller that can concurrently access large amounts of high-density NAND flash with the help of a special firmware. Thanks to the new controller, the PM1633a SSDs are even faster than the PM1633 drives unveiled last August (sequential read and write speeds of up to 1100MB/s and 1000MB/s, up to 160/18 thousand random read/write IOPS). Typically, high-capacity SSDs do not offer truly high performance because of peculiarities of their internal architecture, but Samsung has managed to develop a controller that weds performance and capacity.
The Samsung PM1633a SSDs utilize the company's third-generation 256 Gb TLC 3D V-NAND memory chips. The 256 Gb dies are stacked in 16 layers and form a single 512 GB package. Samsung uses 32 of such packages to build its most spacious SSD, leaving around 1 TB of NAND for overprovisioning. The giant drive also features 16 GB of DRAM cache to ensure smooth performance. The Samsung PM1633a 15.36 TB will be the second product to use the company's 48-layer TLC 3D V-NAND after the Portable SSD T3. Eventually, Samsung will further expand usage of this flash memory.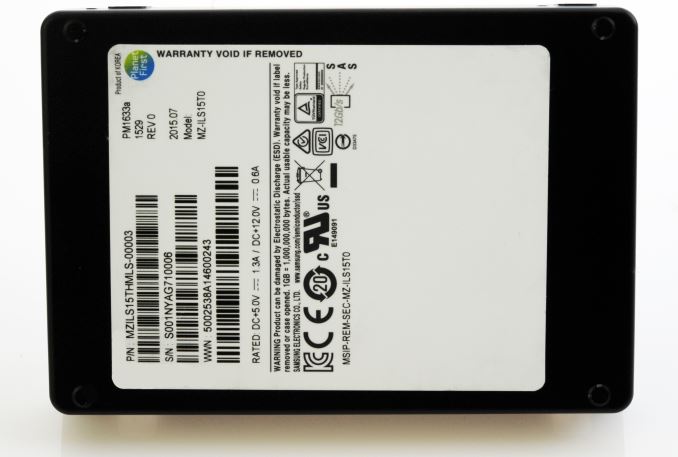 The advantages of 15.36 TB SSDs in the server space are hard to overestimate. There are 2U servers that can fit in 48 SAS3/12G storage devices (1, 2). Each of such machines can store 737.28 TB of data (if fully populated with Samsung's new PM1633a SSDs), whereas a 42U cabinet featuring 21 of such servers will be able to store 15482 TB of data (15.4 PB). By contrast, storage capacity of a standard 42U storage rack based on 360 3.5" 10TB HDDs is around 3600 TB.
Samsung did not reveal the price of its 15.36 TB SSD, but is probably in the range of several thousands of dollars.
Later this year Samsung plans to add drives with 7.68 TB, 3.84 TB, 1.92 TB, 960 GB and 480 GB into its PM1633a lineup.
Source: Samsung