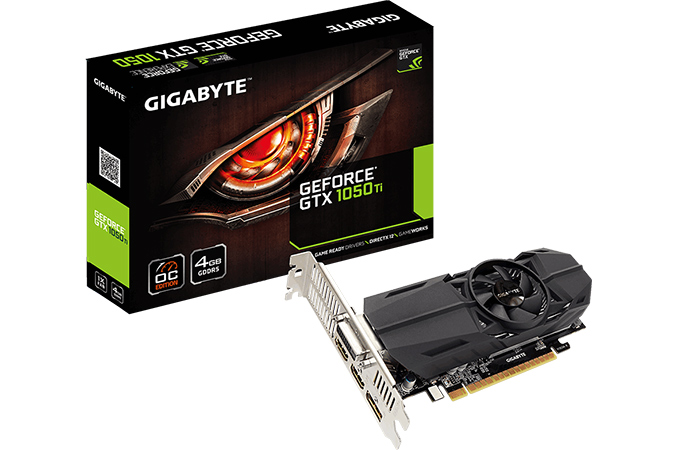 GIGABYTE has quietly added two low-profile video cards to its lineup of products during CES. The graphics adapters are based on NVIDIA's GeForce GTX 1050-series GPUs and will be among the most affordable gaming-grade products in the company's family. The new low-profile add-in-cards will be especially useful for those building mini PCs or HTPCs as well as for those upgrading inexpensive computers from OEMs.
GIGABYTE's GeForce GTX 1050 Ti OC Low Profile 4G and GeForce GTX 1050 OC Low Profile 2G graphics adapters are based on NVIDIA's GP107 GPU (albeit, in different configurations) and carry 4 GB and 2 GB of GDDR5 memory running at 7 Gbps, respectively. Both cards use the same PCB (marked as V16156-0) as well as the dual-slot cooling system featuring an aluminum heatsink and a fan. As for connectivity, the boards also have a similar set of outputs: one DL-DVI-D, two HDMI 2.0b and one DisplayPort 1.4 with HDCP 2.2 support that is required for Ultra HD Blu-ray playback.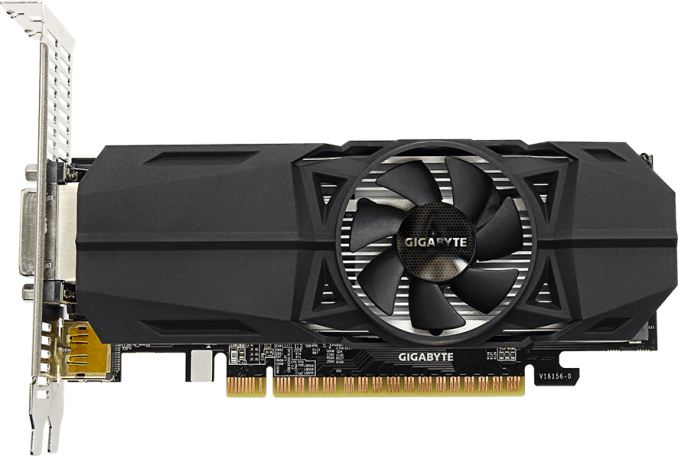 It is noteworthy that GIGABYTE decided to slightly increase GPU clock-rates of its low-profile GeForce GTX 1050-series graphics cards versus NVIDIA's reference designs to give them some extra punch over rivals. Meanwhile, TDP and power requirements of its low profile GTX 1050-series graphics cards remained at approximately 75 W level, which means no additional power connectors are required and the cards can be installed into any contemporary computer with a PCIe x16 slot.
Specifications of Low Profile GeForce GTX 1050-Series Graphics Cards
GIGABYTE
1050 Ti OC
LP 4G
MSI
1050 Ti
LP 4G
GIGABYTE
1050 OC
LP 2G

MSI


GTX 1050
LP 2G
SKU
GV-N105TOC-4GL
GV-N1050OC-2GL
Stream Processors
768
640
Texture Units
48
40
ROPs
32
Core Clock (MHz)
1303 - 1328
1290
1366 - 1392
1354
Boost Clock (MHz)
1417 - 1442
1392
1468 - 1506
1455
Memory
Capacity
4 GB
2 GB
Type
GDDR5
Clock
7 Gbps
Bus Width
128 bit
Outputs
DisplayPort
1 × DP 1.4
DVI
1 × DVI-D
HDMI 2.0b
2
1
2
1
TDP
75 W
Launch Date
1/2017
11/2016
1/2017
11/2016
It seems like low profile graphics cards are back courtesy of NVIDIA's GeForce GTX 1050-series as GIGABYTE is the second company to announce such parts after MSI, and it likely that these two companies will not be the only suppliers of such products. For those building low-power HTPCs or upgrading entry-level PCs, the GP107-based graphics adapters seem to be a good choice because the GPU supports DirectX 12 and Vulkan APIs as well as has an advanced media playback engine that features hardware-accelerated decoding and encoding of H.265 (HEVC) video.
GIGABYTE does not specify MSRPs for its GeForce GTX 1050 Ti OC Low Profile 4G and GeForce GTX 1050 OC Low Profile 2G graphics adapters on its web-site, as these are typically determined at regional release. Given the positioning of these products, it unlikely that they will cost significantly more than NVIDIA's MSRPs for similar video cards: $139 for the GTX 1050 Ti and $109 for the GTX 1050.
Related Reading:
Source: GIGABYTE