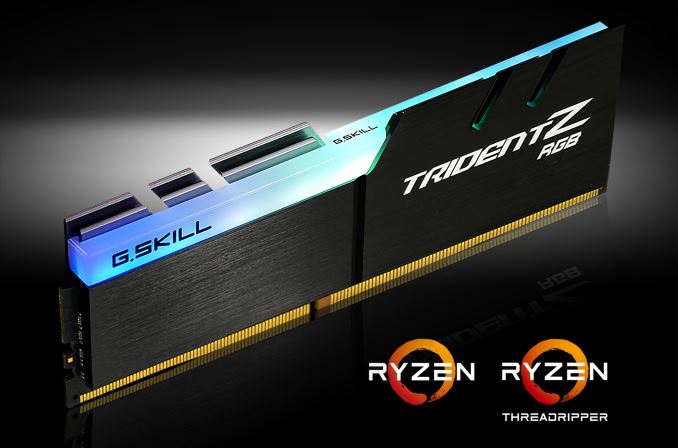 With both AMD Ryzen and Threadripper platforms continuing to mature, we've seen an increase in the two platform's ability to handle higher capacity and faster RAM and be stable. It is more common today to reach 3200MHz than it was upon release due in part to better BIOS from board partners and memory testing. To that end, G.Skill announced a new lineup of Trident Z RGB DDR4 Memory for AMD. The kits said to have enhanced compatibility on the latest AMD platform with faster and higher density kits including RGB LEDs for enhanced visuals.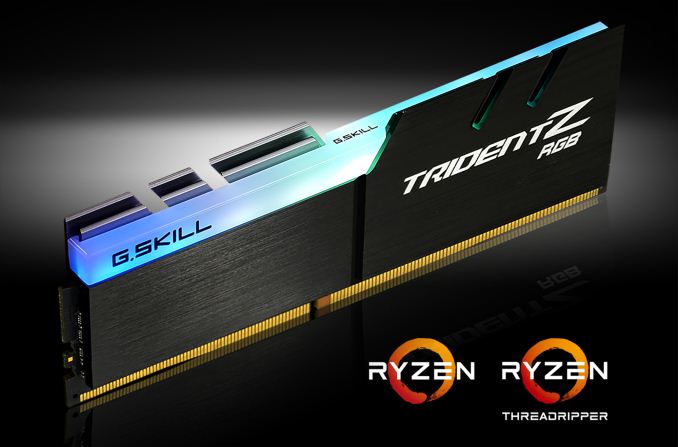 G.Skill's announcement includes a full range of memory kit capacity options with new kits available starting at DDR4 2400Mhz. They come in two, four, and eight module configurations with 8GB and 16GB modules allowing capacities ranging from 16GB to 128GB. The high-capacity 128GB sets can reach speeds up to 2933MHz CL14 while speeds up to 3200Mhz CL14 are possible up to 32GB (4x8GB) setups. The kits are good for the both the dual-channel Ryzen platform or quad-channel X399 Threadripper platform.
Buyers will be able to discern between the new Trident Z RGB kits from the original as the new product model number will have an "X" at the end. I'll imagine we will see the Ryzen and Ryzen Threadripper moniker somewhere on the retail packaging as well. The new Trident Z RGB models support OC profile DOCP – Direct Memory Profile, on compatible motherboards. Users should be able to enable DOCP in the BIOS and boot to the Memory's rated speeds. For the best chance at success, be sure your motherboard has the latest BIOS.

Trident Z RGB Model Compatibility List for AMD Platforms
DDR4 Frequency
CL Timing
Kit Capcity
Voltage
For Ryzen
For Threadripper
3200MHz
14-14-14-34
32GB (4x8GB)
1.35
Y
16GB (2x8GB)
Y
2933MHz
14-14-14-34
64GB (8x8GB)
128GB (8x16GB)
1.35V
Y
16-16-16-36

64GB (8x8GB)




128GB (8x16GB)

Y
2400MHz
15-15-15-35

64GB (8x8GB)




128GB (8x16GB)

1.2V
Y

32GB (4x8GB)




64GB (4x16GB)

Y
Y

16GB (2x8GB)




32GB (2x16GB)

Y
Y
The full lineup will be available through GSkill distribution partners in October. Pricing was not listed but is expected to be the same or close to its Intel counterparts.
Related Reading:
Source: G.Skill