Powering the ZenBook 3: Quad-Core Kaby Lake Refresh
We can be a bit spoiled for entertainment in the technology industry, with new products being launched all the time that offer newer and better features. But it's really only been a few times were the jump was something special. The move to multi-core was one of those moments, when the industry figured out they couldn't keep increasing frequency forever.
It's been about ten years since Intel made the jump from single-core to dual-core notebook processors for their low-voltage lineup. And while Intel has offered quad-core processors in their 45-Watt range since August 2008, anyone after a thin and light laptop featuring a Core processor has been required to settle for a dual-core CPU. Finally, that's no longer the case. Although not all workloads scale well with multiple threads, those that have can really benefit from more cores; and even if a given workload isn't heavily threaded, the expectation today from consumers is for strong multi-tasking performance.
The Kaby Lake Refresh CPU is part of Intel's larger 8th generation Core CPU lineup, a lineup that is (frustratingly) a bit complex. All-told, the lineup is currently composed of two different CPU architectures – Kaby Lake Refresh and Coffee Lake – and will likely be joined by a third next year with Cannonlake. As implied by the name, Kaby Lake is a relatively straightforward development, with Intel releasing quad-core versions of their popular 15 Watt Kaby Lake-U CPUs. Architectually these new CPUs are not any different than their dual-core predecessors, but then they don't need to be, as adding another pair of cores alone adds quite a bit of performance. Right now these are the only 8th gen Core CPUs that are in laptops, but that's likely to change at CES 2018 in a couple of months.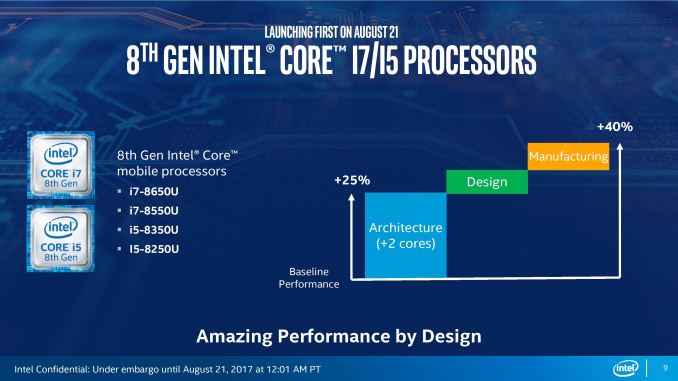 Getting back to our laptop review, the top-end ZenBook 3 is offered with the Intel Core i7-8550U, featuring four cores, eight threads, and 8 MB of cache. The processor base frequency does drop compared to the dual-core models from last year, but the max turbo frequency is higher, so even if a workload is only single-threaded, it should offer more performance.
We're going to have a deeper dive into the generational differences between Kaby Lake and Kaby Lake Refresh, so let this be a taste of what's to come. Kaby Lake Refresh is mostly just a quad-core version of Kaby Lake, but the power requirements, even though the TDP has stayed the same, are quite a bit different. Let's see what those changes do for performance.
For comparisons, we've put the ZenBook 3 up against a wide assortment of devices, from the quad-core Atom based Chuwi LapBook 14.1, to the latest Surface Pro with Core i7-7660U and Iris graphics, to the Dell XPS 15 9560, featuring a quad-core Kaby Lake 45-Watt CPU, just to get a feel for where the latest 15-Watt quad-core chip lands in the performance hierarchy. If you'd like to compare the ZenBook 3 to any other device we've tested, please use our online Bench.
PCMark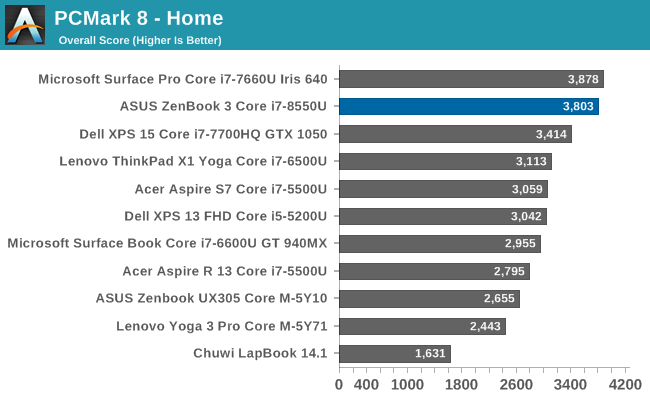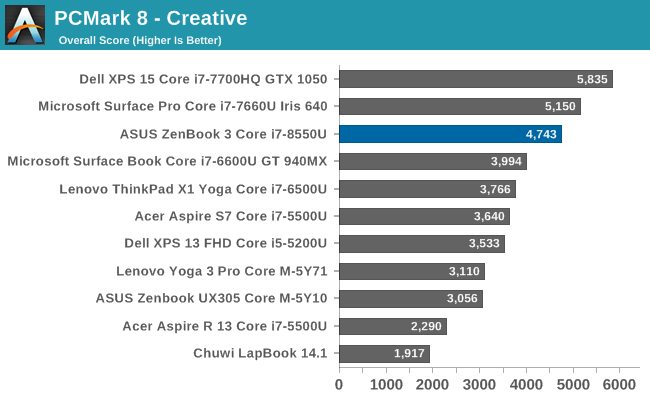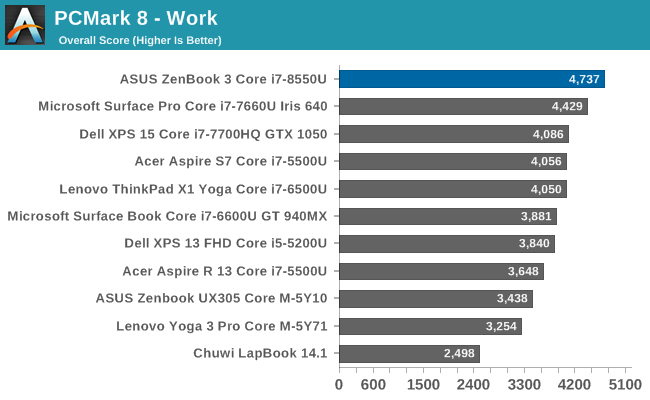 FutureMark's PCMark suite is meant to test all aspects of a system, so these are not purely CPU bound results. The GPU can play an important part, especially in the Home and Creative tests, and even storage can play a part.
The ZenBook 3 lands near the top in all of the categories, despite being somewhat limited with the Intel UHD 620 GPU onboard. On the Work suite, which is the one that stresses the GPU the least, the latest 8th generation quad-core equipped notebook even finds itself right at the top. Not a bad start, especially for a 15-Watt laptop.
Cinebench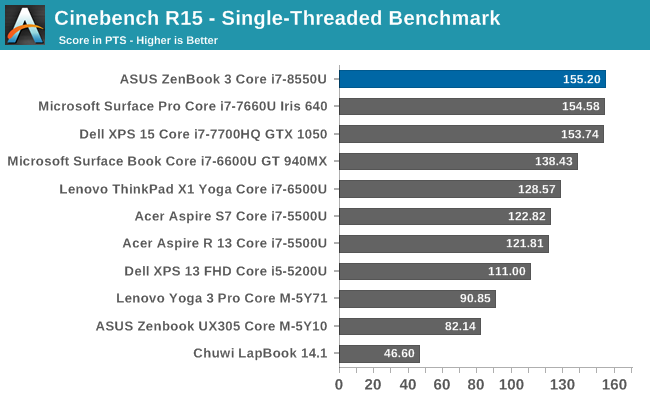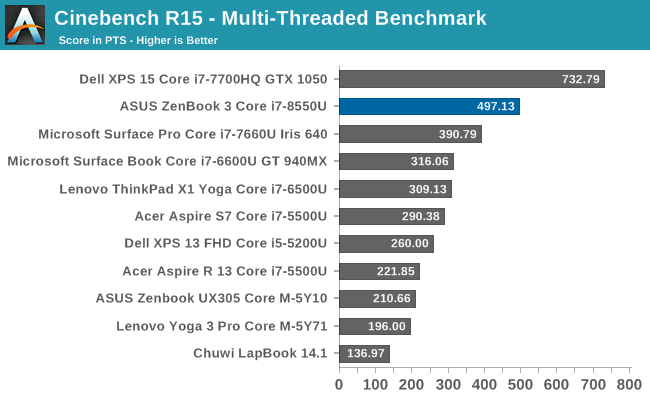 Cinebench offers a set of tests which can be selected to be single-threaded, or multi-threaded, so you can see how both sides of the equation work out. The single-threaded performance on this test puts Zenbook right at the top, but basically tied with both the Surface Pro, which also has a max turbo frequency of 4.0 GHz, and the higher wattage XPS 15, which peaks at 3.8 GHz. As expected, since this is a refresh of Kaby Lake and not a new architecture, the IPC is unchanged.
The multi-threaded test shows an impressive jump in performance over every other 15-Watt or less laptop in the list. As expected, it can't keep up with the much higher thermal headroom of the 45-Watt Dell XPS 15, but it's a large jump over even the Iris-equipped Surface Pro.
x264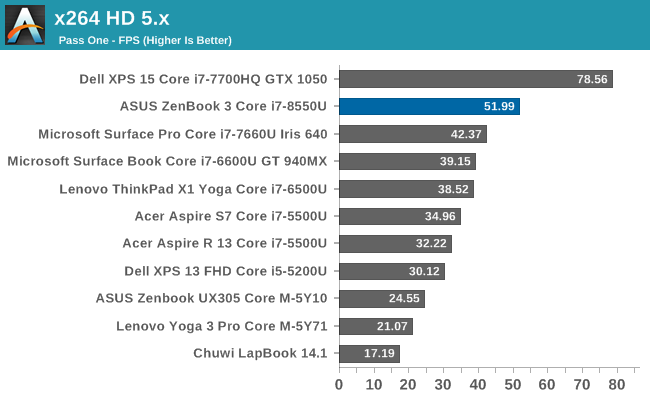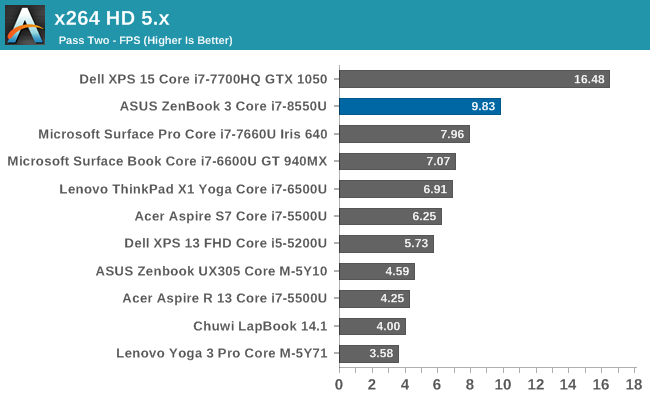 Much like Cinebench, x264 is a purely CPU test, and more cores, and higher frequencies, rule the roost. It doesn't contain a single-threaded mode though, but instead encodes a video using the CPU in two passes. The test takes quite a while, meaning the device is sure to hit its maximum TDP.
Again, the ZenBook 3 outpaces all of the other devices with the same TDP or less than it, by a large margin. The extra cores don't double the performance, but they do offer a lot more performance in the same TDP. The Dell XPS 15 with a 45-Watt processor shows that there's lots of performance left on the table thanks to the low 15-Watt TDP of the i7-8550U.
Web Tests
A lot of what we do every day involves being in a web browser, and this is unlikely to slow down. Good web performance is always important, even though it's only partially due to the device. Web browsers continue to improve performance, so this is never a static target, but it's always great to see the progression over time.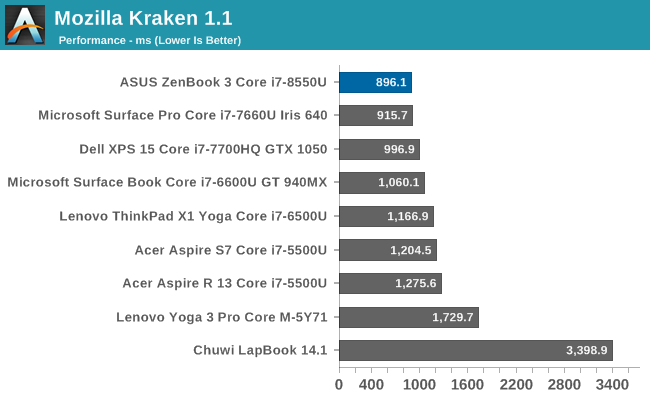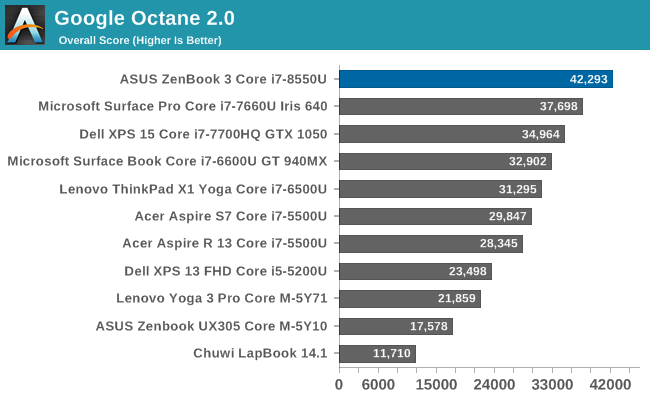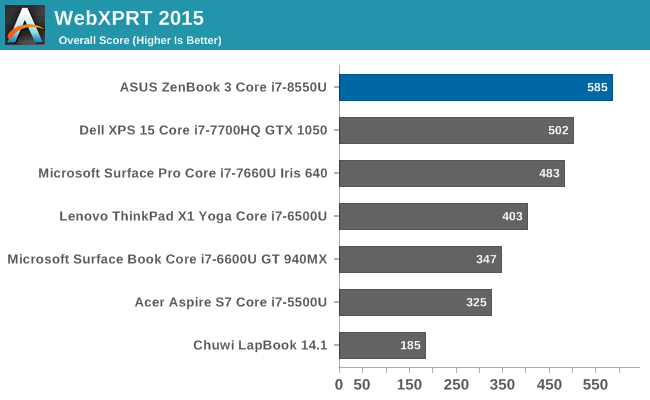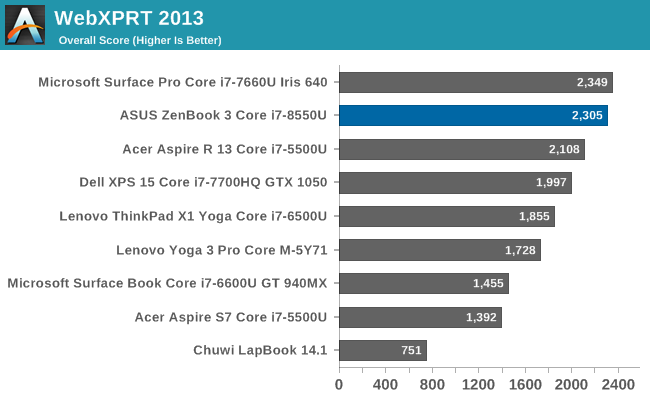 The jump to quad-core has helped out here quite a bit, as has the move to the latest Edge browser in the Fall Creators Update. The ZenBook 3 outperforms all other devices in these tests.
What can Quad do for you?
The move to quad-core in the U series from Intel has been a long time coming. For the last ten years, the maximum configuration offered by Intel was two cores/four threads, and doubling that to four cores/eight threads has shown that the move to quad-core CPUs has been a good one. For tasks that can utilize all of the threads, there's a big increase in performance. Cinebench jumps over 25% compared to the Surface Pro i7 with the same max boost frequency. It's true the core count has gone up 100%, but with four cores based on the same process as Kaby Lake, hitting the TDP was never going to be in doubt.
As long as the move to quad-core hasn't impacted single-threaded performance, then it's definitely a net win for customers, and thanks to Cinebench, we can see that single-threaded performance is exactly the same as Kaby Lake.
The only question will be cooling, and we'll look at that in a bit.