Software
Users that want access to more advanced controls will have to download the software for the Pilot K70E from the company's website. The software itself is very simple, with a clean UI, offering very limited customization options.
At the top of the main UI there are three tabs, Performance, Backlight, and Assignment. The first tab, Performance, hosts only three adjustable settings, which are the n-key rollover (toggle between 6 and 30 keys), the repeat delay, and the repeat speed. There is also a small space for testing the repeat delay and speed.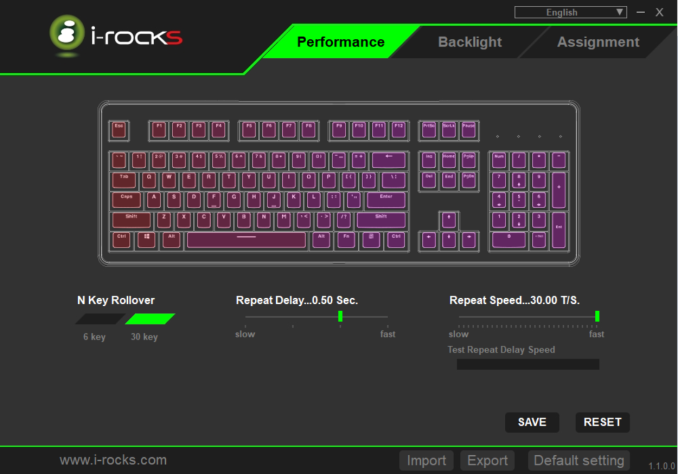 The second tab, Backlight, is the most extensive. From here the user can reprogram any of the four pre-programmed lighting profiles. There are several backlight effects available and brightness/speed settings are also present, yet per-key effect or profile programming is not possible.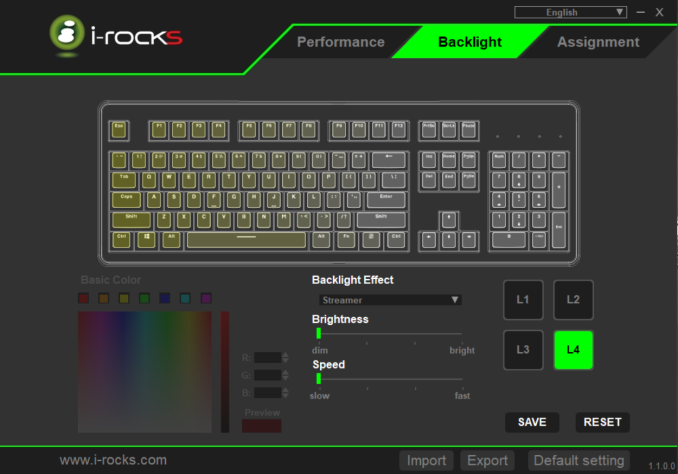 Finally, the third tab, Assignment, should be the most important part of this software. In the case of the Pilot K70E however, it is not particularly useful. Remapping the keyboard is not possible at all. From here the only thing that the user can do is to reprogram the functions of the Fn+F1-F4 keystroke combinations. There is a basic macro editor that can record the keyboard's keystrokes, with the ability to adjust or remove the delays between keystrokes and adjust the macro's repeat number/rate, yet these macros can only be assigned to the Fn+F1-F4 keys as well. The rest of the available settings are simple and straightforward, ranging from single-key assignments to the launching of external applications. Although some are interesting and useful, the obligation to program only four such commands that will be accessible only via a keystroke combination that essentially requires two hands is not really convenient.