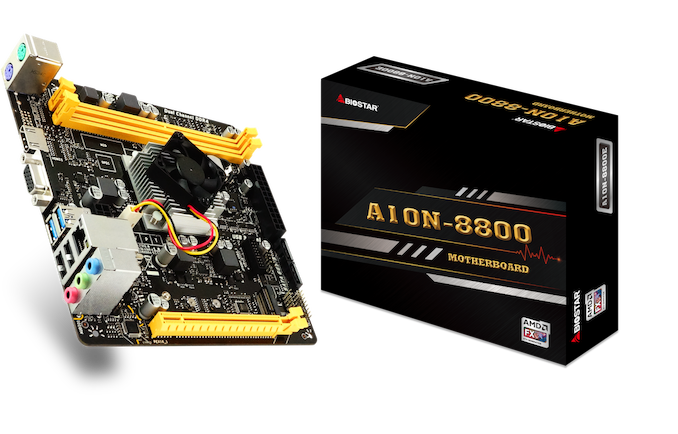 The Biostar A10N-8800 motherboard is a mini-ITX SoC option with an integrated AMD FX-8800P processor. Also featured is support for up to 32 GB of DDR4-2133 memory, a single full-length PCIe 3.0 x16 slot, and a Realtek RTL8111H Gigabit Ethernet port. The AMD FX-8800P is traditionally a mobile SKU with a TDP of 35 W and Biostar integrates into a small form factor package for desktop users with four CPU cores and eight Radeon R7 graphics cores.
We asked for a review sample of this motherboard for the simple reason that we did not expect to see a brand new AMD Carrizo based design hit the market in 2019. Carrizo is from AMD's older family of processors, pre-Zen, and Biostar believes there is a new market out there for mobile-class gaming machines. The FX-8800E processor being used here sits at the top of Biostar's stack of integrated CPU offerings, which makes it even more bizarre that there are lower powered chips available for this sort of thing. We still wanted to give it our traditional motherboard rundown.
Biostar A10N-8800E Overview
The Biostar A10N-8800E mini-ITX motherboard comes pre-installed with AMD's FX-8800P Carrizo based SoC processor which utilizes four cores, four threads, with a maximum core clock speed of up to 3.4 GHz. The AMD FX-8800P is the top tier processor from the 6th generation Carrizo family with '12 compute cores' according to the marketing materials: four for the CPU and eight for the Radeon R7 integrated graphics module. With a lot of SoC offerings, low power consumption is a huge factor and the SoC is rated for a 15 W TDP, with OEM configuability up to 35W.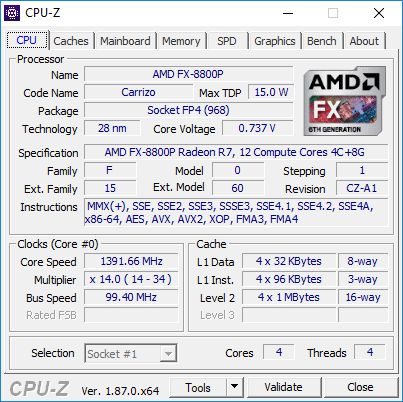 While not benefiting from the kind of grunt power that a processor containing AMD Zen architecture offers, the FX-8800P represents a more modest option and has built-in hardware HEVC and H.265 decoding abilities. That being said, the FX-8800P is using AMD's outdated Excavator architecture, which isn't detrimental as such, but it slots it into a lower positioned tier of products.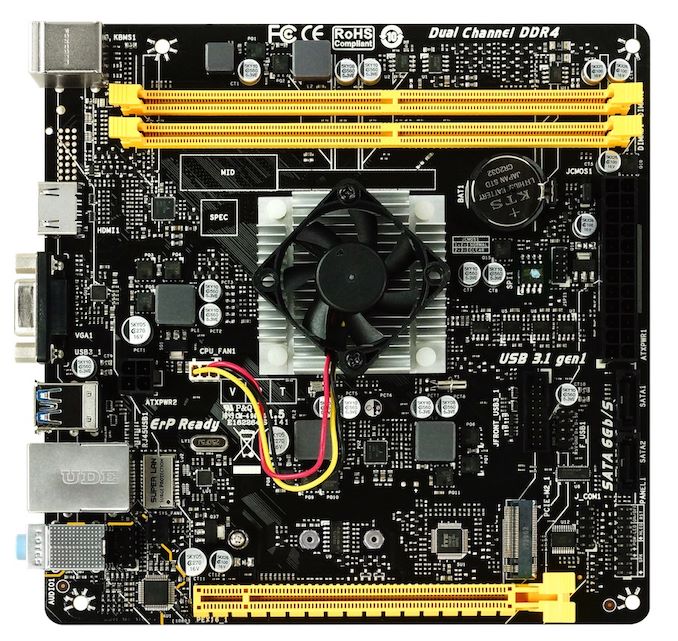 Looking at the Biostar A10N-8800E as we do with all motherboards, the board has an all-black PCB with a set of yellow contrasting slots; Biostar could have even gone with the Bumblebee to generate some BUZZ. In the center of the board is the very basic and low profile integrated CPU heatsink, with a basic 2+1 phase power delivery (two for the CPU and one for the iGPU/SoC). Located at the top of the board and mounted horizontally, is two RAM slots with support for DDR4-2133 and up to a maximum capacity of 32 GB. At the bottom is a single full-length PCIe 3.0 x16 slot with a single M.2 slot situated directly above it; a total of two SATA connectors makes up the rest of the onboard storage capabilities.

The rear panel of the Biostar A10N-8800E represents simplicity connectors with just four USB connectors on the rear panel, all Type-A with two USB 3.1 G1 and two USB 2.0. Legacy users will appreciate a separate PS/2 keyboard and mouse port, with an HDMI and D-sub pairing of video outputs. A basic Realtek ALC887 HD audio codec takes care of the onboard audio, while a Realtek RTL8111H Gigabit NIC powers the single Ethernet port.
When it comes to the system performance of the Biostar A10N-8800E, there are certainly some positive points to go away with when benchmarked on our test bed. Booting into Windows 10 64 bit from our Crucial MX300 1 TB test bed SSD, we achieved a very respectable result of 18.6 seconds at default. When stripped of the networking and audio controllers, we managed to shave around an extra second off that time. Power consumption as expected is also favorable with a maximum peak load in our stress testing of just 53.8 W. This was tested without a discrete graphics card as the main focus is on the capability of the integrated AMD FX-8800P processor.
Marketed as an 'Edge Computing' solution, the Biostar A10N-8800E uses a mini-ITX PCB and a mobile processor. With a TDP of just 15 W, it opines to be a low powered desktop system or even a microserver. The motherboard itself has plenty to shout about with a Realtek pairing of networking and onboard solutions which aren't high-end but are more than up to the task, and with integrated Radeon R7 graphics with HDCP support, it could be the perfect foundation for a solid small form factored HTPC.