Board Features
Gigabyte Z68X-UD3H-B3
Market Segment
Performance
CPU Interface
LGA 1155
CPU Support
Sandy Bridge i3/i5/i7
Chipset
Z68
Base Clock Frequency
38.0 MHz to 400.0 MHz in 0.1 MHz intervals
DDR3 Memory Speed
1333 MHz by default, 800-2133 MHz supported
Core Voltage
Auto, offset or fixed modes, 0.800 V to 1.800 V in 0.015 V intervals
CPU Clock Multiplier
Dependant on CPU
DRAM Voltage
Auto, 1.108 V to 2.464 V in 0.007V intervals
DRAM Command Rate
Auto, 1T-3T
Memory Slots
Four 240-pin DDR3 DIMM slots in dual-channel
Regular unbuffered DDR3 memory
Up to 32GB total supported
Onboard Graphics
1x D-Sub port
1x DVI-D port, supporting a maximum resolution of 1920x1200
*The DVI-D port does not support D-Sub connection by adapter.
1x HDMI port, supporting a maximum resolution of 1920x1200
1x DisplayPort, supporting a maximum resolution of 2560x1600p
Expansion Slots
2 x PCI Express 2.0 x16 slots (x16/x0 or x8/x8)
3 x PCI Express 2.0 x1 slot
2 x PCI slots
Supports ATI Crossfire
Supports NVIDIA SLI
Onboard SATA/RAID
2 x SATA 6.0 Gb/s ports supporting RAID 0/1/5/10
3 x SATA 3.0 Gb/s ports (blue) supporting RAID 0/1/5/10
2 x SATA 6.0 Gb/s ports (white) from Marvell 88SE9172 supporting RAID 0/1
1 x eSATA 3.0 Gb/s port
Onboard
4 x SATA 3Gb/s connectors
4 x SATA 6Gb/s connectors
4 x Fan Headers (1x4-pin, 3x3-pin)
4 x USB 2.0 headers support additional 8 USB 2.0 Ports
1 x Front panel switch/LED header
1 x TPM module connector
1 x USB3.0/2.0 header
1 x IEEE 1394a header
1x SPDIF Out header
1x Serial port header
1 x Firewire/IEEE 1394 header
1 x Front panel audio header
1x Clearing CMOS jumer
Onboard LAN
1 x Realtek RTL8111E chip (10/100/1000 Mbit)
Onboard Audio
Realtek ALC889 Codec, 2/4/5.1/7.1-channel, Dolby Home Theater, S/PDIF Out
Power Connectors
24-pin EATX Power connector
8-pin EATX 12V Power connector
Fan Headers
1 x CPU Fan (4-pin)
3 x SYS Fan (3-pin)
IO Panel
1 x PS/2 keyboard/mouse port
1 x D-Sub port
1 x DVI-D port
1 x optical S/PDIF Out connector
1 x HDMI port
1 x DisplayPort
4 x USB 2.0/1.1 ports
1 x IEEE 1394a port
1 x eSATA 3Gb/s connector
2 x USB 3.0/2.0 ports
1 x RJ-45 port
6 x audio jacks (Center/Subwoofer Speaker Out/Rear Speaker Out/Side Speaker Out/Line In/Line Out/Microphone)
BIOS
2 x 32 Mbit flash
Use of licensed AWARD BIOS
Support for DualBIOS™
PnP 1.0a, DMI 2.0, SM BIOS 2.4, ACPI 1.0b
Warranty Period
3 Years
Software
EasyTune6 is Gigabyte's take on the monitoring and overclocking software within Windows. When you open the software, the Tuner tab opens by default. It offers three different "Quick Boost" options which are described in greater detail within the overclocking section of this review.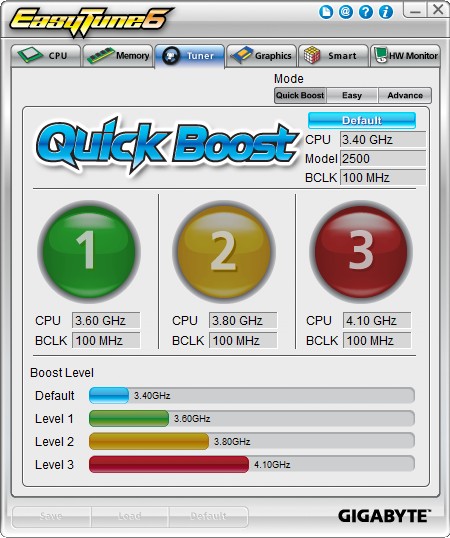 EasyTune6 does pretty much what you'd expect from this kind of software. It tells you everything about your CPU, memory, graphics card(s) as well as providing a hardware monitor and the ability to change your fan profiles.
EasyTune6 allows you to manually set fan profiles within Windows. The default is set at 27% when your CPU is at 20°c and 100% when it reaches 72°c. It increases as the temperature rises in order to try to keep the CPU temperature down. It's simple really, if the CPU is still getting warmer with increased fan speeds, then the fan isn't moving enough air so it speeds up more to bring the temperatures down. If all else fails and the CPU reaches 72°c or above, the fan will run at 100%.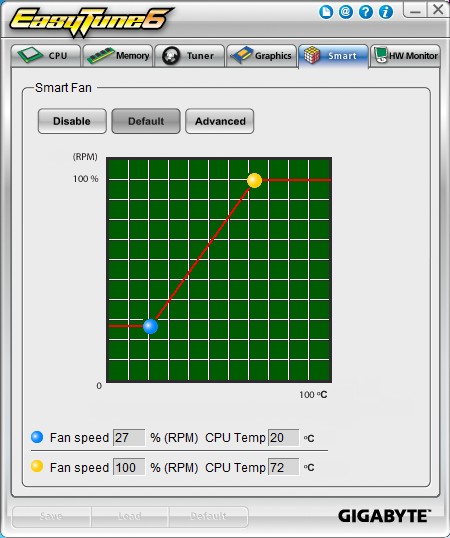 When you select the advanced option, you can manually adjust the settings of the two fans that are controlled by the CPU temperature. Unfortunately, you cannot change the speed of the CPU fan and SYS_FAN2 individually - both are controlled by the CPU temperature. SYS_FAN1 and PWR both run at 100%, no matter what. There is no control over those.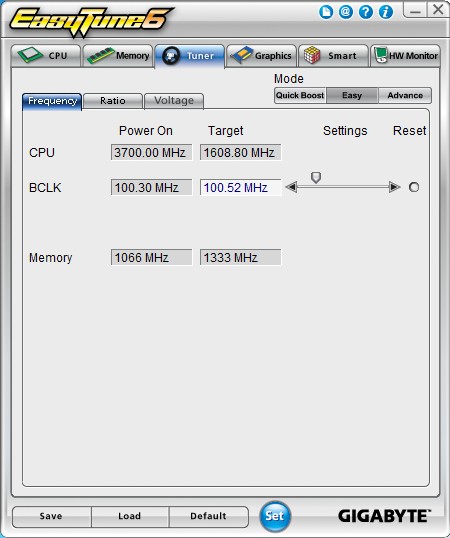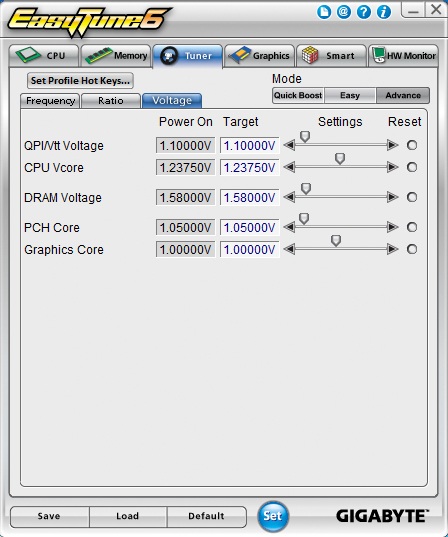 You can overclock your system from within Windows. EasyTune6 allows you to change most of the required settings. You can alter the BCLK, DRAM frequency, multiplier and the system voltages.