Facebook Technology Overview
Facebook had 22 Million active users in the middle of 2007; fast forward to 2011 and the site now has 800 Million active users, with 400 million of them logging in every day. Facebook has grown exponentially, to say the least! To cope with this kind of exceptional growth and at the same time offer a reliable and cost effective service requires out of the box thinking. Typical high-end, brute force, ultra redundant software and hardware platforms (for example Oracle RAC databases running on top of a few IBM Power 795 systems) won't do as they're too complicated, power hungry, and most importantly far too expensive for such extreme scaling.
Facebook first focused on thoroughly optimizing their software architecture, which we will cover briefly. The next step was the engineers at Facebook deciding to build their own servers to minimize the power and cost of their server infrastructure. Facebook Engineering then open sourced these designs to the community; you can download the specifications and mechanical CAD designs at the Open Compute site.
The Facebook Open Compute server design is ambitious: "The result is a data center full of vanity free servers which is 38% more efficient and 24% less expensive to build and run than other state-of-the-art data centers." Even better is that Facebook Engineering sent two of these Open Compute servers to our lab for testing, allowing us to see how these servers compare to other solutions in the market.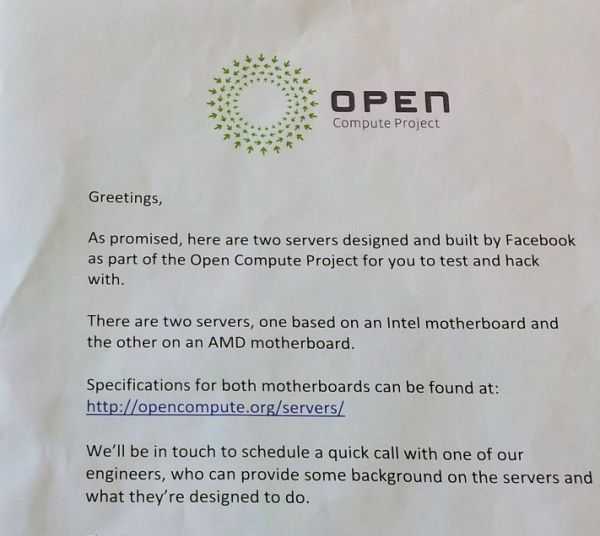 As a competing solution we have an HP DL380 G7 in the lab. Recall from our last server clash that the HP DL380 G7 was one of the most power efficient servers of 2010. Is a server "targeted at the cloud" and designed by Facebook engineering able to beat one of the best and most popular general purpose servers? That is the question we'll answer in this article.