Introduction
Since Intel's launch of the Core 2 Duo in 2006, AMD has relied primarily upon two strategies to stay relevant as a CPU producer: competitive pricing and more cores at specific price points. While the recent launch of AMD's Bulldozer CPU architecture has for some purposes narrowed the gap between the two chipmakers, it seems AMD will continue to compete mostly on pricing for the low-end and mid-range segments of desktop CPU markets. But does the recent launch of Sandy Bridge architecture Celerons by Intel threaten AMD's reign as budget king? The possibility of increased competition at the lower end of CPU performance leads to the question, "How low can prices go?"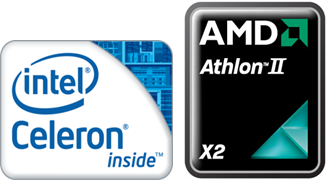 Fortunately for consumers the answer is arguably lower than ever before—though not necessarily with CPUs. SSDs continue to drop in price, and DDR3 prices remain very low with sales regularly hitting the less than $5/GB threshold—even without rebates. As GPU development has slowed in the past year, graphics cards are exhibiting longer lifespans; older cards are becoming less expensive but not necessarily less capable. Until the recent flooding in Thailand, hard drive prices were holding low, with 500GB drives usually available at $40 and sometimes even less; it is unclear how hard drive prices will change in the short-term.
The kind of computing experience these budget systems are capable of delivering is as important as the absolute cost of components. While enthusiasts are always interested in the latest and greatest technology, many people rely on a smartphone and/or a netbook for most of their computing needs. That is, the average user does not need a particularly powerful computer anymore to perform basic tasks like shopping online, checking email, playing games on Facebook, and producing office documents. The components discussed in this guide are all more than adequate for the average home and office user.
It's important to keep in mind that prices on these parts fluctuate wildly and rapidly. We present in this guide a wide array of products representing all of the desktop component classes—the more price alerts you set on more websites, the more likely you are to be able to score killer deals on computers for friends, relatives, or perhaps yourself. Also keep in mind that with the rise of mobile OSes such as Apple's iOS and Google's Android, more people are increasingly comfortable learning a new operating system—so while all of the builds detailed in this guide include the cost of Windows 7, it's worth considering saving $100 or so by going with a user-friendly free OS like Ubuntu Linux.
All that said, the next page provides a few benchmarks comparing Intel's and AMD's $60 CPUs as well as AMD's $70 APU, which will set the tone for overall system performance. Once we've covered the performance expectations, we'll move on to the actual component recommendations.