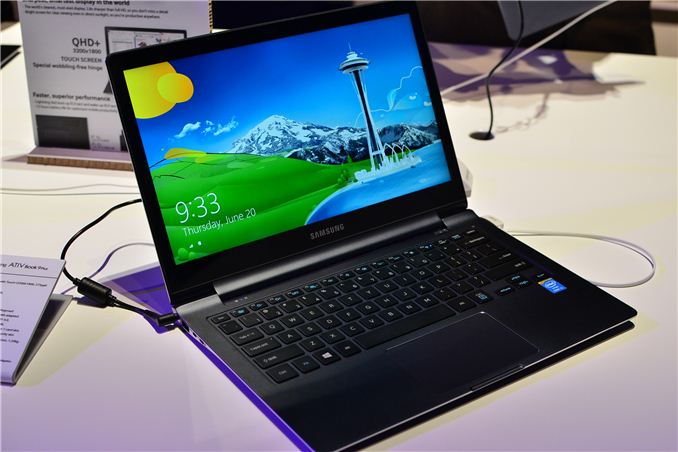 Earlier tonight Samsung introduced a convertible featuring a 13.3-inch 3200 x 1800 display that runs both Windows 8 and Android. If the convertible form factor is a little too weird for you, Samsung also introduced an Ultrabook with the very same display.
Like many of the Ultrabooks announced in Taipei, the ATIV Book 9 Plus is a marriage of MacBook Air and rMBP. You get a form factor that's very similar to the 13-inch MBA, but with a display that's clearly aimed at the more expensive rMBP. Where the ATIV Book 9 Plus falls in pricing will be very interesting to see.
Internally, there's a familiar refrain: Core i5-4200U (Haswell ULT), DDR3L and an SSD. Like the ATIV Q, the SSD in this case is one of Samsung's own - the MZNTD128HAGM, a 6Gbps SATA M.2 drive. The machine ships with an integrated 55Wh battery and weighs 1.39 kg. Samsung claims up to 12 hours of battery life.
The notebook looked good in person. I'm a fan of the hidden SD card reader with spring loaded door. Just like we saw with the ATIV Q, the ATIV Book 9 Plus was running Windows 8 but I fully expect that it's meant for Windows 8.1's improved handling of high DPI displays.