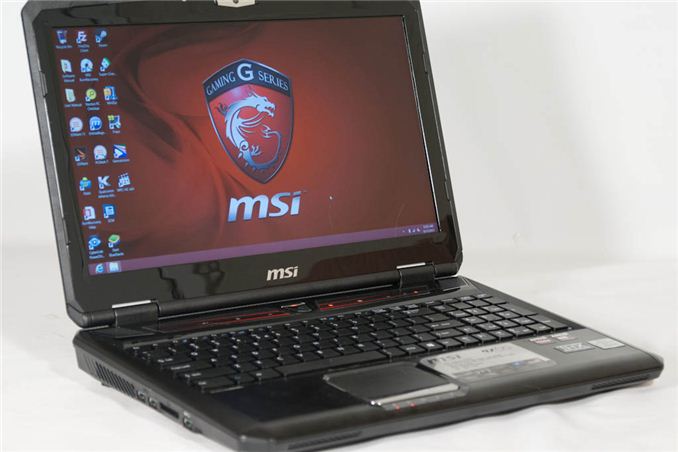 Introducing the MSI GX60
Gaming notebooks are increasing in popularity, but getting affordable gaming hardware can still be a challenging task. While midrange parts like NVIDIA's GeForce GT 740M and 750M or AMD's Radeon HD 8600M line aren't bad options and will definitely do the job in a pinch, having a good gaming experience generally requires more muscle. Whether you want to boost minimum framerates for smoother play or just turn on all the bells and whistles, a strong GPU is critical. Unfortunately, a strong GPU also costs money.
MSI introduced its first-generation GX60 gaming notebook some time towards the end of last year as a way to bridge the gap. If you were willing to take a hit in CPU performance by using a Trinity-based AMD A10-4600M, you could be served by a very powerful AMD Radeon HD 7970M on the graphics side. Budget gamers on the desktop will often cut CPU budget if it means getting a faster graphics card, and that's the principle MSI is operating off of.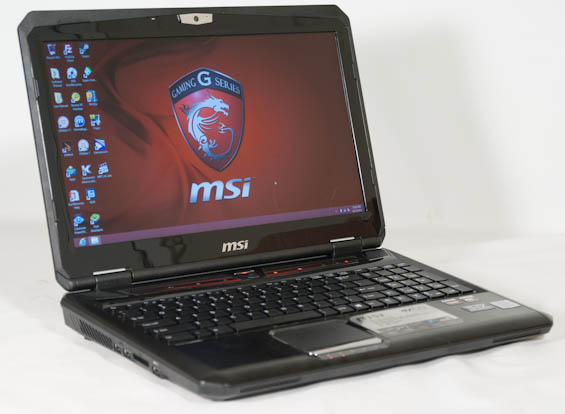 The fly in the ointment is that the gaming landscape has changed substantially since the first GX60. Games like Far Cry 3, Crysis 3, and Tomb Raider are all true next generation titles, requiring a healthy amount of CPU horsepower along with their substantial graphics requirements. As we saw in the first part of our review of the AMD A10-5750M, AMD has made some headway in CPU performance compared to last generation's Trinity chips, but we're still dealing with fundamentally the same silicon.
MSI GX60 (2013) Specifications
Processor
AMD A10-5750M
(4x2.5GHz, Turbo to 3.5GHz, 32nm, 4MB L2, 35W)
Chipset
AMD Hudson-3
Memory
1x8GB A-Data DDR3-1600
Graphics
AMD Radeon HD 8650G
(VLIW4; 384 cores; 533/720MHz base/turbo frequencies)

AMD Radeon HD 7970M 2GB GDDR5
(GCN; 1280 cores; 850MHz/4.8GHz core/memory; 256-bit memory bus)
Display
15.6" LED Matte 16:9 1080p
LGD0259
Hard Drive(s)
Western Digital Scorpio Black 750GB 7200-RPM SATA 3Gbps HDD
Optical Drive
TSSTCorp SN-406AB BD-ROM/DVDRW
Networking
Killer Networks e2200 PCIe Gigabit Ethernet
Atheros AR9485WB-EG 2.4GHz 802.11b/g/n
Bluetooth 4.0
Audio
Realtek ALC892 HD audio (THX TruStudio Pro)
2.1 speakers
Mic, headphone, line-in, and line-out jacks
Battery
9-cell, 87Wh
Front Side
-
Right Side
Mic, headphone, line-in, and line-out jacks
1x USB 2.0
Optical drive
Left Side
Vent
3x USB 3.0
SD card reader
Back Side
Kensington lock
AC adapter
Ethernet
D-SUB
Mini-DisplayPort
HDMI
Vent
Operating System
Windows 8 64-bit
Dimensions
14.97" x 10.24" x 1.77"
380mm x 260mm x 45mm
Weight
7.7 lbs
3.49kg
Extras
Webcam
USB 3.0
Card reader
THX TruStudio Pro audio
Killer Networks wired networking
SteelSeries keyboard
Warranty
2-year parts and labor
Pricing
$1,199
As far as mobile AMD chips go, the A10-5750M is about as fast as it gets. Trinity and Richland did away with the 45W parts you could find in the Llano generation, so we're essentially hoping that the pair of Piledriver modules running at a 2.5GHz nominal clock speed can pick up enough slack to power the AMD Radeon HD 7970M.
That Radeon HD 7970M is essentially the MSI GX60's reason for being. MSI went all-in on the graphics side, and an updated model of the GX60 is due soon that bumps the 7970M to an 8970M. The 7970M is based on AMD's Pitcairn desktop chip: it features 1,280 of AMD's GCN cores running at a healthy 850MHz clock rate, along with 80 texture units and 32 raster operators. Our review unit features 2GB of GDDR5 on a 256-bit memory bus running at 4.8GHz. If you're concerned our test results with the 7970M are going to be outdated when the 8970M-enabled GX60 lands, fear not: the only difference is a 50MHz boost clock on the 8970M. The chip is otherwise identical. Performance-wise, the 7970M and 8970M should stack up somewhere between the desktop HD 7850 and 7870, leaning more towards the 7870.
Where I'm a bit frustrated with the MSI GX60 is in both the memory configuration and the storage configuration. All told this is basically a smaller version of the GT70 chassis, less the backlit keyboard, but MSI opted to only include one DIMM instead of two for the memory, and we're stuck with a mechanical hard disk for storage duties. Thankfully you can get the GX60 for $1,199, which is a pretty good deal for a system with such a powerful GPU at its heart, and that does take some of the edge off.
Since the first part of the Richland review focused on the AMD A10-A5750M with dual-channel memory enabled, we have an opportunity now to compare those CPU results to the stock results of the GX60, which runs in only single-channel mode.