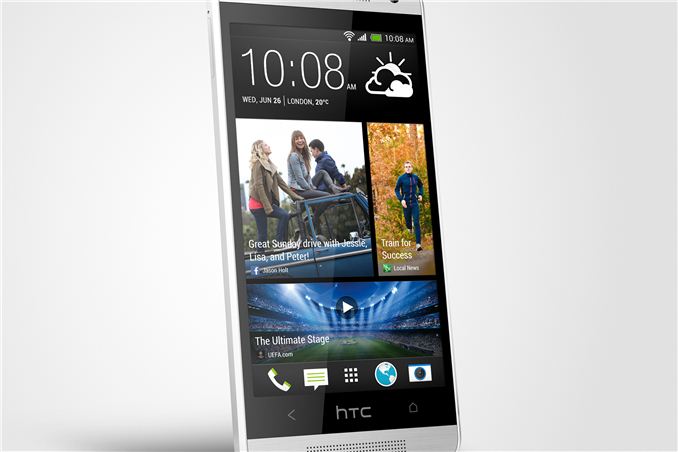 We knew it was coming, and after a long wait and endless leaks the HTC One mini is upon us. Smaller phones seem to be something everyone wants more of to augment the ever-growing size of the flagships, and with the HTC One mini we get some of that, although the miniaturized HTC One isn't quite as powerful as its full fledged brethren. The One mini isn't exactly that miniaturized flagship that everyone was looking for, rather a more midrange, cost-reduced version of the One with a number of concessions made to get there.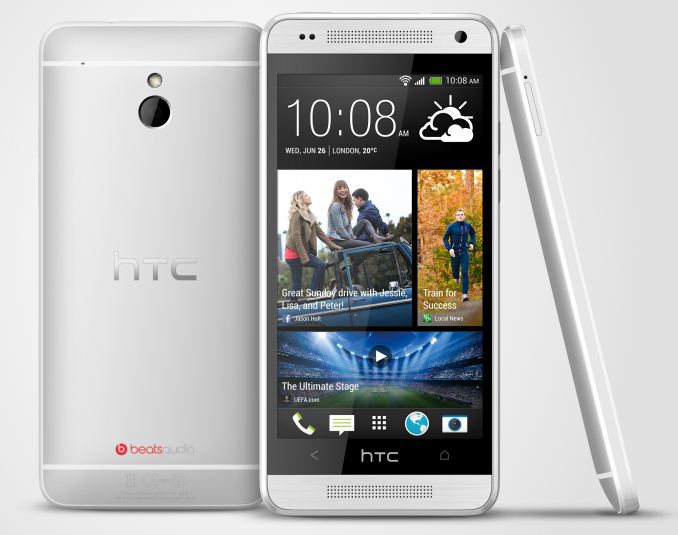 Starting off, the HTC One mini continues the same predominantly aluminum construction and virtually the same exact design language, although there is visibly more polycarbonate around the edges. I'm told that the One mini doesn't use exactly the same construction methods as the One, you can see this bear itself out in the photos with the plastic wrapping around the edges a bit more on the front and back. The backside is still curved and segmented into three pieces, with the bottom and top strips serving as the primary and secondary cellular antennas from what I can tell. In that plastic band for the top antenna separation is also still a secondary microphone, for stereo audio on video and ambient noise suppression on calls. You'll notice the vertical strip running along the middle to the camera module is gone, and with it, the NFC functionality which necessitated it. The power button is also now silver since there's no IR Tx/Rx port behind it, and the volume rocker is now two discrete buttons instead of one.
Flash moves to a centered 12-o-clock position above the rear-facing camera aperture, which is still 4.0 MP with 2.0 µm "ultrapixels," although there's no OIS this time around for cost reasons, which is a bit unfortunate since that was half of what made the HTC One's camera exciting.
HTC One mini Specifications
HTC One mini
SoC
1.4 GHz Snapdragon 400
(MSM8930 - 2 x Krait 200 CPU, Adreno 305 GPU)
RAM/NAND/Expansion
1GB LPDDR2, 16 GB NAND
Display
4.3-inch LCD 720p, 341 ppi
Network
2G / 3G / 4G LTE (MSM8930 MDM9x15 IP block)
Dimensions
132 x 63.2 x 9.25 mm, 122 grams
Camera
4.0 MP (2688 × 1520) Rear Facing with 2.0 µm pixels, 1/3" CMOS size, F/2.0, 28mm (35mm effective) no OIS
1.6 MP front facing
Battery
1800 mAh (6.84 Whr)
OS
Android 4.2.2 with Sense 5
Connectivity
802.11a/b/g/n + BT 4.0, USB2.0, GPS/GNSS, DLNA
Misc
Dual front facing speakers, HDR dual microphones, 2.55V headphone amplifier
Bands
GSM/EDGE: Quad Band
WCDMA/HSPA+ 42 Mbps:
EMEA: 900/1900/2100 MHz
Asia: 850/900/1900/2100 MHz
LTE Cat. 3:
EMEA: 800/1800/2600 MHz
Asia: 900/1800/2100/2600
On the front the One mini retains the stereo boomsound speakers, front facing camera module (1.6 MP), and capacitive button placement. The display is 4.3-inch 720p LCD – as an aside it's amazing that 4.3-inch and 720p is now a midrange feature just a year after 720p's introduction. The HTC One mini runs Android 4.2.2 with the updates to Sense 5 we already talked about in that update to the HTC One.
Hardware Comparison
HTC One mini
HTC One
HTC One S
iPhone 5
Height
132.0 mm
137.4 mm
130.9 mm
123.8 mm
Width
63.2 mm
68.2 mm
65 mm
58.6 mm
Thickness
9.25 mm
9.3 mm
7.8 mm
7.6 mm
Mass
122 grams
143 grams
119.5g
112 g
So how mini is the One mini, and how much of a spiritual successor to the HTC One S is it? Turns out it's somewhere inbetween the One S and One in size and mass, and still somewhat tall of a phone if you're comapring dimensions in the table I've made above. I don't have any hands-on impressions with the device to share for various spatial reasons, but I'm hoping it maintains the same kind of quality that the One does without making sacrifices.
Update: A number of people have asked how the One mini compares in size and mass to the iPhone 5, I've tossed that in the table as well.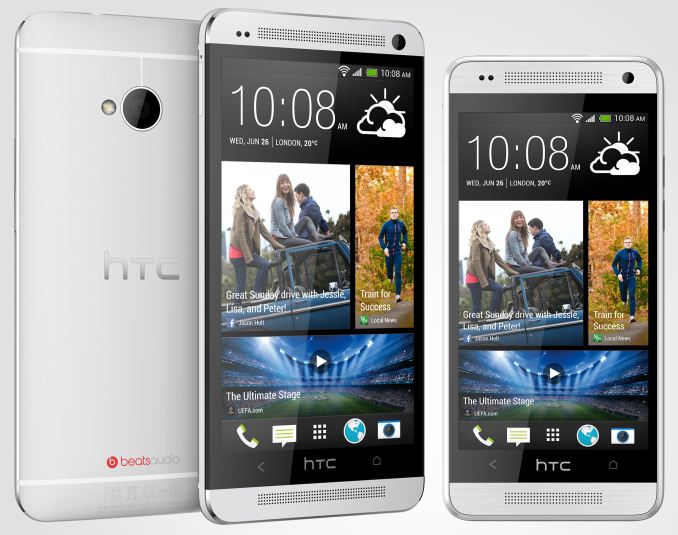 HTC One (left), HTC One mini (right)
What made the HTC One S awesome was that it was every bit as powerful as the One XL but in a smaller, sleeker, metal chassis. With the HTC One mini it's obvious that this isn't a flagship device squeezed into a smaller, more pocketable device like the One S was, but rather a phone catered to a different lower-end market entirely. Among enthusiasts that's not at all what everyone has been clamoring (sometimes quite loudly) for, but it will bring HTC a much needed update into a different price point not commonly home to such material or build quality. I'm going to wait until I finally get the chance to hold and review a One mini before passing judgement.
The HTC One mini will launch in some markets (Europe, others) in August and globally in September this year. HTC isn't naming a price for the One mini, but with the specs above it has to be competitive given the relatively midrange spec list and targeting. There's no official word on availability, operator partners, or pricing for the USA market, but it is inevitably coming here in some shape or form.