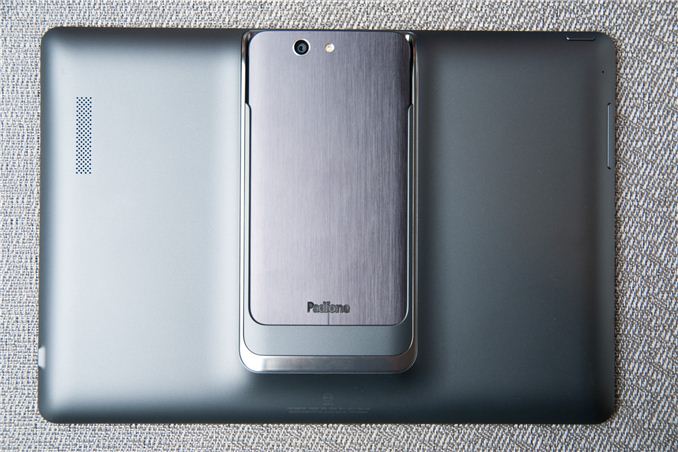 For a while now, ASUS has been pushing form factor boundaries in the mobile space, with dockables and other 2-in-one platforms that once seemed radical but really started making sense after a while. I've been itching to get to try one such category for a while now, the Padfone, which combines 10.1-inch tablet form factor display and battery with a 5-inch form factor smartphone device. Compute resides in the smartphone form factor device, but when docked into the Padfone station, you bring everything over with you including connectivity, media, and the platform itself. ASUS has been selling the Padfone line for a while now, and we just recently received the new Padfone Infinity based on Snapdragon 800 to play around with.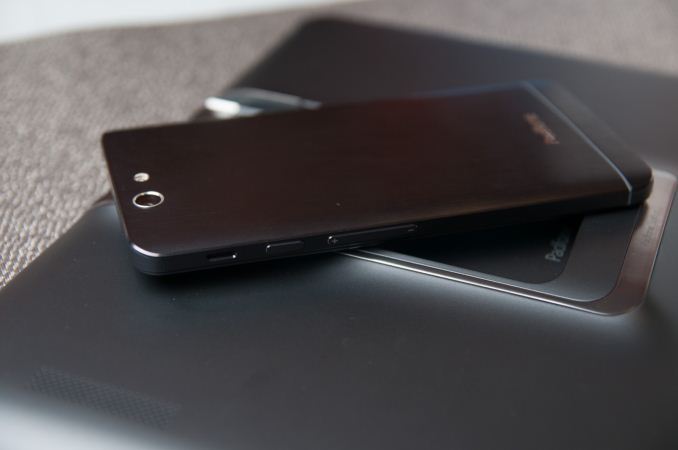 The Padfone Infinity is based on a Snapdragon 800 platform with the 2.2 GHz Krait 400 clocks inside, and 450 MHz Adreno 330 GPU. There's also 2 GB of LPDDR3 alongside. I'll save the rest of the spec listing for the table, but the Padfone Infinity is absolutely bleeding edge in terms of both its camera, displays on both the smartphone and station, and SoC inside. I've only been playing with the Padfone for a short time, but UI is very smooth in both modes, and the transition between tablet and phone operation is very fast.
ASUS Padfone Infinity
SoC
Qualcomm Snapdragon 800 (MSM8974)
4x Krait 400 2.2 GHz, Adreno 330 GPU
Display
5-inch 1080p IPS (PadFone)
10.1-ich 1920x1200 IPS (PadFone Station)
RAM
2 GB LPDDR3 RAM
WiFi
802.11a/b/g/n/ac + BT 4.0
Storage
16/32 GB Internal, microSD slot (up to 64 GB),
50 GB ASUS WebStorage
I/O
3.5mm headphone, nanoSIM,
myDP (USB 2.0 host+device, 1080p video out)
OS
Android 4.2.2
Battery
2400 mAh (PadFone)
5000 mAh (PadFone Station)
Size / Mass
143.5 x 72.8 x 8.9mm, 145 grams (PadFone)
264.6 x 181.6 x 10.6mm, 532 grams (PadFone station)
Camera
2 MP w/AF, F/2.0 (Front)
13 MP w/AF,LED F/2.0 (Rear)
Network

EDGE/GPRS/GSM: 850/900/1800/1900MHz

UMTS/DC-HSPA+: 850/900/1900/2100MHz
(DL: 42Mbit/s / UL: 5.76Mbit/s)

LTE Cat 4: 800/1800/2600MHz
(DL: 150Mbit/s, UL: 50Mbit/s)
I've been wanting to take a look at the Padfone line for a long time regardless of the fact that there's no variant yet with USA-appropriate LTE bands. The other side of the Padfone is that US operators seem to be hostile to the form factor for some reason, of course it's an obvious way for consumers to get both tablet and smartphone under a single data plan.
I've been impressed with ASUS hardware build quality since playing with some of the earliest mobile devices, and it has continued to improve. The Padfone Infinity seems to have nailed the insert/eject force for the smartphone module, and the docking station tablet seems to be pretty solid. The industrial design is almost the same as the Padfone Infinity I played with at MWC earlier this year, though the new Padfone infinity adds a diamond cut edge to the rear of the phone to make it less sharp when held in the hand. I was impressed then with the use of metal on the smartphone module and continue to be impressed with both build quality and way that handset feels. I'm buried in smartphones and devices for this refresh period before the holidays, but we're definitely going to take a longer look at the Padfone Infinity.