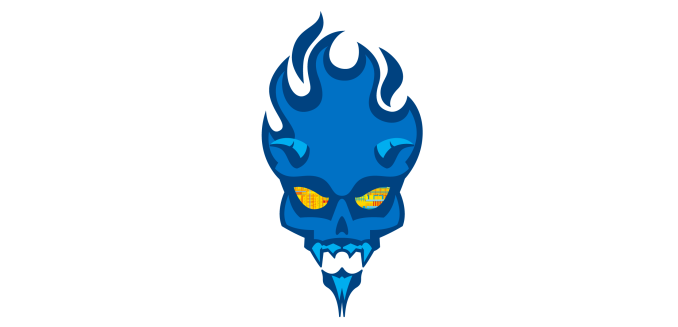 In early July, Intel released two new processors that go by the codename "Devil's Canyon" (DC). You can read our full review, but if you just want the executive summary it's pretty simple. Take the core processor design of Haswell (4th Generation Core Series) and modify the packaging to improve a few areas that will mostly be of interest to overclocking enthusiasts. Specifically, Intel has used a new Thermal Interface Material (NGPTIM) and they've added some capacitors to improve voltage stability/delivery. What does this mean to the layman? For most users, it means a drop in CPU core temperatures of around 10C under load, which can help with noise, cooling, and overclocking as well as improved performance.
There are only two DC CPUs at present, the i5-4690K and the i7-4790K. These are both K-series CPUs, so they're unlocked and target the overclocking enthusiast for a slight price premium, and they supersede the earlier i5-4670K and i7-4770K Haswell parts at similar prices ($5-$10 more). The only noteworthy specification changes: the TDP (Thermal Design Power) has been bumped from 84W to 88W, base/turbo clocks have been increased, and the DC CPUs are the first K-series parts to support VT-d and TSX-NI (mostly useful for workstation/server type environments). In the case of the i5-4690K, the jump in clock speeds is only 100MHz (base and turbo clocks), but the i7-4790K boasts a far more impressive 500MHz increase over the i7-4770K. The new CPUs should work with all 9-series and 8-series chipset motherboards, but 8-series boards will require a BIOS/firmware update so you'll want to verify compatibility before making a purchase.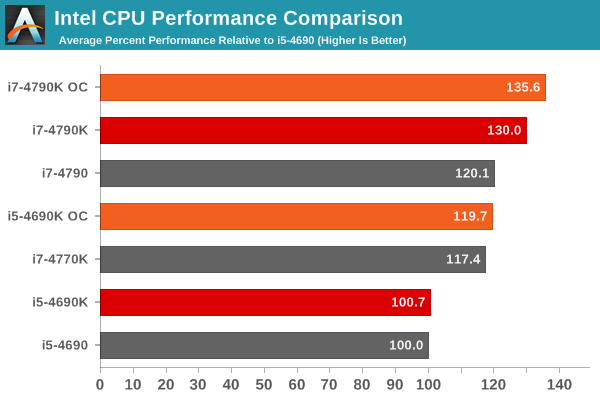 What this boils down to is how much you want/need to increase CPU performance; you can see the quick summary of performance above. Without overclocking, the i5-4690K is functionally equivalent to the i5-4690 while costing $15 more, so it's almost solely targeted at overclockers. The i7-4790K on the other hand has the highest stock clocks of any CPU Intel has ever released; it's clocked 400Mhz higher than the i7-4790 while costing $25 more. That extra 400MHz translates into a 10-11% improvement in CPU clocks (9% overall performance increase on average), which is quite good all things considered – i7-4770K was only about 7% faster than i7-3770K on average in our testing. Gaming performance, if you're wondering, is largely bottlenecked by GPUs and so any of the CPUs listed above will result in very similar frame rates.
For those interested in overclocking, our internal testing suggests that the new sweet spot for maximum clocks on air/water is going to be around 4.7GHz, which is slightly improved from Haswell where there was more variability. Those chasing extreme overclocks who have already investigated other options for improving overclocking performance (e.g. delidding the CPU package to replace the TIM and integrated heatspreader) will likely find little to no difference between Haswell and DC. Unless you're after the top overclocking spot, DC isn't going to do much for enthusiasts who already own a fast CPU.
Users that aren't looking at overclocking will have an easier choice to make. If you're buying a new system, DC is of course worth considering, and the i7-4970K is the fastest consumer CPU to date. If you're thinking of upgrading, at the top of the product stack the i7-4790K still offers a 9% increase in average CPU performance over i7-4770K and 17% over i7-3770K, which is certainly enough to warrant consideration. But if you're running heavily threaded workloads, you're going to be better off waiting for Haswell-E and X99, which should bring 6-core and 8-core processor's to Intel's Extreme platform next month.