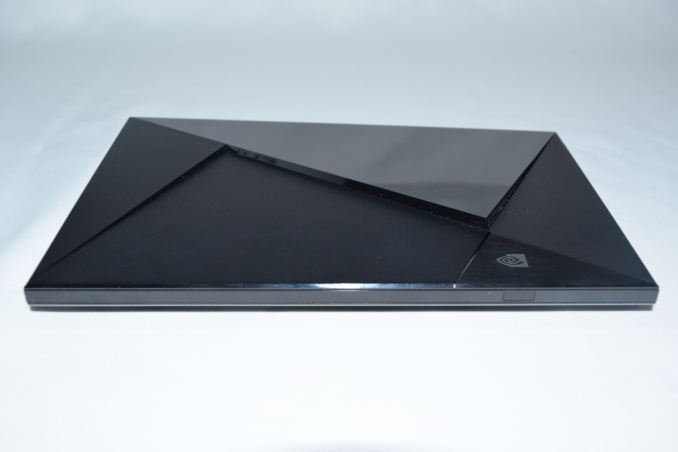 The battle for the living room (i.e, controlling the television experience) is heating up with forays from multiple vendors. As the cord-cutting trend gains momentum, the time seems to be right for disruption. Roku has been around for a long time and they continue to taste success with inexpensive and small over-the-top set-top boxes (OTT STBs). At the other end of the spectrum is the Apple TV, which, despite just being a 'hobby', has managed to move millions of units. Google had tried to make inroads into this market a few years back with the Google TV / Logitech Revue, but, it unfortunately didn't pan out as expected. Chromecast turned out to be more popular in their second attempt, but it was a limited play. In late 2014, Google launched Android TV along with the Nexus Player.
Coinciding with Google I/O, NVIDIA is releasing their previously announced SHIELD Android TV. First announed back in March at the 2015 Game Developers Conference, SHIELD Android TV is a premium 4K-capable over-the-top set-top box (OTT STB) with a powerful graphics engine. The differentiating aspects compared to the Intel Bay Trail-based Nexus Player and the Qualcomm Snapdragon-based Razer Forge TV lie in 4K support (HDMI 2.0 / HDCP 2.2 / Netflix 4K-certification) and excellent gaming credentials.
NVIDIA SHIELD Family
NVIDIA SHIELD Tablet
NVIDIA SHIELD Android TV
SoC

Tegra K1 (2.2 GHz 4x Cortex A15r3, Kepler 1 SMX GPU)

Tegra X1 (4x Cortex A57 + 4x Cortex A53, Maxwell 2 SMM GPU)

RAM

2 GB LPDDR3-1866

3 GB LPDDR4-3200

NAND

16/32GB NAND + microSD

16GB NAND + microSD + USB

Display
8" 1920x1200 IPS LCD
N/A, HDMI 2.0 4Kp60 Output
Dimensions

221 x 126 x 9.2mm, 390 grams

210 x 130 x 25mm, 654 grams

Camera

5MP rear camera, 1.4 µm pixels, 1/4" CMOS size. 5MP FFC

N/A
Battery

5197 mAh, 3.8V chemistry (19.75 Whr)

N/A, 40W Power Adapter
OS
Android 5.0.1
Android TV
Connectivity
2x2 802.11a/b/g/n + BT 4.0, USB2.0, GPS/GLONASS, mini HDMI 1.4a
2x2 802.11a/b/g/n/ac + BT 4.1/BLE, USB 3.0 + 2.0, HDMI 2.0 + HDCP 2.2, IR Receiver, Gigabit Ethernet
Launch Price
$299 (16GB/WiFi) + $59 (optional controller)
Basic: $199, Includes 1 SHIELD Controller
Pro: $299, Adds 500GB Hard Drive
The NVIDIA SHIELD smart TV platform comprises of three distinct products, the SHIELD console, the SHIELD wireless controller and the SHIELD remote.
The SHIELD is the main console, integrating a Tegra X1 SoC along with 3 GB of LPDDR4 DRAM and 16 GB of storage. I/O ports include two full-sized USB 3.0 host ports, a USB 2.0 micro-USB device port, GbE RJ-45 port, IR for universal remotes and 802.11ac 2x2 MIMO Wi-Fi with Bluetooth 2.1. It also includes a microSDXC slot. Video output is handled by a HDMI 2.0 port with HDCP 2.2 support.
The SHIELD Wireless Controller is the game controller bundled with the SHIELD console, and was first launched last year with the SHIELD Tablet. It uses Wi-Fi Direct for communication. A stereo headset jack and microphone are integrated. It also includes a rechargeable battery that can provide up to 40 hours of battery life.
Finally, the SHIELD Remote It is meant to be a replacement for the game controller in situations where single-handed operation is preferable. It uses Bluetooth for communication with the console. Like the game controller, a microphone and headset jack are included. The rechargeable battery is good for up to 4 weeks.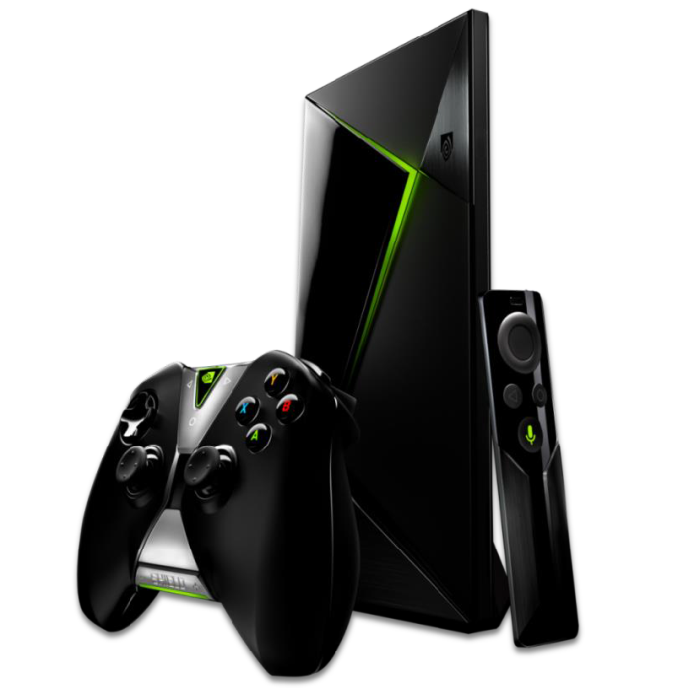 While the game controller and the console together retail in the basic package for $199, the SHIELD Remote is available separately for $50. Meanwhile after a slight snafu where it was announced back in April and then immediately pulled, NVIDIA is indeed offering a higher-end Pro SKU. SHIELD Pro model is similar to the SHIELD described above, except it adds an internal 500 GB hard drive into the mix and bundles a game - Borderlands: The Pre-Sequel! The Pro model is priced at $299.
Prior to diving into the details, let us take a look at the devices that NVIDIA is positioning the SHIELD Android TV against. Note that the two tables below are direct from NVIDIA's marketing material.

As we will see further down in the review, the above table is not far from the truth. In fact, except for NVIDIA claiming that their pulldown algorithm is enhanced compared to the competition, we tend to agree with everything. For the moment at least, NVIDIA pretty much has the 4K set top box to themselves.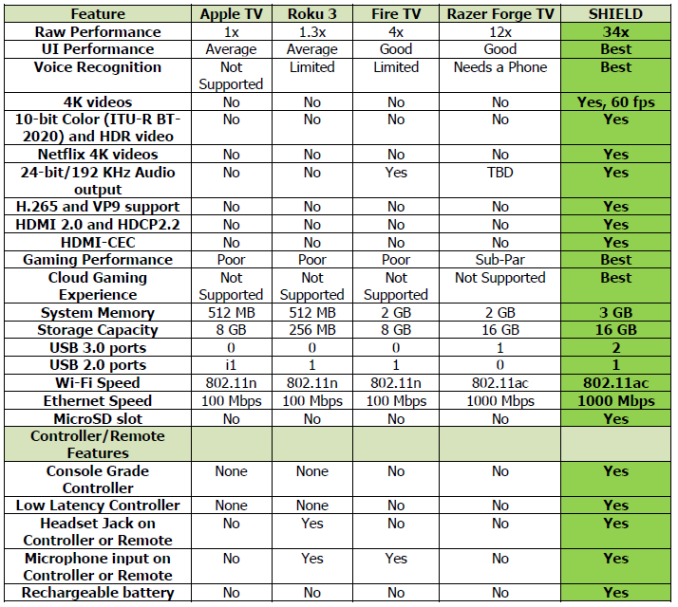 NVIDIA claims a 34x raw performance increase compared to other OTT STB platforms. We won't endorse that particular number, but, in general, the performance of the SHIELD is miles ahead of the competition. The only other entry we find contentious is the availability of 24-bit / 192 KHz audio output. As we will see in the local media playback evaluation section, this is something of a moot point in most scenarios since the unit doesn't have licenses for decoding lossless HD audio. In any case, the above tables give an idea of where NVIDIA is positioning the SHIELD Android TV in the market.
The NVIDIA SHIELD Android TV also happens to be the first shipping product with the Tegra X1 SoC. We will first analyze the SoC and its performance in detail before moving on to Android TV in general and the SHIELD in particular.