Performance Consistency
Starting things off, our performance consistency test saturates the drive with 4kB random writes for a full hour, with a queue depth of 32, the maximum supported by the AHCI protocol used by SATA and most PCIe drives. This puts the drive's controller under maximum stress and writes enough data to exhaust all free space and spare area on the drive. This is an unrealistic workload for any client use, but it provides a worst-case scenario for long-term heavy use, and it sheds light on how different SSD controllers behave and if their performance will hold up as they fill up.
The average of the last 400 seconds of the test gives us a steady-state IOPS rating that is usually very different from what the manufacturer specifies for a new, empty drive. We also quantify the consistency of the drive's random write performance, and provide plots of the performance over the course of the test.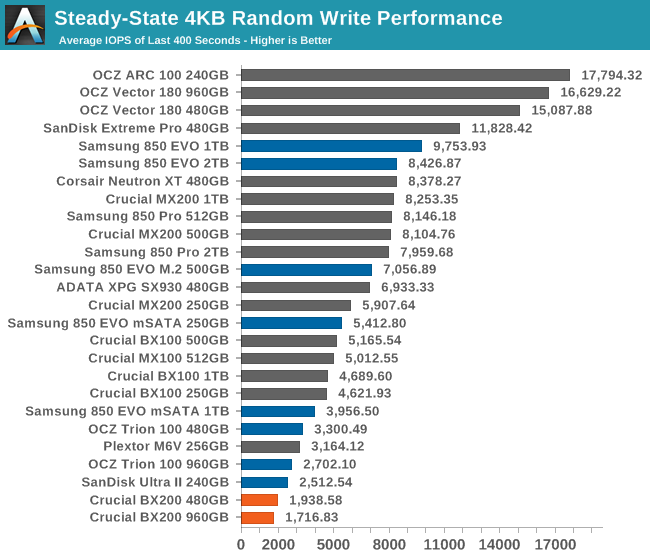 The BX200 is off to a poor start, with very low steady-state IOPS where the BX100 managed to place closer to the middle of the pack.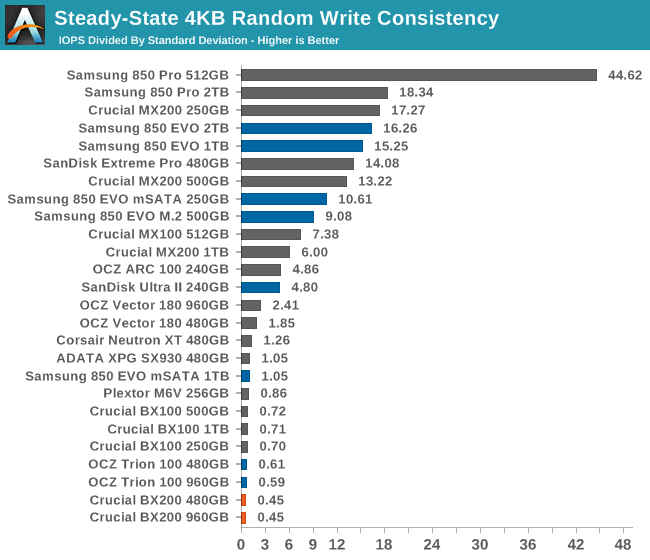 The BX200's consistency is also at the bottom of the chart, indicating that there's wide variability between its best and worst performance even after entering steady-state.
For a brief moment, the BX200 performs almost as advertised, and then for a few minutes it performs well for a budget drive, but when it runs out of cache and spare area, performance hits the floor.
Save for the periodic but infrequent excursions to 9k IOPS and 20-25k IOPS, the BX200's steady-state hovers between 200 and 700 IOPS: better than a hard drive, but not what we want to see from a SSD.