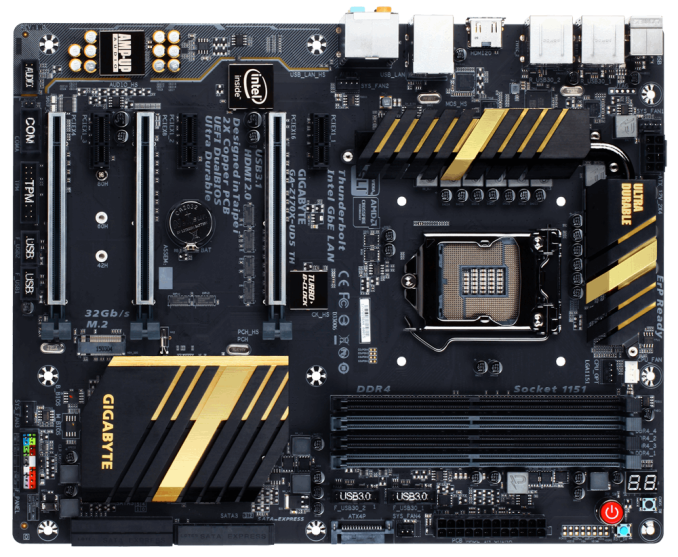 At the initial phase of Intel's Skylake processor launch, a myriad of Z170 equipped motherboards were released to enable the platform. One of the prominent features of Z170 was the ability to support Thunderbolt 3 when the motherboard also used Intel's Alpine Ridge Controller and was certified. GIGABYTE had the initial exclusive on the controller, but has had to wait for TB3 enabled devices to hit the market. While we're still waiting, we tested the GIGABYTE Z170-UD5 TH motherboard, which comes in at $208 and is arguably one of the cheapest ways to get dual Thunderbolt 3 ports as standard.
Other AnandTech Reviews for Intel's 6th Generation CPUs:
Skylake-K Review: Core i7-6700K and Core i5-6600K - CPU Review
Comparison between the i7-6700K and i7-2600K in Bench - CPU Comparison
Overclocking Performance Mini-Test to 4.8 GHz - Overclocking
Skylake Architecture Analysis - Microarchitecture
Z170 Chipset Analysis and 55+ Motherboards - Motherboard Overview
Discrete Graphics: An Update for Z170 Motherboards - PCIe Firmware Update
Price Check: Intel Skylake i7-6700K and i5-6600K - Skylake Price Check (2/16)
100-Series Motherboard Reviews:
Prices correct at time of each review
($500) The GIGABYTE Z170X-Gaming G1 Review
($250) The ASUS Maximus VIII Impact
($240) The ASRock Z170 Extreme7+ Review
($230) The MSI Z170 Gaming M7 Review
($208) The GIGABYTE Z170X-UD5 TH Review (this review)
($165) The ASUS Z170-A Review
To read specifically about the Z170 chip/platform and the specifications therein, our deep dive into what it is can be found at this link.
Going Thunderbolt 3
Since the launch of the initial Thunderbolt controllers, we have frequency postulated as to what the addition of the controller adds to the cost of the motherboard. Of course, the motherboard manufacturers pay Intel's set pricing depending on how many units ordered and if there's an exclusive contract. We were told at the launch of the Skylake ecosystem that the Thunderbolt 3 controller, Alpine Ridge, was costing GIGABYTE similar to the price of the ASMedia USB 3.1 controller – about $8-12. Typically this means by the time it gets to the end-user, after distribution and retailer markups and tax, it can be a $20-$25 add-on to the standard motherboard. We can see the effect: the GIGABYTE Z170X-UD5 on Amazon.com is listed as $202 MSRP and the UD5 TH is listed as $225 MSRP, or +$23. However, due to sales, stock, interest or other factors, the UD5 TH is currently (2/16) running at $208. At this price, the Z170X-UD5 TH comes in as one of the cheapest Thunderbolt 3 equipped motherboards you can by.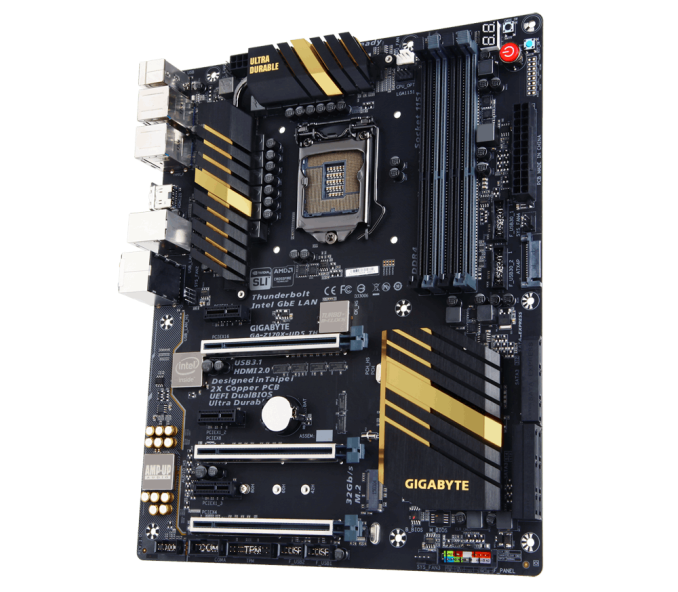 The Intel Alpine Ridge controller which enables Thunderbolt 3 is actually a multifunctional bit of silicon. As well as supporting TB3 over USB Type-C (meaning DisplayPort or storage), it can also support USB 3.1 at 10 Gbps over Type-C, HDMI 2.0 and Power Delivery 2.0. Each of these features needs to be enabled in hardware, so not all Alpine Ridge (AR) motherboards support all the features, which makes any AR implementation somewhat confusing. For example, in the Z170X-UD5 TH, the AR controller gives two Type-C ports, suitable for TB3, USB 3.1, and usually some form of fast charging (Amazon says 36W, but the GIGABYTE website does not confirm this). Technically this motherboard also has HDMI 2.0, but this is provided by a different chip (the MCDP2800, an LSPcon) entirely. Nice and simple, right?
Aside from all this, the low cost to Thunderbolt 3 is rather interesting. Users can either buy a TB3 equipped motherboard like this, or buy an add-in card which can cost $40+ and take up a slot on a motherboard (some motherboard bundles come with one). Typically Thunderbolt is seen as a premium interface, limited to high end storage, displays and docks, suggesting that anyone buying a PC with TB3 equipped is not going to be pinching pennies. Nevertheless, the Z170X-UD5 TH is a fully functioning motherboard for Skylake processors in its own right, and if the difference between the base model and the TB3 equipped version is only $6, it becomes one of those add-ons 'in case I ever get a TB3 device'. Easy.
GIGABYTE Z170X-UD5 TH Overview
The motherboard as it stands is still in the mid-to-high end of GIGABYTE's product stack. From the Ultra Durable line, the UD5 sits above UD3 and below UD7, enabling some features but not going overboard. The $210-$220 price point, while above the average selling price of a motherboard, is often a strong battleground for mainstream enthusiasts willing to spend >$900 on a full system build.
On the base specifications we get a single M.2 PCIe 3.0 x4 slot that also supports M.2 SATA, six SATA 6 Gbps ports with three SATA Express, Intel's I219-V network controller and an upgraded audio solution through Realtek's ALC1150 audio codec. The PCIe slots are split x8/x8 from the CPU for SLI or Crossfire, but also use one of GIGABYTE's newer features in the form of a PCIe brace/guard. This has been equipped on motherboards above a certain value to assist in rigidity for heavy (>1kg) PCIe devices that might cause the slot to warp over time, or for when the system might be in motion with GPUs installed. There is a PCIe 3.0 x4 slot from the Z170 chipset as well with the guard, but this shares bandwidth with the M.2 slot (only one can be enabled at a time). The PCIe slots also have an extra power connection via a SATA connector to provide extra when two large GPUs are in use.
Like other GIGABYTE motherboards, a TPM and COM header come as standard, but this motherboard also gives two USB 3.0 headers from the chipset and another four ports on the rear from the chipset. Two USB 3.1 ports come in the form of the USB Type-C, and if that wasn't enough USB ports there are a further four USB 2.0 on the rear and two USB 2.0 headers (headers are via a USB hub). For enthusiasts, a series of voltage check points are also provided.
On the software side, for whatever reason GIGABYTE removed the HD mode of their BIOS with the version we used; ultimately no massive loss, with the classic mode being arguably easier to use but not as aesthetically smooth in the lower resolution. The software is improved for Z170 with the App Center's new interface, giving easier access to a large number of GIGABYTE's apps.
For performance, the Z170X-UD5 TH seemed to be a bit of a mixed bag. We've discussed MultiCore Turbo on Intel motherboards at length before (where the CPU Turbo mode is applied no matter what the CPU load is, giving better results at the expense of power), and it would seem that the UD5 TH applies this feature on select results but not all of them. For example, video encoding and 7-Zip encoding were MCT enabled, but WinRAR encoding and ray tracing were not. This affected our low end GPU in the gaming tests and our power draw test, but the more powerful GPUs were unaffected.
System level feature performance was also mixed – the default boot time for the Z170X-UD5H was the best we've seen so far on Skylake, along with idle power consumption, but deferred procedure call latency was poor, idle-to-load power draw was the highest we've seen and we were unable to get a reliable audio reading. USB 3.0 performance was reasonable, but for some reason we were unable to get a measure of the Alpine Ridge USB 3.1 performance (the same issue with previous AR equipped boards).
Quick Links to Other Pages
In The Box and Visual Inspection
BIOS
Software
System Performance (Audio, USB, Power, POST Times on Windows 7, Latency)
CPU Performance, Short Form (Office Tests and Transcoding)
Gaming Performance 2015 (R7 240, GTX 770, GTX 980)
Conclusions
Quick Board Feature Comparison
Motherboard Comparison
GIGABYTE Z170X-UD5 TH
Socket
LGA1151
LGA1151
MSRP at Review
$209
$230
DRAM
4 x DDR4
4 x DDR4
PCIe Layout
x8/x8
x8/x8
BIOS Version Tested
F4
142
MCT Enabled Automatically?
Yes
Yes
USB 3.1 (10 Gbps)
Intel Alpine Ridge
2 x Type-C
ASMedia ASM1142
1 x Type-A
1 x Type-C
M.2 Slots

1 x PCIe 3.0 x4

2 x PCIe 3.0 x4
U.2 Ports
No
No
Network Controller
1 x Intel 219-V
1 x Killer E2400
Audio Controller
Realtek ALC1150
Realtek ALC1150
HDMI 2.0
Yes, via LSPcon
No