Ever since the monitor market became commoditized, and reasonable 1080p displays running at 60 Hz can be had for under $100-$150, the march for feature set has been driving the monitor industry, the gaming industry, and arguably the VR industry forward. A number of groups of users, in particular gamers, are consistently requesting high quality, high resolution displays with high variable refresh rates in order to have the best experience, and they seem willing to be prepared to pay for it. Other features such as color accuracy are also lauded by the professional community as well.
But in particular, the high resolution and high-frequency monitor technologies have been exciting to follow as we have moved from high definition (1280x720, or HD) to Full HD (1920x1080, or FHD) then 2560x1440 (WQHD), 3840x2160 ('4K' or technically UHD) and 5120x2880 ('5K'), and with refresh rate from 60 Hz to 75 Hz, 90 Hz, 100 Hz, 120 Hz and 144 Hz, with variable refresh rate technologies such as NVIDIA's G-Sync (a closed standard) and AMD's FreeSync (an open standard) all in play. The higher refresh rate, aside from updating the gameplay on the monitor quicker (if rendered frames are available) has the added side effect of also synchronizing the user input with the gameplay. Ultimately when moving the mouse in an arc, if the frame rate causes the game to only accept mouse input at 15 points on the arc rather than 75, then a less accurate arc is drawn and can cause the user to have to compensate.
Typically resolution, refresh rate and panel quality is similar to a set of scales: due to the data rates required for high resolutions, these typically run at standard refresh rates, but high refresh rates require smaller resolutions and specific monitor panel types that can respond in a sufficient time. Ultimately, for the last number of years, users who wanted a refresh rate at 120 Hz or above monitors have been stuck at Full HD resolutions using TN (twisted nematic, a type of behavior exhibited by a common family of organic liquid crystals) panels with poor viewing angles. As the technology has matured, we are starting to see either higher resolution TN panels with high refresh rates, or better quality panels at high refresh rates with better color reproducibility and better viewing angles. Aiming for the technology that can support everything is tough, and it needs time to mature.
So when ASUS and others start dropping super high refresh rate monitors, we sit up and notice.
A G-Sync Enabled ASUS 180/240 Hz FHD Monitor: the ROG Swift PG258Q
For users that have followed variable refresh rate technology, NVIDIA's pendulum demonstration of G-Sync is a well-known factor at this point. The demo of a swinging pendulum offers several options to enable/disable V-Sync and G-Sync to show users how stuttering and tearing can affect the user experience when the performance of the system does not match that of the monitor.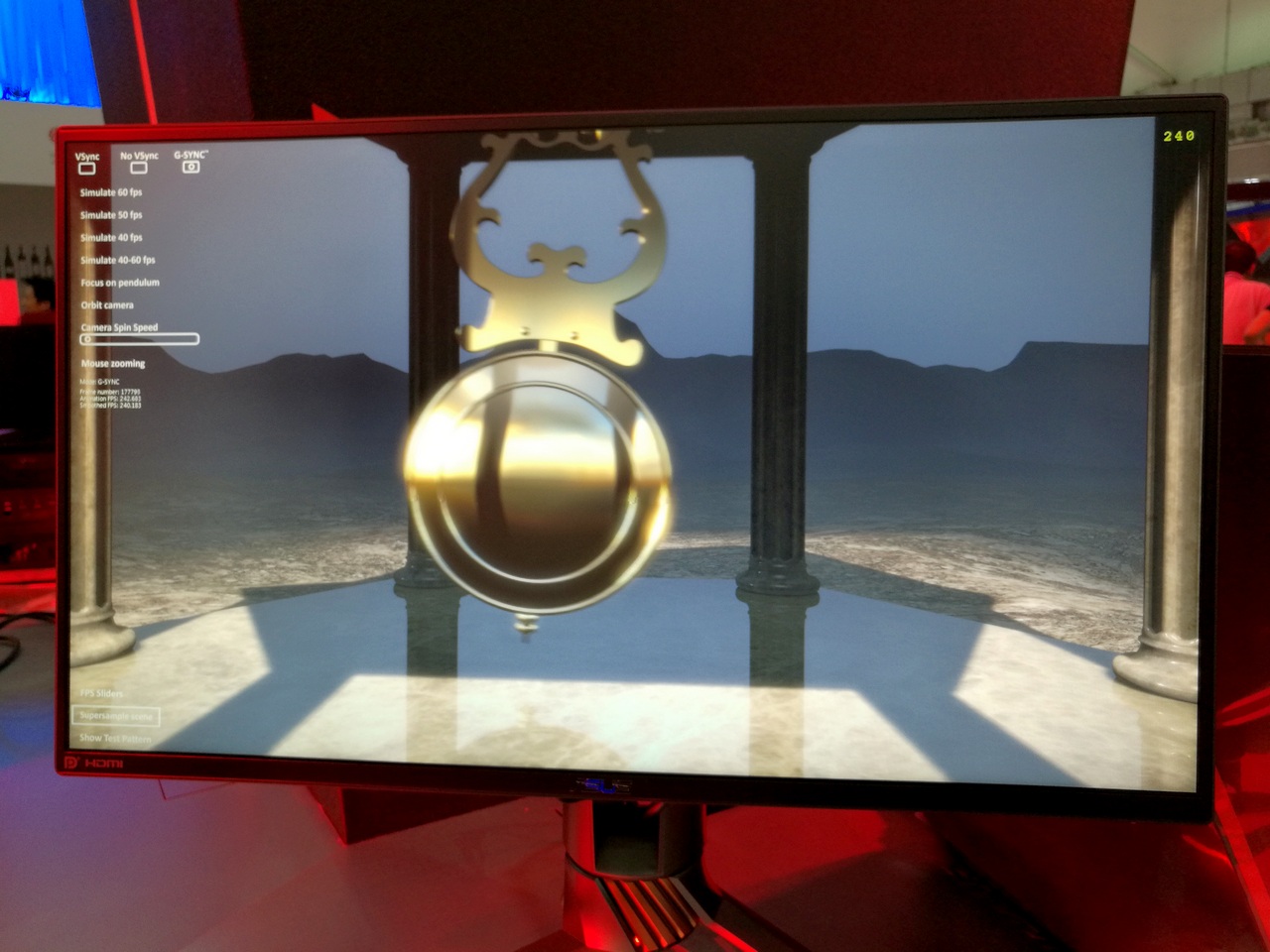 The idea is to watch the pendulum and pillars for juddering motions or for split frames with specific cuts in the display, depending if the graphics card renders slower/faster than the frame, and depending of V-Sync to match the refresh rate is enabled. The ROG Swift PG258Q uses G-Sync, a bundled technology to allow frames to have a variable refresh rate, but this monitor also refreshes at 240 times per second. The best monitors available commercially are currently up to 144 Hz, so a jump up to 240 Hz should (where possible) help smooth out game detail. Whether or not 240 Hz is perceivable to the human eye is up for debate, and there was some confusion about if it is 180 Hz or 240 Hz: at the ROG press event it was said to be 180 Hz, but on the show floor and the official press kits stated 240 Hz.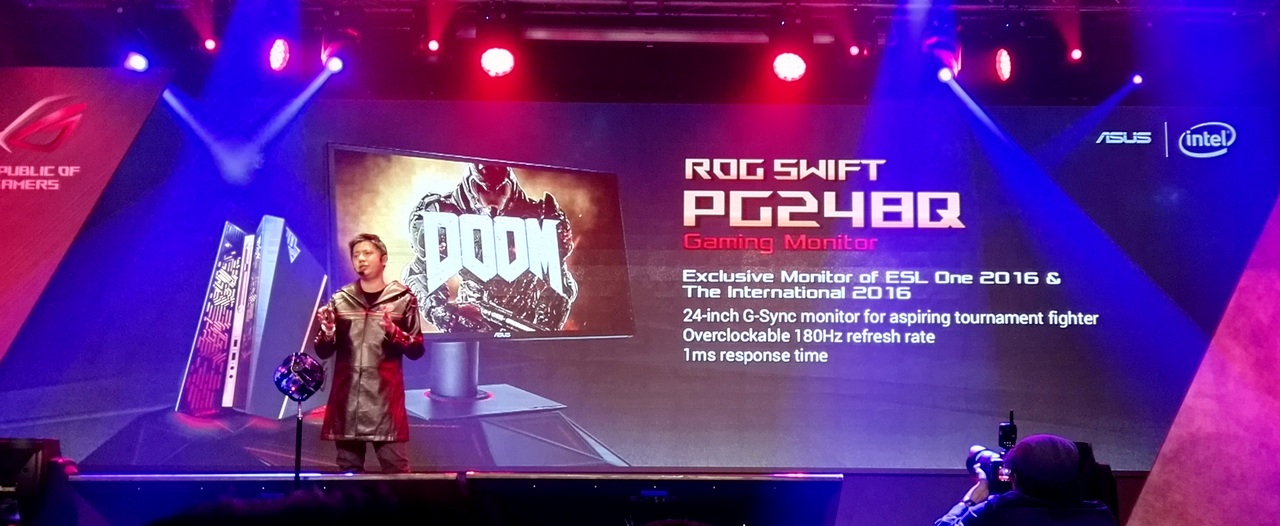 Some users may argue that 240 Hz isn't needed: most high-profile games with the best hardware have trouble going up that high. Due to the technology involved, the PG258Q is only a 25.8-inch Full HD display, running at 1920x1080 resolution rather than the 1440p, 4K or 21:9 high-resolution panels that enthusiasts are flocking to. This makes the pixels per inch to be fairly low compared to the other high-cost displays on the market, but is does mean that even high-profile games with the best hardware should be pushing a good frame rate that this monitor can take advantage of.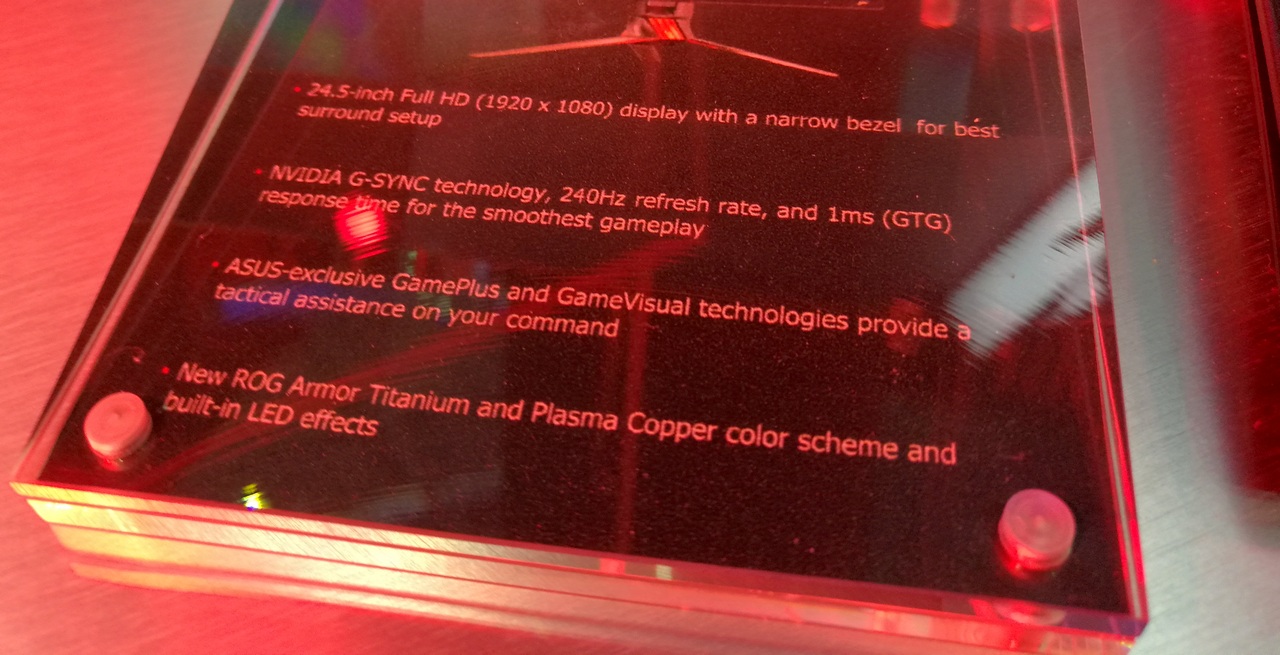 Aside from the 1ms response time (GTG) and ASUS related features, no other information regarding the panel manufacturer: time to market or price was mentioned. If I remember correctly, depending on mass production, we could see this on market in Q3/Q4.
A 100 Hz G-Sync 3440x1440 Curved Display: The ROG Swift PG348Q
Announced a couple of months ago and currently on sale, the PG348Q uses the popular wide gaming resolution 21:9 for an overclockable panel running at 3440x1440, compared to the regular 16:9 aspect ratio for 27-inch 2560x1440 panels that have been running into PC gaming for the last few years. We've reported on 21:9 panels in the past, and the fact this one is running at 100 Hz means that for users willing to invest, here's a gaming resolution at a variable refresh rate.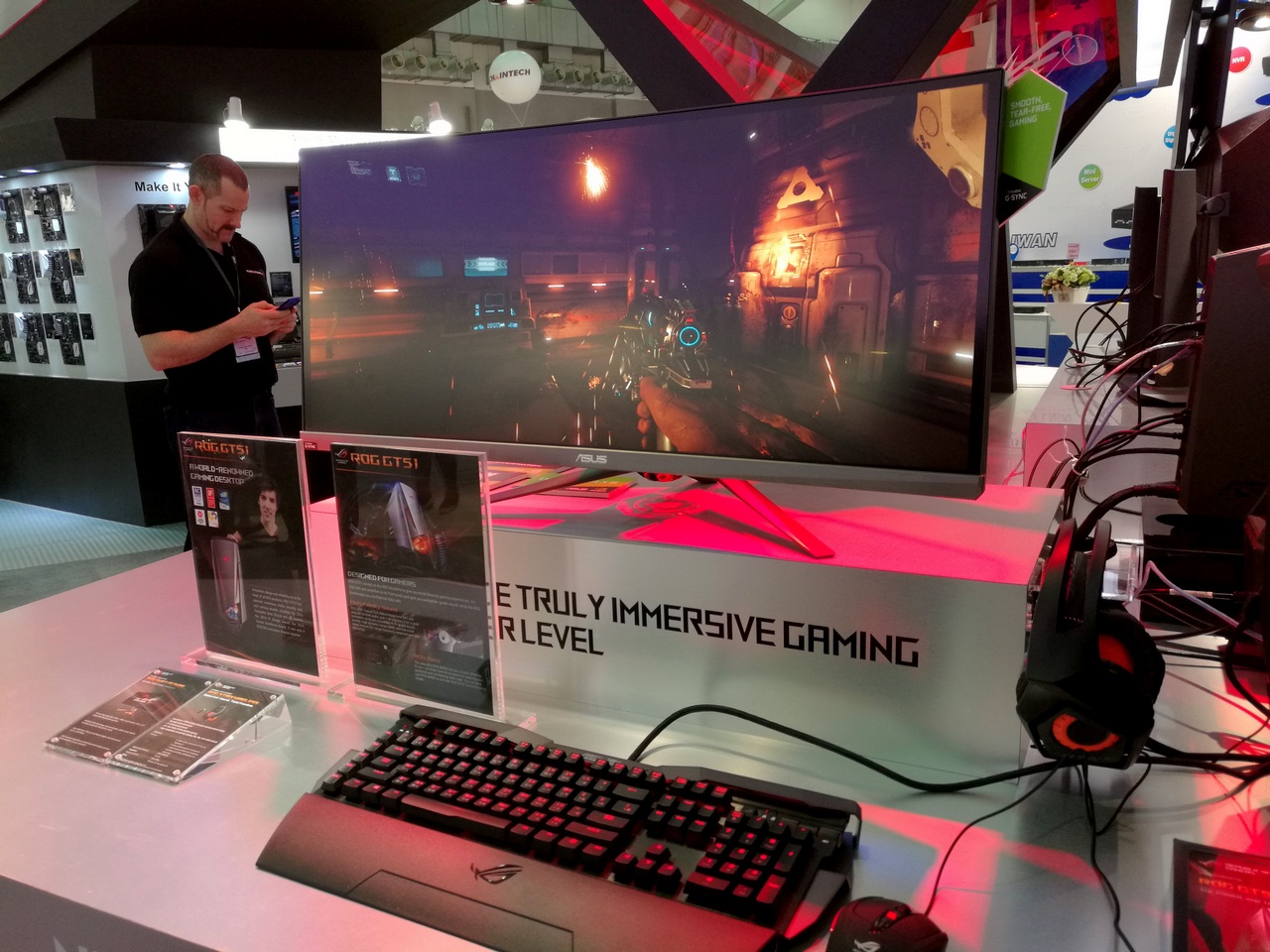 I still haven't had time to sit down and properly use a 21:9 panel for my daily use, having invested in a few high-resolution displays last year, but ASUS is aiming to have one of the best quality 21:9 panels on display with this. A couple of competitors have similar displays as well, making the differentiation more for the on-screen display, bundled software and support packages. The ASUS ROG Swift PG348Q is currently retailing for $1400.