Conclusion
Not every person is willing to pay the premium price of a mechanical keyboard that is loaded with all kinds of bells and whistles. G.Skill entered the market with the extravagant KM780 that we reviewed two years ago and found it to be a very good top-of-the-line, yet expensive, keyboard. The company knew that they had to release keyboards with more enticing price tags in order to grab a sizable piece of the market, which led to the cost-effective KM570 series.
Even though it can be easily mistaken for a typical office keyboard, looks can be deceiving with the KM570 MX; under the hood beats the heart of a high quality mechanical keyboard. It will not win any aesthetic/design contest, but it is very well made, with durable plastics, a steel frame, and genuine Cherry MX switches. It does not have any features such as a USB hub or macro keys, but it does have four extra keys that provide sound volume control without having to result to keystroke combinations. The use of keys is not as effective as a wheel but it does get the job done.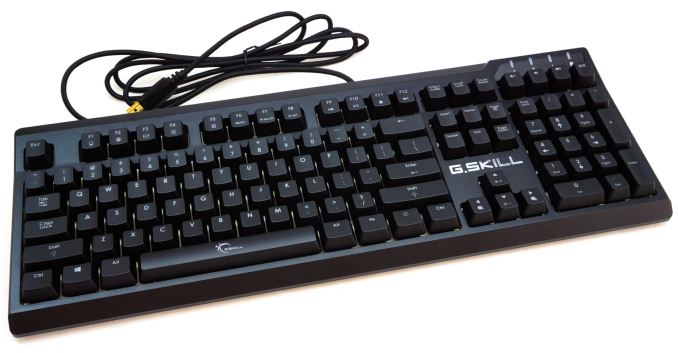 G.Skill sells four different variants of the KM570 MX – one each for the four different Cherry MX switch types – so each user can pick the switch that suits their needs. The sample that we reviewed featured Cherry MX Red switches, which are very comfortable and responsive for long-term gaming, yet professionals might prefer a switch with tactile feedback instead. What both gamers and professionals are likely to need is a good wrist rest, as the KM570 MX is a very tall keyboard and it can be very uncomfortable for after long gaming or work sessions, especially if the desktop is at or above the user's stomach level.

The one weak link of the KM570 MX is its very rudimentary macro support. The keyboard does support basic on-the-fly macro recording of keystroke macros but it has no profiling support. Each time the user programs a macro, it has to overwrite the function of an existing key. In order to get that key back to its default state, the user has to delete the macros. Re-programming the macros each time they are necessary is quite an ordeal. It would be very difficult to use this function, unless the keyboard is solely dedicated for gaming and some stock key functions can be discarded without issues. This is where the more expensive KM570 RGB comes in, with its software profiling and macro programming support, which is its major advantage over the KM570 MX.
G.Skill's MSRP for the KM570 MX is $100, a price that is not very appealing considering the capabilities of the keyboard. However, the KM570 MX can be currently found retailing for less than $80, which is a fair price tag for a device with genuine Cherry MX switches. Despite its shortcomings, the KM570 MX is a cost effective mechanical keyboard for those that do not care about advanced functions and RGB lighting. Gamers and professionals that seek to employ complex commands that require software programmability and control will have to look elsewhere.