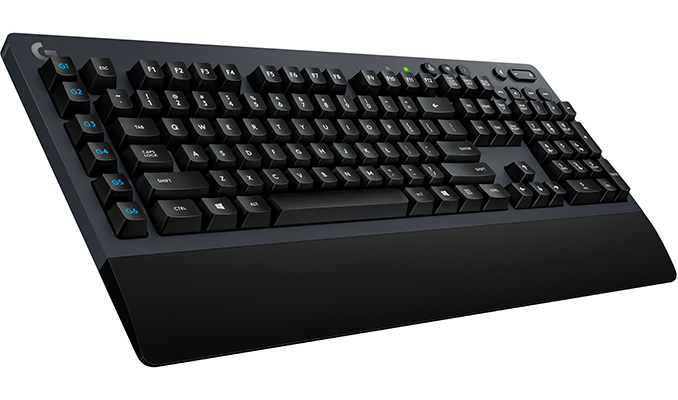 Logitech this week introduced its new wire mechanical keyboard aimed at gamers, touting its low input lag for a wireless keyboard as a defining feature. While the Logitech G613 was designed for gamers and has a number of gaming-oriented features, it is not overloaded with them and it can connect to two host systems using different wireless technologies, which makes it suitable for business environments as well.
Mechanical keyboards for gamers and wireless keyboards have existed for ages, but well-known manufacturers of keyboards have restrained themselves from wedding "gaming" and "wireless" for multiple reasons; the relatively high input lag being the primary one. Logitech's Lightspeed platform promises to cut the input lag by optimizing internal architecture of keyboards/mice, decreasing polling rate of wireless receivers to 1 ms, increasing signal strength, applying a proprietary frequency agility mechanism to avoid interference and optimizing drivers. The Lightspeed-enabled input devices use special receivers, which are different from Logitech's popular Unifying receivers.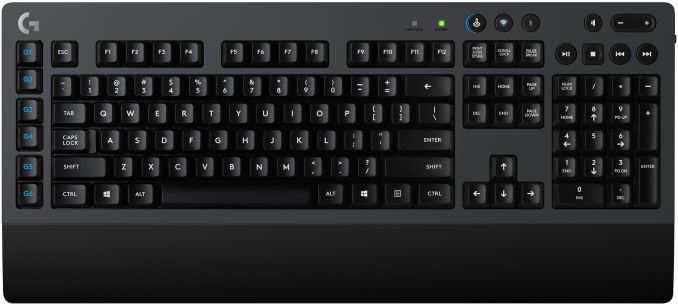 The Logitech G613 mechanical wireless keyboard uses the company's Romer-G switches featuring 1.5 mm actuation distance and rated for 70 million key presses. The device is equipped with six programmable keys, media playback control keys and can connect to hosts using the Lightspeed or Bluetooth radio technologies. Each G613 keyboard comes with a bundled Lightspeed receiver, which requires a USB Type-A port as well as Windows 7 or later, Mac OS X 10.8 or later, ChromeOS, or Android 3.2 or later to work.
The Logitech G613 looks rather minimalistic, it has no programmable RGB LED lighting and resembles advanced office keyboards with a palm rest, so apart from gamers it can address other demanding users as well. One of the key features that Logitech advertises about its G613 is its battery life: it can operate on two AA batteries for up to 18 months, which will be appreciated by people interested in not only gaming performance, but overall comfort in general.

Logitech says that the G613 mechanical wireless keyboard will be available shortly for $149.99 in the U.S. Prices in other countries may vary.
Related Reading:
Source: Logitech