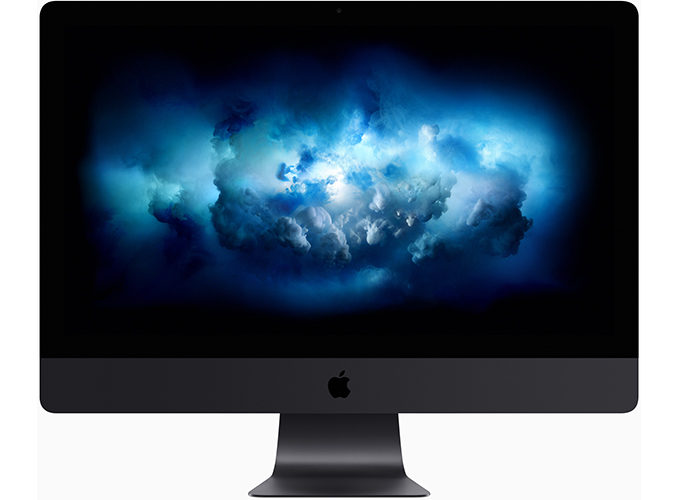 Apple has announced that sales of its previously announced iMac Pro all-in-one workstations will start on Thursday, December 14. On that day, the company is expected to make its new systems available at least in some retail locations as well as through its website. Initially, Apple is expected to release iMac Pro workstations with eight- and ten-core processors, whereas the higher-end models featuring CPUs with up to 18 cores will hit the market in early 2018.
Apple's iMac Pro AIO workstations are aimed at professional users with demanding workloads, such as video editing, 3D animation, scientific research, software development, and other. To a large degree, the iMac Pro addresses the same crowd as the Mac Pro introduced four years ago (and never updated since then) and offers them to buy a 27" AIO featuring modern multi-core CPUs, up-to-date GPUs, loads of RAM, plenty of solid-state storage and advanced connectivity that includes four Thunderbolt 3 ports and one 10 GbE header. The company is still working on an all new desktop computer that will replace the Mac Pro sometimes in 2018, but for a while the new iMac Pro will be Apple's most powerful PCs.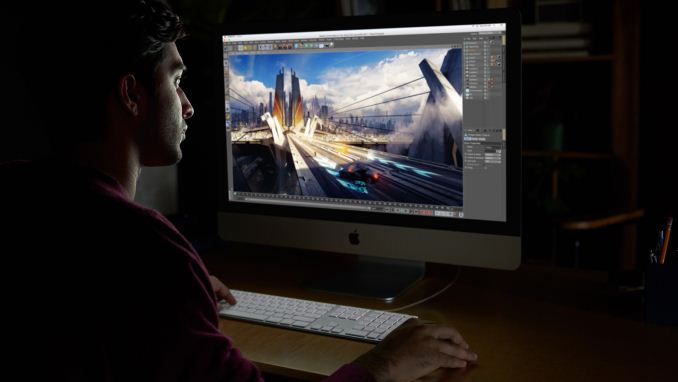 The Apple iMac Pro comes in aluminum space gray chassis and is outfitted with a 27" display panel with a 5120x2880 resolution, up to 500 nits brightness that supports the DCI-P3 color gamut and 10-bit spatial and temporal dithering (no word on HDR10 support though). Since many professional workloads require more than one monitors, Apple proposes to use two out of four Thunderbolt 3 ports to connect two additional 5K displays (such as LG's UltraFine 5K launched a year ago).

Inside, the iMac Pro more resembles a high-end desktop rather than a AIO machine. The system is based on Intel's Xeon W processors with eight, ten, 14 or 18 cores and up to 42 MB of L2+L3 cache. The 14-core iMac Pro was not a part of Apple's original announcement, but a blogger was told by Apple that the fourth iMac Pro SKU would be available as well. Apple does not disclose exact CPU models that it intends to use with the iMac Pro, but it looks like we are dealing with off-the-shelf Xeon W CPUs with up to 140 W TDP.
By default, an entry-level iMac Pro is to be equipped with 32 GB of DDR4-2666 ECC memory, but it is expandable to 64 GB or even 128 GB, if needed. As for storage, 1 TB SSD is the default option, but the iMac Pro can be equipped with 2 TB or 4 TB SSDs as well. All the drives use the NVMe protocol, a PCIe 3.0 x4 interface and up to 3 GB/s peak sequential read speed. While it looks like Apple is going to use standard memory modules, the iMac Pro does not seem to be user-upgradeable, unlike regular iMacs.
For graphics, Apple picked up AMD's latest Radeon Pro Vega 56 with 8 GB of HBM2 for prêt-à-porter SKUs and the Radeon Pro Vega 64 with 16 GB of HBM2 for build-to-order configurations and, perhaps, for machines that feature an 18-core CPU and 128 GB of RAM. Both Radeon Pro graphics adapters will not come as cards, but will be soldered to iMac Pro's motherboard, based on one picture supplied by Apple. The company does not disclose frequencies of the bespoke Radeon Pro Vega GPUs it uses, but says that their maximum FP32 compute performance is 11 TFLOPS (which points to around 1340 MHz clock-rate for the Vega 64) and their peak memory bandwidth is 400 GB/s (indicating about 1600 MT/s memory speed), which is slower when compared to the Radeon RX Vega cards for desktops. The main reasons why Apple downlocks its GPUs are of course power consumption and heat dissipation. The company says that Mac Pro's cooling system can cope with up to 500 W of heat, so it cannot use a 140 W CPU and a 295 W GPU in order to avoid overheating.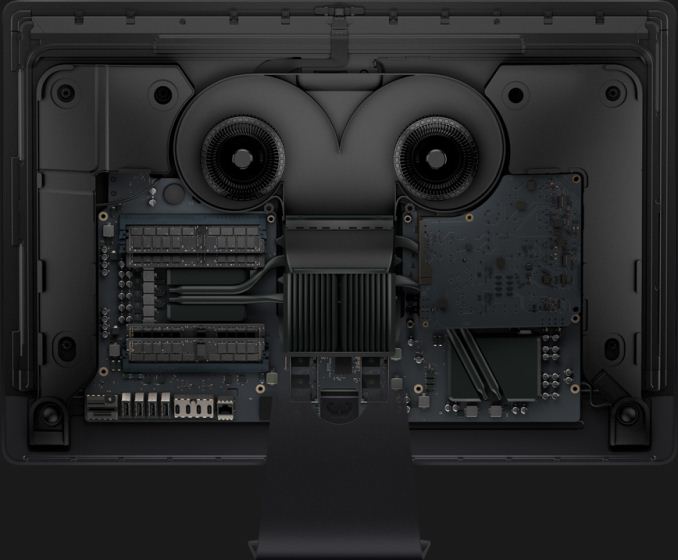 Moving on to connectivity. The iMac Pro will feature an 802.11ac Wi-Fi with Bluetooth 4.2 module (there is no word on the 802.11ac wave2 support, so it could be the same Broadcom controller used inside the latest MacBook Pro laptops), a 10 GbE connector (no word on the controller or its developer), four USB 3.0 Type-A headers, one SDXC card slot, a 3.5-mm audio jack and four Thunderbolt 3 ports to connect additional displays, RAID storage and other peripherals that demand high bandwidth. The Mac Pro also has integrated 1080p webcam, stereo speakers, an array of microphones and so on. Some rumours say that the iMac Pro will feature voice-activated "Siri" assistant and for this reason integrate a recent A-series SoC, but Apple yet has to confirm this.
Apple iMac Pro Brief Specifications
iMac Pro 27"
Display
27" with 5120 × 2880 resolution
500 cd/m² brightness
DCI-P3 support
10-bit spatial and temporal dithering
CPU
Intel Xeon W
8C/16T
3.2/4.2 GHz
8 MB L2
11 MB L3
Intel Xeon
W-2150B
10C/20T
3.0/4.5 GHz
10 MB L2
13.75 MB L3
Intel Xeon
W-2175?
14C/28T
2.5/4.3 GHz
14 MB L2
19.25 MB L3
Intel Xeon W
18C/36T
2.3/4.3 GHz
18 MB L2
24.75 MB L3
PCH
C422
Graphics
AMD Radeon Pro Vega 56 with 8 GB HBM2
or Radeon Pro Vega 64 with 16 GB HBM2
Memory
32 GB DDR4-2666 with ECC
Configurable to 64 GB or 128 GB DDR4-2666 with ECC
Storage
1 TB SSD (NVMe, PCIe 3.0 x4)
Configurable to 2 TB SSD or 4 TB SSD
Wi-Fi
IEEE 802.11ac Wi-Fi + BT 4.2
Ethernet
10 GbE
Display Outputs
4 × Thunderbolt 3
Audio
Stereo speakers
Integrated microphones
1 × audio out
USB
4 × USB 3.0 Type-A (5 Gbps)
4 × USB 3.1 Gen 2 Type-C (via TB3)
Other I/O
FHD webcam
SDXC card reader
Dimensions
Width
65 cm | 25.6"
Height
51.6 cm | 20.3"
Depth
20.3 cm | 8"
PSU
~ 500 W (to be confirmed)
OS
Apple MacOS High Sierra
The iMac Pro will ship with space grey wireless Magic Keyboard with a numeric keypad as well a choice between the Magic Mouse 2 or Magic Trackpad 2. We do not know the official price just yet or details about support and warranty, but there are unofficial indications that the cheapest iMac Pro will sell for $4999.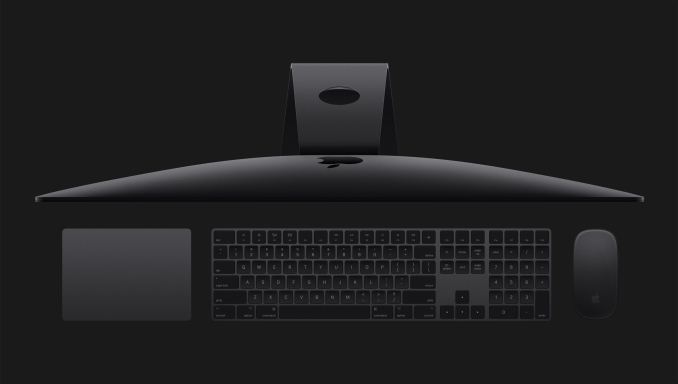 Related Reading:
Sources: Apple, MacRumours, Marques Brownlee