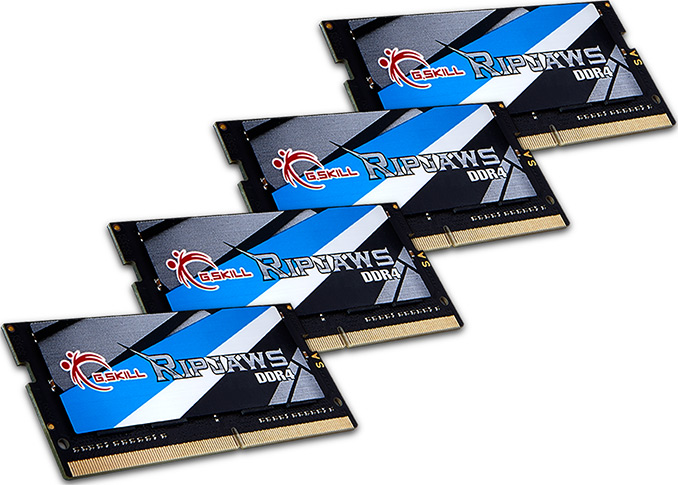 ASRock's X299E-ITX/ac is the only Mini-ITX motherboard for Intel's latest Core i7/Core i9 processors, and also the only consumer motherboard that requires enthusiast-class quad-channel SO-DIMM kits. The appeal of mini-ITX if for a niche, and going for 18-core support is another niche, but it looks like it has managed to create quite a market around itself. In the past couple of months, Corsair and G.Skill have been striving to offer the fastest memory for this mainboard, as well as supported notebooks and other DDR4 systems. Last week Corsair introduced its 32 GB DDR4-4000 CL19 kit and this week G.Skill followed up with its 32 GB DDR4-4000 solution with a bit lower latencies.
The G.Skill Ripjaws 32 GB quad-channel DDR4-4000 SO-DIMM kit consists of four 8 GB modules built upon pre-binned Samsung's time-proven B-die 8 Gb DDR4 DRAM chips. The modules are designed to operate with CL18 18-18-38 latencies at 1.35 V, which is a bit lower when compared to Corsair's DDR4-4000 SO-DIMMs that are speced for CL19 23-23-45 latencies at 1.35 V. G.Skill's new modules are validated to work only on ASRock's X299E-ITX/ac motherboard and their XMP 2.0 profiles in SPD are tailored for Intel's Core i7/Core i9 (Skylake-X) processors.
G.Skill's Ripjaws DDR4 SO-DIMM Kits for SFF PCs
Speed
Sub-Timings
Voltage
Kit
Config.
Kit
Capacity
DDR4-3200
CL16 16-16-36
1.35 V
4×8 GB
32 GB
4×16 GB
64 GB
DDR4-3600
4×8 GB
32 GB
DDR4-3800
CL18 18-18-38
4×8 GB
DDR4-4000
4×8 GB
Hitting DDR4-4000 is an important psychological milestone for enthusiast-class SO-DIMMs in general. From a pure technology point of view, Corsair's and G.Skill's high-end DDR4 kits bring the ASRock's X299E-ITX/ac platform closer to fully-fledged HEDTs that use full-sized DDR4, at least when it comes to memory bandwidth. G.Skill's fastest quad-channel kit for Intel's Skylake-X processors is rated for DDR4-4200 with CL19 latency at 1.4 V, so performance gap between "baby" and "large" HEDTs is almost negligible (128 GB/s vs. 134.4 GB/s).
For some reason, G.Skill decided not to cherry-pick SO-DIMM modules that can run at DDR4-4200 CL19, but went with DDR4-4000 CL18. It will be very interesting to see whether minor difference in latency will have any tangible effect on real-world performance of G.Skill's kit when compared to Corsair's kit, but the competition between two companies is definitely here.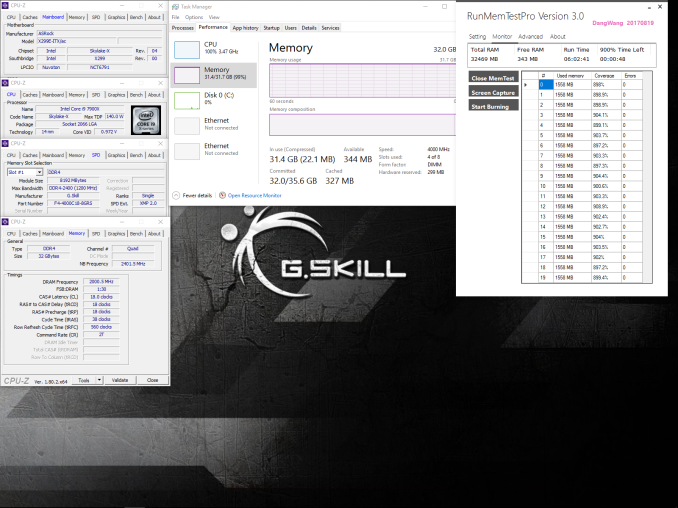 G.Skill said that its Ripjaws 32 GB quad-channel DDR4-4000 CL18 kit will be available from its partners in Q1 2018. The company traditionally does not disclose MSRPs in its press releases because of DRAM pricing volatility, but given the exclusive nature of the product, it is going to be priced accordingly. Meanwhile, since there is a rival for the kit, we may expect competition to lower pricing of these products a bit. Having just reviewed the ASRock board, it might be time to get both kits in and have a shoot-out.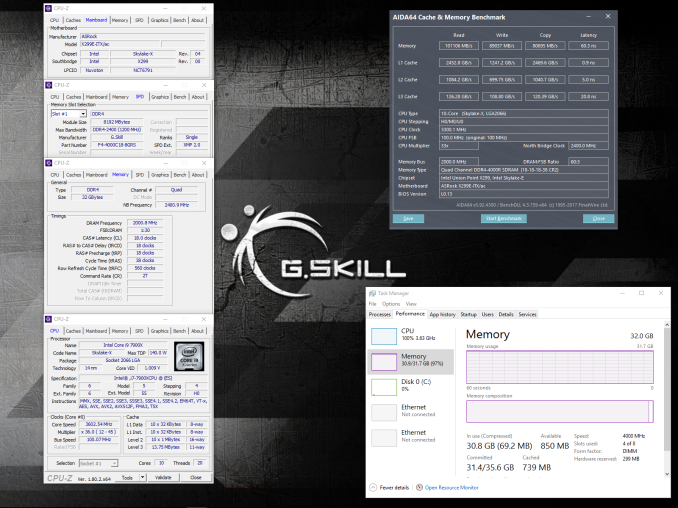 Related Reading
Source: G.Skill