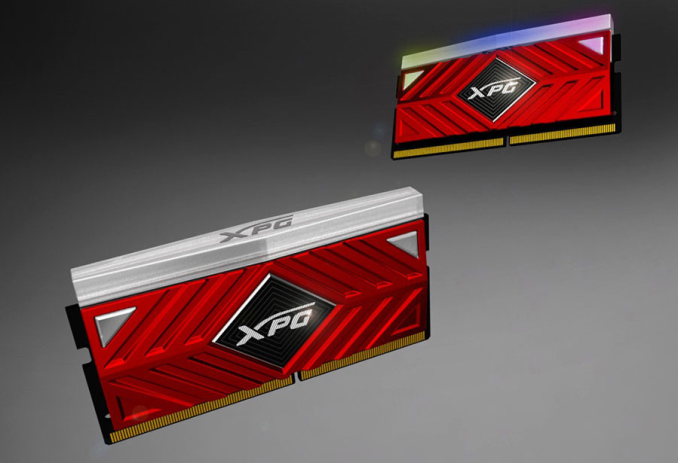 LAS VEGAS, NV — At CES 2018 this week, ADATA is showcasing two new XPG DDR4 memory models with RGB LEDs: the Spectrix D60 RGB DDR4 and Spectrix DS40 RGB DDR4. The heatsink-clad Spectrix D60 will have a maximum speed of 4600MHz, and comes not too long since last summer's launch of the XPG Spectrix D40 RGB DDR4, the first Spectrix model. As the D40 was described as the 'flagship', the D60 is presumably the equally multicolored successor, joined by the XPG Z1 DDR4-4600 2 x 8GB kit also debuting at CES.
And if the LED craze hasn't hit you quite yet, ADATA has their new RGB LED equipped Spectrix DS40 SO-DIMM, for those who absolutely require colored lights in their mini-ITX system. And in terms of lighting control, ADATA stated that the new modules work with the XPG Auro Sync, presumably related to the XPG RGB Sync App Beta. Though no further technical details on the D60 or DS40 were given at the time of writing, for comparison the new Z1 DDR4-4600 2 x 8GB kit is known to run at 1.5V with CL19-26-26-46, while, the older Spectrix D40 runs at a maximum 3200MHz with CL16-18-18 at 1.35V.
In any case, ADATA is claiming the DS40 to be the "world's first" RGB LED SO-DIMM, yet another sign of how LEDs continue to find themselves garnishing every computer component possible. As ADATA happens to be showcasing server NV-DIMMs at CES as well, perhaps we should consider ourselves lucky that it is not the world's first RGB LED NV-DIMMs.
While D60 and DS40 pricing were not disclosed, the new LED-less XPG Z1 DDR4-4600 2 x 8GB kit will launch this quarter at an MSRP of $579, presumably comparable to the Spectrix D60.
Source: ADATA