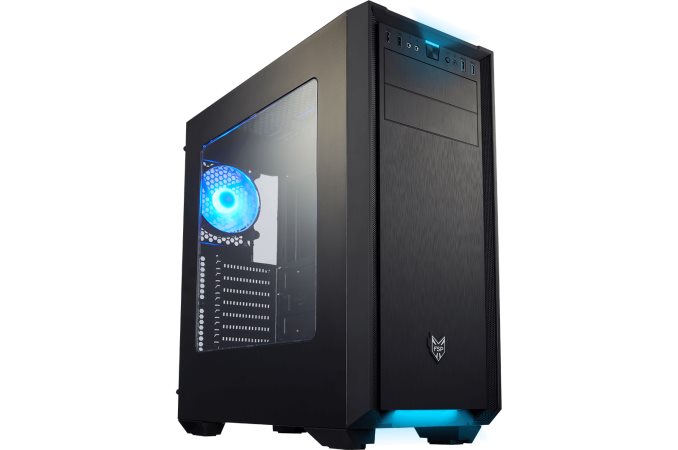 FSP has announced two new mid-tower cases: the FSP CMT330 and the FSP CMT520. The two new cases feature FSP's "halo cover" mirrored floor plate which sits on top of the power supply cover, and the same interior, but are styled quite different on the exterior. The CMT520 has the more premium look of the two and includes glass front and side panels as well as an integrated LED and fan controller. The CMT330 uses an acrylic side panel, no glass front, and adds support for 5.25-inch drives. Both mid-tower chassis are targeted gamers and enthusiasts who would like a premium look at an affordable price point.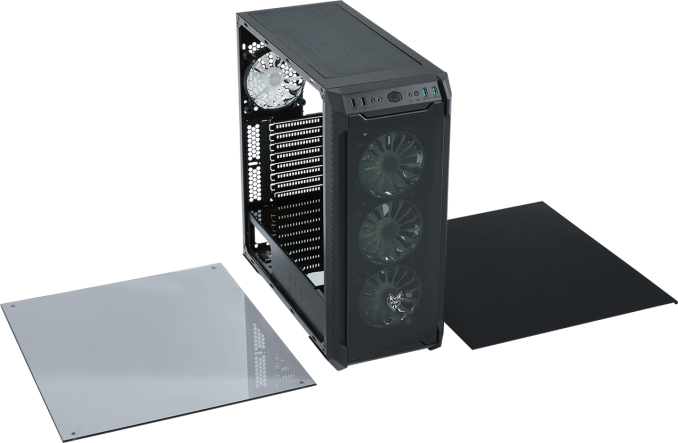 The exterior of the CMT520 does have a more premium appearance to it with its glass side and front panels allowing an unfettered view of the hardware inside the case. Though there isn't as much glass as the CMT510 with three glass panels, the CMT520 offers a full view of the parts many want to show off. The 520's I/O panel is also at an angle between the top and front of the case. Both of the chassis use upgraded front I/O panel that consists of two USB 3.0 ports, two USB 2.0 ports, a power button, and microphone and headphone jacks (no USB 3.1 Type-C or Type-A). The front of the 520 holds three RGB LED fans as well as another on the back panel (all four included) sending air through the interior and out the back and top. The fans and RGB can be controlled through an integrated controller and is compatible with existing RGB LED ecosystems from major board partners.
When talking about the CMT330, it does add a bit of flare and includes a blue LED light bar at the bottom of the case. Also included are three 120mm fans, one of which is a blue LED fan found pre-installed in the rear of the case adding to the blue glow the case will have. With the acrylic side panel and solid front panel, it does look like a more standard case than its bigger brother.
The interior of both mid-tower cases are able to support a maximum CPU cooler height of 163mm and video cards up to 423mm in length. For cooling, both chassis support up to 3x120mm radiator up top, 120mm on the rear, and 3x120mm on the front. Motherboard support ranges from Mini-ITX up to ATX (520 shows E-ATX compatibility) so both cases have a lot of flexibility in that regard. Both have room for two 3.5-inch HDD and four 2.5-inch SSDs while the CMT330 has the ability to house two 5.25-inch ODDs in addition to the 2.5/3.5-inch spaces. Note in the case of the CMT330, installing something in the 5.25-inch bays will limit the number of front panel fans to two. The halo cover on both chassis have a reflective panel designed to reflect any lighting inside the case, and the cover held in place by magnets.
FSP CMT330 and CMT520
Model
CMT330
CMT520
Case Type
Mid-Tower
Dimensions
(L)495 x (W)215 x (H)510mm (19.49 x 8.46 x 20.08-inches)
Color
Black
Body Material
SPCC, Plastic
SPCC, Tempered Glass x2
Net Weight
6.7KG
8.5KG
External Drive Bays
2 x 5.25"
None
HDD/SSD Bays
2 x 3.5" and 2 x 2.5" (Storage Compartment)
and 2 x 2.5" (Drive bay support up to 5)
Expansion Slots
7+2
Motherboard Type
Mini-ITX, MicroATX, ATX, E-ATX (520 only)
System Fans
Front: 3 x 120/140mm (2 x 120mm inc., blue LED)
Top:

3 x 120 / 2 x 140mm


Rear: 1 x 120 (1 x 120mm included, blue LED)

Front: 3 x 120/140mm (3 x 120mm inc., RGB LED)




Top:

3 x 120 / 2 x 140mm




Rear: 1 x 120 (1 x 120mm included, blue LED)

I/O Ports
2 x USB 3.0
2 x USB 2.0
Audio In/Out
Power
VGA Card Support
423mm
CPU Cooling Support
163mm
PSU Support
Bottom Mount ATX PS2
Radiator Support
Front: 120/140/240/280/360mm
Top:

120/140/240/280/360mm


Rear: 120mm
The FSP CMT330 is listed with an MSRP of $80 ($80 at Newegg), while the more premium FSP CMT520 has an MSRP of $100 ($109 at Newegg).
Related Reading:
Source: FSP