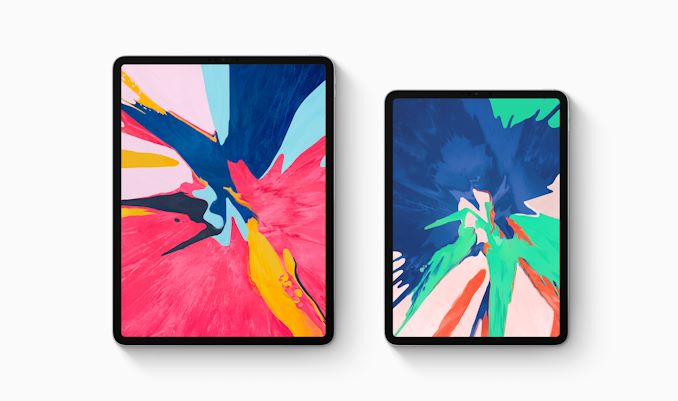 Today at Apple's Special Event in New York, among other things such as the a new release of a new Macbook Air and a new Mac Mini, Apple has taken the opportunity to do a refresh of its iPad Pro line-up, releasing the successors to 2017's summer devices.
The new iPads succeed both the 2017 10.5" as well as 12.9" models, and Apple describes the new units as the most significant iPad update ever, pushing the envelope of what is possible inside of a tablet device, along with a brand new design.
Apple iPad Pro Comparison

iPad Pro 10.5"
(2017)
iPad Pro 12.9"
(2017)
iPad Pro 11"
(2018)
iPad Pro 12.9"
(2018)
SoC
Apple A10X Fusion
3x Apple Hurricane
3x Apple Zephyr

12 core GPU
Apple A12X
4x Apple Vortex
4x Apple Tempest

7 core A12 GPU
Display
10.5-inch 2224x1668
IPS LCD
DCI-P3, 120Hz
12.9-inch 2732x2048
IPS LCD
DCI-P3, 120Hz
11-inch
2388x1668
IPS LCD
DCI-P3, 120Hz
12.9-inch
2732x2048
IPS LCD
DCI-P3, 120Hz
Dimensions
250.6 x 174.1 x 6.1 mm
469 / 477 grams (WiFi / LTE)
305.7 x 220.6 x 6.9 mm
677 / 692 grams (WiFi / LTE)
247.6 x 178.5 x 5.9 mm
468 / 468 grams (WiFi / LTE)
280 x 214.9 x 5.9 mm
631 / 633 grams (WiFi / LTE)
RAM
?
4GB LPDDR4
?
?
NAND
64GB / 256GB / 512 GB
64GB / 256GB / 512GB / 1TB
Battery
30.4 Wh
41.0 Wh
29.37 Wh
36.71 Wh
Front Camera
7MP, f/2.2, Auto HDR, Wide Color Gamut, Retina Flash
7MP, f/2.2, Smart HDR, Wide Color Gamut, Retina Flash
Rear Camera
12MP, 1.22µm pixels, f/1.8, PDAF, OIS, Auto HDR, Wide Color Gamut, True Tone Quad-LED flash
12MP, f/1.8, PDAF,
Smart HDR, Wide Color Gamut, True Tone Quad-LED flash
Cellular
2G / 3G / 4G LTE (Category 9)
2G / 3G / 4G LTE (Category 16)
SIM Size
NanoSIM
NanoSIM
Wireless
802.11a/b/g/n/ac 2x2 MIMO, BT 4.2 LE, GPS/GLONASS
802.11a/b/g/n/ac 2x2 MIMO, BT 4.2 LE, GPS/GLONASS
Connectivity
Apple Lightning, 3.5mm headphone, Apple Smart Connector
USB-C
Apple Smart Connector
Launch OS
iOS 10
iOS 12.1
Launch Price
Wi-Fi:
$649 (64GB)
$749 (256GB)
$949 (512GB)

Wi-Fi + LTE:
$779 (64GB)
$879 (256GB)
$1079 (512GB)
Wi-Fi:
$799 (64GB)
$899 (256GB)
$1099 (512GB)

Wi-Fi + LTE:
$929 (64GB)
$1029 (256GB)
$1229 (512GB)
Wi-Fi:
$799 (64GB)
$949 (256GB)
$1149 (512GB)
$1549 (1TB)

Wi-Fi + LTE:
$949 (64GB)
$1099 (256GB)
$1299 (512GB)
$1699 (1TB)
Wi-Fi:
$999 (64GB)
$1149 (256GB)
$1349 (512GB)
$1749 (1TB)

Wi-Fi + LTE:
$1149 (64GB)
$1299 (256GB)
$1499 (512GB)
$1899 (1TB)
The new iPad's most striking feature is their new design: These are the first iPads that have gotten rid of the home button, allowing Apple to reduce the bezels and significantly increase the body-to-screen ratio of the new models.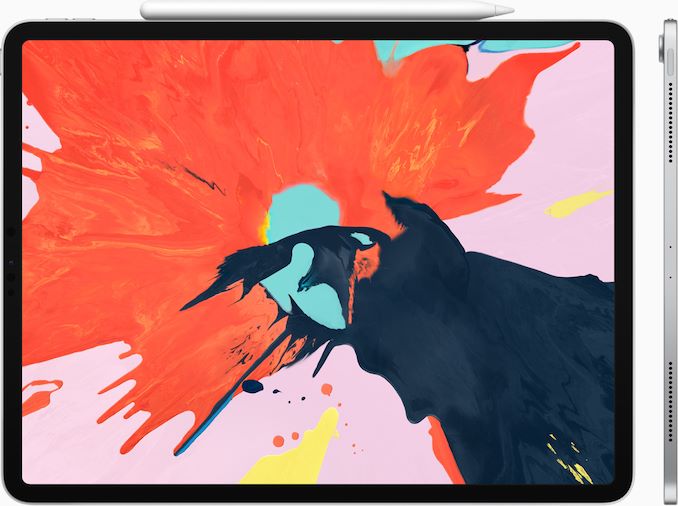 The smaller 11" iPad largely matches the same form-factor as last the previous 10.5" model, which Apple claims was immensely successful. Here Apple has used the reduction of the bezels to increase the screen size of the device. In terms of resolution, the 11" model comes in at 2388 x 1668, which means that the screen's aspect ratio has changed from 4:3 to a wider 4.3:3 or 12.9:9.
The bigger 12.9" model, as the name says, doesn't change in terms of screen diagonal, and maintains the 2732 x 2048 resolution of the previous model. It's interesting to see here that this model is still 4:3 in its aspect ratio, marking a difference between the small and big models.
Both displays are "Liquid retina" LCD panels, and checkmarks on all possible Apple features that a display can have: Wide gamut support with DCI-P3, True Tone support, and most importantly, "Pro Motion" or more commonly known as 120Hz refresh rates.
The removal of the home button also means significant changes in terms of unlocking the new iPad Pro's: Here we see the adoption of Face ID, with the usual set of sensors integrated onto the top bezel of the tablets. Software navigation follows the same gesture paradigm as the iPhone X.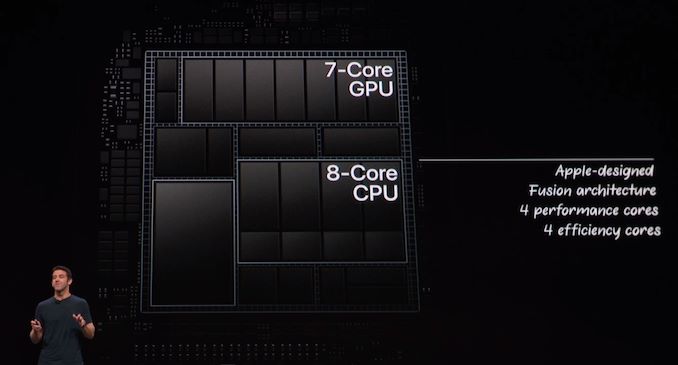 Powering the new tablets is the brand-new Apple A12X SoC. Apple here seemingly has jumped over one generation of tablet SoCs, as we never saw the A11X released or commercialised.
The new A12X SoC, as its name implies, is based on the IP generations that were found in the A12 SoC, just bigger and better. The CPU complex employs 4x Vortex CPUs as the high-performance cores, along with 4x Tempest CPUs serving as the higher-efficiency, low-power CPUs, making this SoC Apple's first 8-core CPU SoC. We don't know much about the frequencies of the cores, but I imagine they'll be similar or higher than the 2.5GHz Vortex cores of the A12.
As a reminder, we did an extensive deep dive on the A12 and its CPU microarchitecture, seeing astoundingly good performance tiers above the competition. Apple mentioned during the keynote that the new A12X is more powerful than 92% of the available laptops in the market, which isn't very surprising given the performance levels we saw on the A12.
Along with the 8-core CPU, we see a 7-core GPU of the same generation as on the A12. It's to be noted that a large amount of the increased GPU performance (Compared to an A12) will go towards driving the 120Hz screen, but it's also a very significant increase over the last generation A10X GPU. Here Apple also made the fun comparison that the new iPads are as powerful (graphically speaking) as an Xbox One S, while being 94% smaller.
Apple for the first time also employs a neural engine/NPU in the iPads, featuring the same neural network accelerator block as found on the A12, sporting up to 5 TeraOPS of processing speeds.
The A12X comes in at a massive 10 billion transistors and is manufactured on TSMC's 7nm process node. The A12 came in at 7 billion with a die size of 83.27mm² - if we assume similar density we're expecting the A12X to come in around a bit less than 120mm², still, not all that big historically speaking.
As is usual with Apple, we can't yet confirm the RAM configurations of the new iPads, but the new storage options come in at 64, 256, 512, and 1TB options.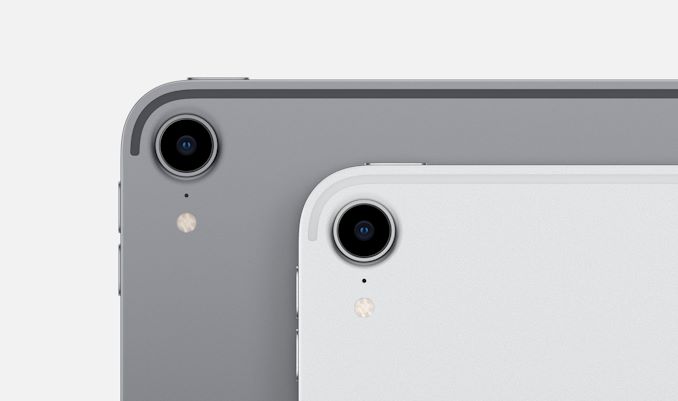 Cameras on the new iPads seem similar in specs as the 2017 models, with a 7MP f/2.2 front-facing module and a 12MP f/1.8 module in the back. Apple does say it's a new sensor, so we're possibly talking about the same new 1.4µm sensor as on the iPhone XS. It does come with all the new XS features such as Smart HDR.
The camera module unfortunately does protrude with a camera bump. This is accentuated by the fact that the new iPads are now even thinner, shaving off 0.2mm from the past 10.5" model and 1 whole millimetre off the 12.9" model up to a total of 5.9mm on both units.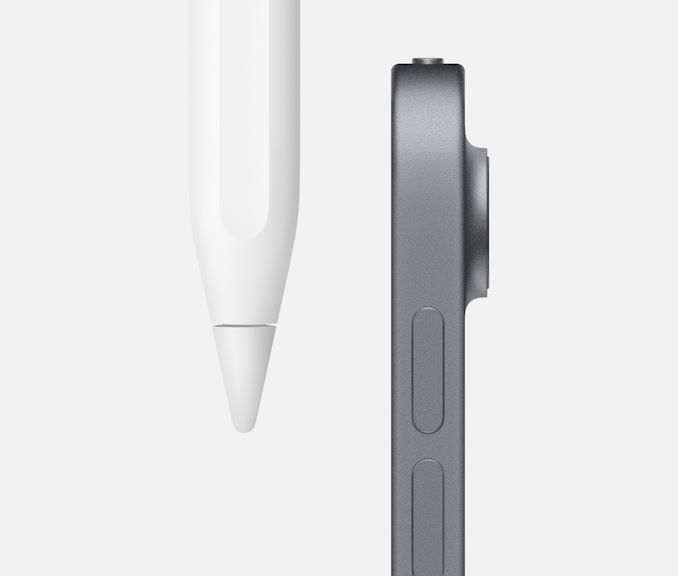 The reduced form-factor and volume of the new models, especially the 12.9" model, is unfortunately also mirrored by a reduction in battery capacity, as we see a 11% smaller battery coming in at 36.71Wh. The new 11" model sees a smaller 3.5% decrease, totalling at 29.37Wh. Here the increased power efficiency of the new SoC as well as possible screen efficiency gains will need to counter-act the reduced capacities.
A definitely cool feature of the new iPads is the way the new Apple Pencil is charged: Apple has made away with the awkward charging of the pen via the Lightning port, and instead now uses wireless charging. The new Pencil magnetically attaches itself to one side of the new iPads, wirelessly charging this way. A new feature of the new pencil is also the ability to tap it, acting as a sort of button action that will vary depending on the application used.
Speaking of Lightning port – it is no more. The new iPads now offer a single USB-C port instead, claiming it offers better interoperability with various new modern devices. It can also be used to reverse charge other devices, such as your iPhone.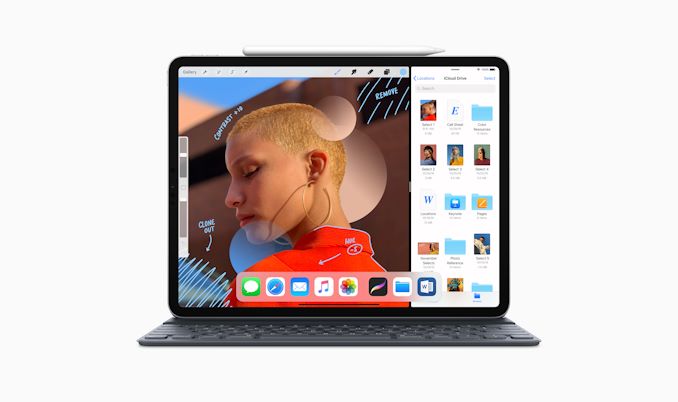 Unfortunately with the removal of the Lightning port, we also saw the removal of the 3.5mm headphone jack. Here again I'm just outright furious about the implications – not just because internal component space usage is in no way a rationale for removing it on iPads, but specifically because if you're a power-user using the new iPad Pro's in a professional way, and actively using the USB-C port for connectivity, there is no way than a complicated set of dongles to get wired audio out of the new iPads. Apple here now offers a new USB-C to 3.5mm adapter for $9 (I do wonder if it's really just compatible with the iPads, as Apple describes it to be). You'll need another dongle as well if you want to charge or connect devices at the same time.
At least a positive on the audio side is that the new iPad Pro's promise to offer great speakers, with separate tweeters and woofers, promising up to 2x better bass and also improved wider stereo separation.
The new iPad Pro's continue to be offered in WiFi only and also LTE versions. Here Apple advertises gigabit LTE speeds, which might again indicate the adoption of Intel's new XMM7560 for cellular connectivity.
Lastly, there comes the pricing and availability. The entry-level 11" model comes in at $799 for 64GB, and goes up to $1549 for the 1TB variants. The 12.9" models start at $999, going up to $1749. The cellular variants receive a $150 premium on top. Here Apple really demands quite the premium at $800 per TB of storage, and similarly I'm disappointed to see 64GB and not 128GB being the base model, even though the new generation is respectively $150 and $200 more expensive at launch. The new iPad Pro's are available for pre-order now, with units available on November 7th.