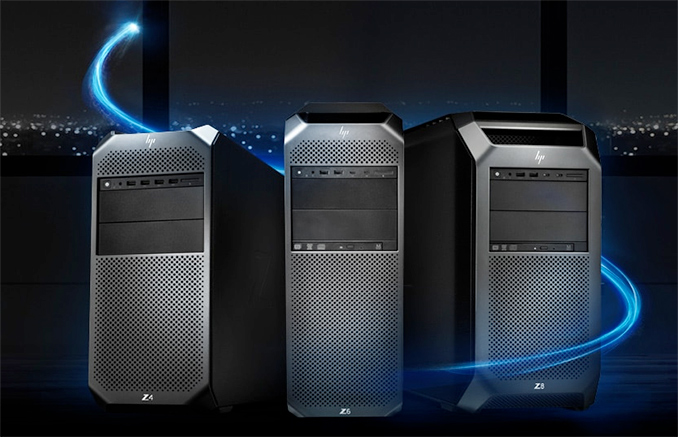 Being one of the world's largest workstation supplier, HP is among the first to adopt new CPUs, GPUs, and other technologies that can speed up professional workloads. This week the company introduced its updated Z6 G4 and Z8 G4 machines with Intel's second generation Xeon Scalable processors and Intel's Optane DC Persistent Memory.
The new HP Z6 and HP Z8 machines belong to HP's fourth-generation Z6/Z8 workstations and therefore generally resemble their predecessors introduced about two years ago. The Z6 G4 is HP's compact dual-processor workstation that offers up to 48 cores and up to 384 GB of memory, whereas the Z8 G4 is the company's range-topping dual-processor workstation that provides up to 56 cores along with maximum expandability possible.
The key difference between the new fourth-gen HP Z6/Z8 and the original machines is update to Intel's latest Xeon Scalable Cascade Lake processors with up to 28 physical cores per socket, supporting VNNI instructions beneficial for workloads that use neural networks (think AI, ML, etc.) as well as Intel's Optane DC Persistent Memory Modules enabling to bring large datasets closer to the CPUs (think AI, ML, VFX, etc.). Meanwhile, workstations with Intel's Optane DCPMM will be available sometime sometime later.
Other features and capabilities of the new HP Z6/Z8 machines are similar to their original versions. The most advanced models of the Z8 will carry up to three professional graphics cards (up to NVIDIA's Quadro RTX 6000 advertised, but probably HP will offer options from AMD as well), up to 24 DDR4 memory modules, multiple SSDs (including Optane SSDs, HP's Z Turbo Drive PCIe SSDs, SEDs, etc.), numerous 3.5-inch HDDs, an ODD vast network connectivity options (including GbE, 10 GbE connectors, 802.11ac Wi-Fi), a Thunderbolt 3 controller, advanced security (such as HP's proprietary SureStart as well as TPM 2.0 module, etc.), and so on.
Since the new HP Z6/Z8 G4 workstations will come in the same chassis as their G4 predecessors, expect them to use the same robust cooling system. The latter will be needed as Intel's Xeon Scalable chips go up to 205W TDP each and Intel's Optane DCPMM are up to 18W per module.
HP's new Z6/Z8 G4 machines will be available shortly, whereas workstations with Optane DCPMMs will ship later. The HP Z6 G4 starts at $2,372, whereas the HP Z8 G4 starts at $2,981. Obviously, once fully equipped, these systems will cost considerably more.
Related Reading
Source: HP