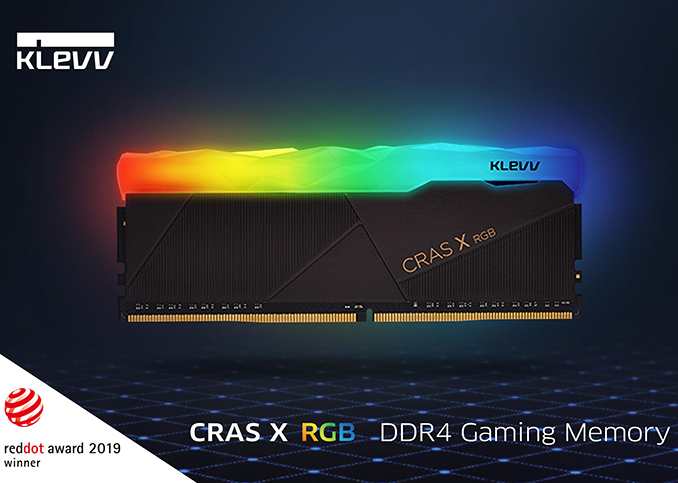 KLEVV, a partner business of SK Hynix, has always been rather conservative when it comes to speed bins of its memory modules for gamers and overclockers, partly because the most popular volume models are still in the DDR4-3000 to DDR4-3600 range. This is going to change sometimes later this year when the company launches its new models of Cras X RGB modules.
First introduced at Computex 2018, KLEVV's Cras X RGB family of memory modules for enthusiasts included 8 GB and 16 GB DIMMs rated for DDR4-3200 CL16 18-18-38 as well as DDR4-3466 CL17 19-19-39 at 1.35V operation. At this year's Computex later this month the company will launch faster versions of its Cras X RGB modules.
The expanded family of Cras X RGB memory sticks will include DDR4-3600, DDR4-4000, and DDR4-4266 models. The DDR4-3600 speed bin will be compatible both with AMD Ryzen as well as Intel Core platforms, whereas the DDR4-4000 and DDR4-4200 speed bins will be aimed primarily at Intel-based PCs.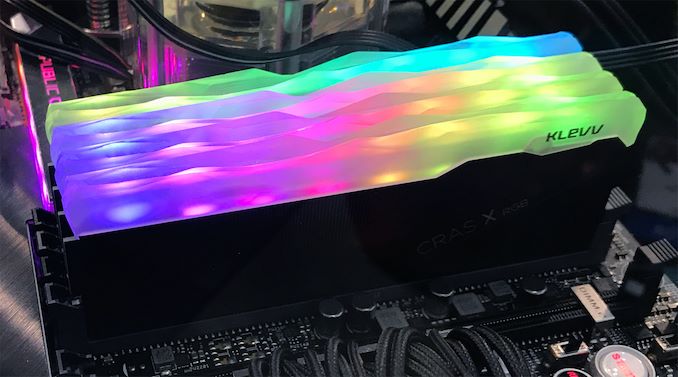 KLEVV does not say which SK Hynix's memory chips the new modules will use, but indicates that they will be equipped with its signature black heatsink and RGB lighting that can be controlled using software from ASUS, ASRock, GIGABYTE, and MSI.
Launching faster DDR4 modules now makes a great sense for Klevv. On the one hand, enthusiasts today want faster memory as they upgrade to six-core or eight-core CPUs. On the other hand, faster modules are sold at higher MSRPs, which is important for DRAM makers as prices of DDR4 memory dropped significantly in the recent quarters and it is crucial for manufacturers to maintain their ASPs and profitability.
Related Reading:
Source: KLEVV