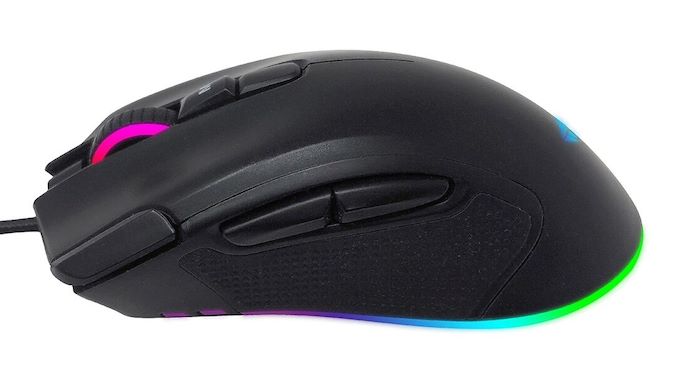 Viper Gaming, the gaming peripheral arm of memory giant Patriot, has released two new gaming mice based on Pixart Optical sensors, the V550 and V551. The V550 features an ambidextrous design, while the V551 makes use of a more ergonomic right-handed design.
Based on the same core design with some small changes to differentiate the mice, both the V550 and V551 are at their hearts RGB gaming mice. Both are based on PixArt optical sensors, and both come equipped with Omron switches rated at 10 million clicks. The wired mice also incorporate a 1.8 m braided USB Type-A cable, and come with the option to use as a standard mouse, or with full customization via the supporting Viper Gaming software. Meanwhile the RGB functionality is provided via a four zone LED lighting system.
Differentiating the two mice is their shape, and some internal differences. Starting with the Viper Gaming V550, this mouse is built with an ergonomic, yet ambidextrous design. Internally the mouse features a PixArt 3325 optical sensor, configured out-of-the-box for 5000 DPI sensitivity, while users opting to use the supplied Viper software can ratchet that up to 10,000 DPI. Meanwhile, located around the V550 is a total of nine buttons, with eight of them allowing for software customization.
The second of the new mice is the Viper Gaming V551. This mouse drops the ambidextrous design in favor of a more ergonomic right-handed design. Viper has also installed a slightly better sensor here, opting for a PixArt 3327 optical sensor, which does 6200 DPI out of the box and can be adjusted up to 12,000 DPI via software. The V551 also drops a button, going with eight buttons in total and seven of them allowing for customization.
Both the Viper Gaming V550 and V551 are due to hit retailers in May with an expected price of $49.99 for both models.
Related Reading