Upgraded AMD High-End Platform
Our upgraded AMD configuration adds additional performance in many areas over the baseline AMD system. However, the performance improvement gained relative to the price increase is definitely a case of diminishing returns. This is especially true in light of the fact that a similarly priced Intel Core 2 Duo system is going to offer better overall performance, so unless you absolutely refuse to buy Intel it is difficult for us to recommend this particular configuration. We end up targeting the middle of the high-end price range with our upgraded AMD platform: faster in several areas than the baseline Intel configuration we will get to in a moment, but definitely not as fast as the upgraded Intel platform.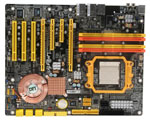 For the motherboard, we have gone ahead and upgraded to an nForce 590 SLI chipset. The base performance offered may not be much better, but the overall better quality of the board is indisputable. DFI's recently launched DFI LANParty UT SLI-M2R/G motherboard includes all of the enthusiast options you could want, along with rock solid performance and superb overclocking. There are competing motherboards for the AM2 platform that come very close to the DFI in overall performance and features, but once we add in price the DFI is currently the best high-end AM2 motherboard available. It features solid electrolyte capacitors that seem to improve overclocking stability, and we have been able to reach higher memory clock speeds with this motherboard than any other motherboard currently available - for any platform. Maximum memory performance isn't necessarily the be-all end-all, but DFI has created a product that should definitely appeal to the AMD enthusiasts.
About the only other alternative for motherboards on AM2 platforms that we haven't mentioned would be something that provides CrossFire support. There are only three RD580 AM2 motherboards currently available, one of which definitely isn't worth considering. The remaining two boards are provided by MSI and ASUS, with the MSI board costing slightly less. If you want to build an AMD CrossFire system rather than going with SLI, either motherboard will do the job admirably.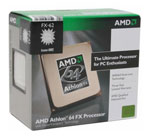 Our CPU selection uses the fastest currently shipping AMD processor, the FX-62. This comes with a clock speed of 2.8 GHz and it includes 2x1024K of cache rather than the 2x512K used on most of the other shipping Athlon X2 processors. It's also nice to see that the price has come down from $1000+ to "only" $700; unfortunately that's more money than any Intel chip other than the X6800, with performance roughly equivalent (and slightly lower on average) to the much cheaper E6600. Not to beat a dead horse, but there are definitely better options than an ultra high-end AM2 system these days.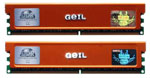 We upgraded the memory slightly from our baseline recommendation to some DDR2-1000 memory. All of the DDR2-1000 memory that we have tested performs very similarly, and all of it is also able to run at 3-3-3 timings at DDR2-800 with added voltage (typically 2.1V-2.2V). The absolute best DDR2 memory currently available costs quite a bit more than the GeIL Ultra memory we have chosen, so unless you really want speeds over DDR2-1100 this memory probably represents the best compromise between price and maximum clock speeds.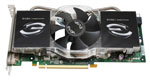 Our GPU recommendation has been upgraded to the 7900 GTX, which adds quite a bit to the cost without gaining much performance at all if you're willing to try overclocking the GTO cards we mentioned earlier. We could always talk about upgrading to quad SLI, but honestly overall performance, compatibility, and stability is much better with SLI. If you want to purchase a 30" LCD so you can run games at 2560x1600, perhaps quad SLI is worth consideration, but don't be surprised if you run into many compatibility/stability issues if you choose to go that route. We definitely do not recommend quad SLI, and we feel you would be much better off waiting for the next-generation GPUs to become available rather than investing in expensive, flaky, bleeding-edge hardware configurations.
The only other change we've made is to the storage subsystem, where we've doubled the number of hard drives and DVD drives. You certainly don't need to have two hard drives for a top-end computer, but it does give you the ability to run RAID 0 or RAID 1. Even without RAID, performance can be somewhat snappier in Windows by having your swap file and some of your applications on the second hard drive, and of course you do get more storage with two drives instead of one. The dual DVD burners are an extra feature that a lot of people probably will never utilize, but if you do a lot of DVD burning it could prove useful. You could also try purchasing drives from two different manufacturers in order to maximize your media compatibility. While some might be interested in seeing a Blu-Ray or HD-DVD included instead of a standard DVD-RW, the technology is too new for us to recommend right now - that whole bleeding-edge problem again.