Performance
As you'd expect there is some measurable overhead compared to the SSDNow V+100 thanks to the USB 3.0 translation layer. Sequential read/write performance is a bit faster than the OCZ Enyo, although small file random writes are slower.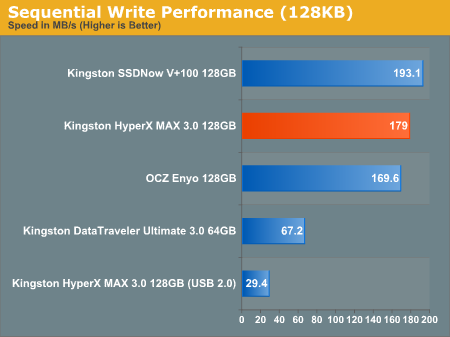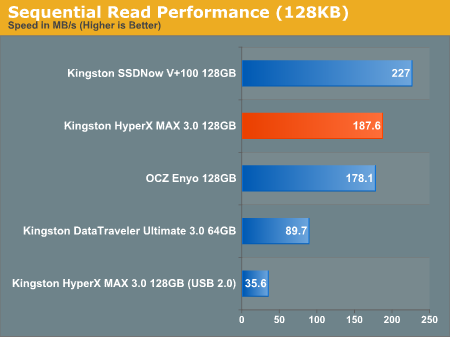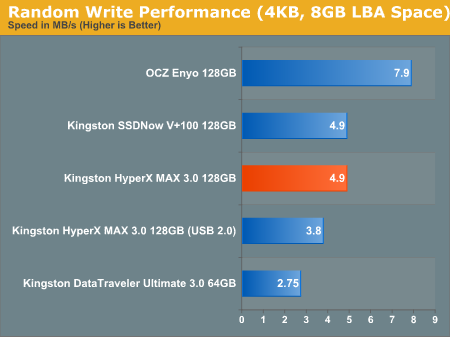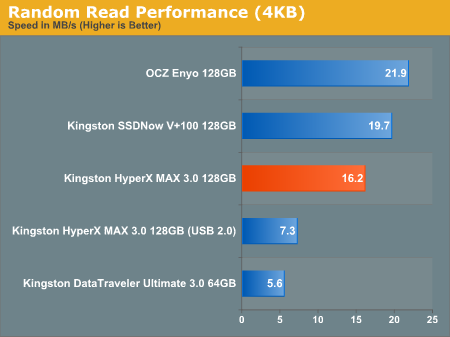 Final Words
For an external drive I'd say the focus should be primarily on sequential write performance as well as performance resiliency, both of which put the HyperX MAX 3.0 at an advantage. I'm really curious about the long term performance of the new T6UG1XBG controller/firmware and as a result I've started deploying drives based on it in my work systems.
Kingston HyperX MAX 3.0 Lineup
64GB
128GB
256GB
Kingston HyperX MAX 3.0
SHX100U3/64G
SHX100U3/128GB
SHX100U3/256GB
Kingston isn't announcing pricing yet, however you can expect it to be offered at some premium over the SSDNow V+100. A 128GB V+100 currently etails for around $280, so I'd expect a 128GB HyperX MAX 3.0 to go for above $300. That would put it in the same pricerange as the OCZ Enyo, but as I mentioned above, perhaps better suited to most external drive usage models thanks to its greater performance resiliency.