The Price: Around $100, The Motherboard: MSI's E350IA-E45
AMD expects most E-350 motherboards to sell for around $100 in etail. For lightly featured boards, I've heard this estimate is about right. It's once you start adding WiFi, passive cooling and other enhancements that costs creep up to around $130. Even at $130 that's not a bad deal. We're talking about better pricing than most ION boards but with much better performance.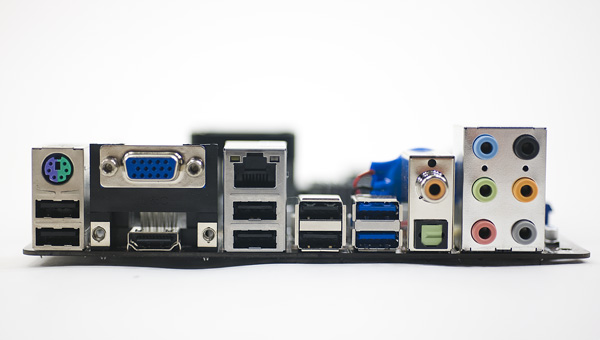 AMD sent over the first Brazos motherboard ready for prime time, MSI's E350IA-E45. The mini-ITX board features two DDR3 DIMM slots (a Brazos feature, there's still only one 64-bit memory channel off of the APU), four 6Gbps SATA ports and a PCIe x16 slot (electrically x4). On the I/O panel MSI provides both VGA and HDMI out for video. For audio you have the options of running audio over HDMI, coax, optical or 1/8" stereo outputs. There are a surprising number of USB ports on the back of the board: 6 x USB 2.0 and 2 x USB 3.0 driven off of the very familiar NEC D7202 USB 3.0 controller. There are two USB 2.0 headers for front panel or case USB as well. There's unfortunately no WiFi support on board, all you get is a single Realtek RTL8111D 10/100/1000 ethernet port.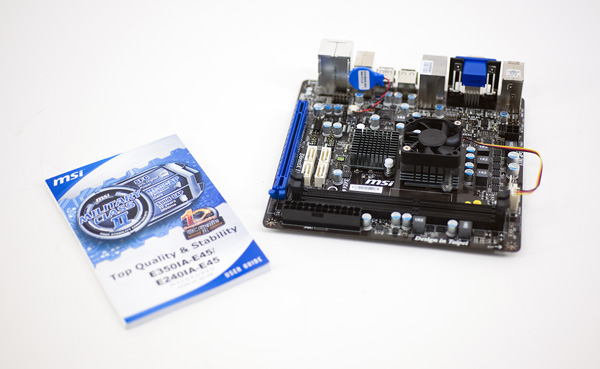 mini-ITX motherboard (right) and mini-ITX manual (left)
The MSI board doesn't support overclocking, so all results are at the CPU's stock 1.6GHz frequency.
Power is supplied by a standard 24-pin ATX PSU connector (older Atom/ION boards sometimes only used a 20-pin connector) as well as a 4-pin ATX12V connector. The Hudson FCH is passively cooled while the APU features a small, and unfortunately audible fan. ASUS is working on a passively cooled E-350 motherboard which I should have within the next week.