Application and Futuremark Performance
Sandy Bridge brought big gains in quad-core performance, but dual-core CPUs weren't completely left out in the cold. They sport higher clocks than they did in the Arrandale days, and they turbo higher, too. HP also equips the EliteBook 8460p with a 7200RPM mechanical hard disk standard which should help the unit perform reasonably well. We've highlighted the similarly equipped ASUS K53E as a reference point; it uses the same CPU with a 640GB 5400RPM drive and sticks with the Intel HD 3000 graphics, so it should perform about the same as the 8460p outside of graphics benchmarks.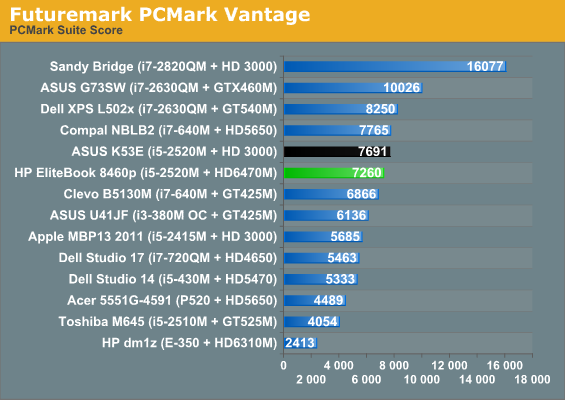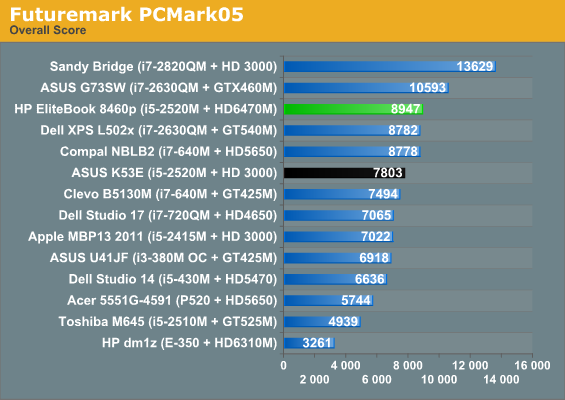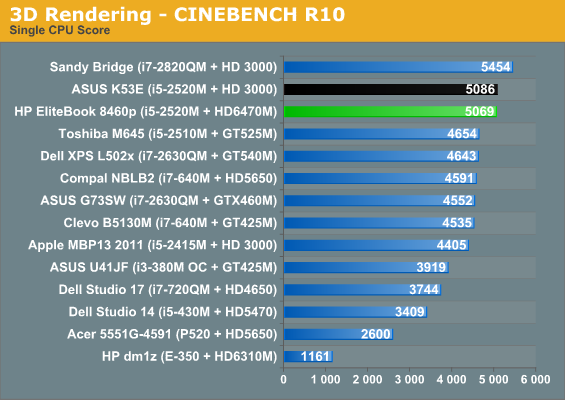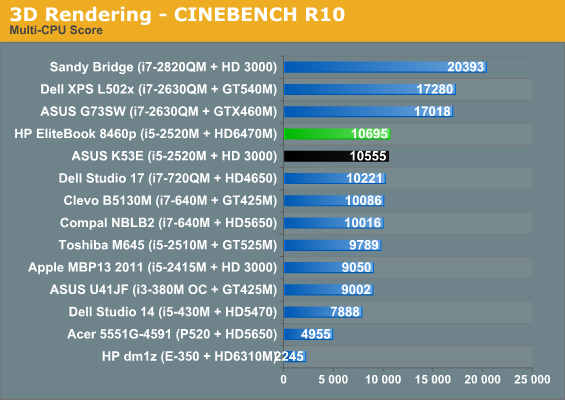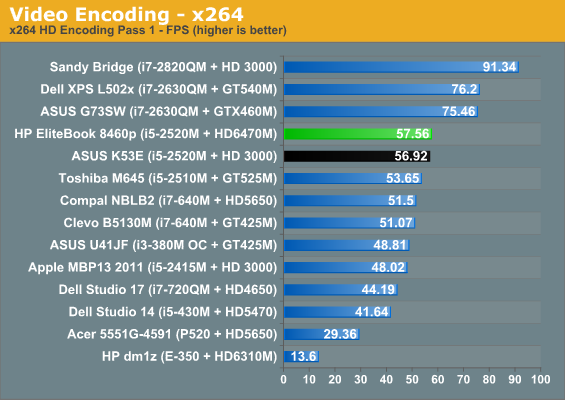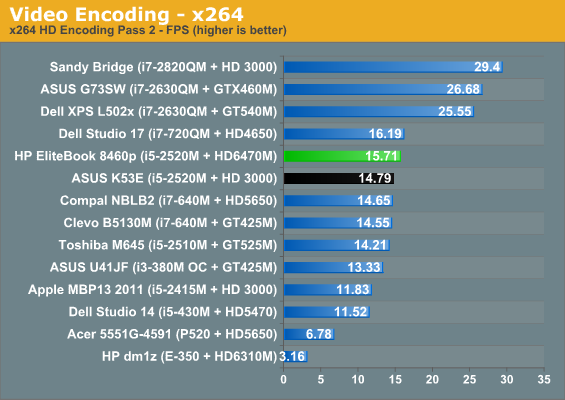 At this point you can comfortably say you can send a dual-core to do a quad-core's job. Those of us who were satisfied with the Clarksfield Core i7-720QM are probably going to feel at least a little silly looking at the i5-2520M taking out the trash with two less cores and ten less watts. Of course, Sandy Bridge-based mobile quad-cores are still absolute monsters. Interestingly, the K53E actually comes out ahead in PCMark Vantage, which usually skews more towards HDD/SSD performance. Either the 7200RPM drive HP uses underperforms, or the large 640GB HDD in the K53E benefits from higher areal densities on the 320GB platters.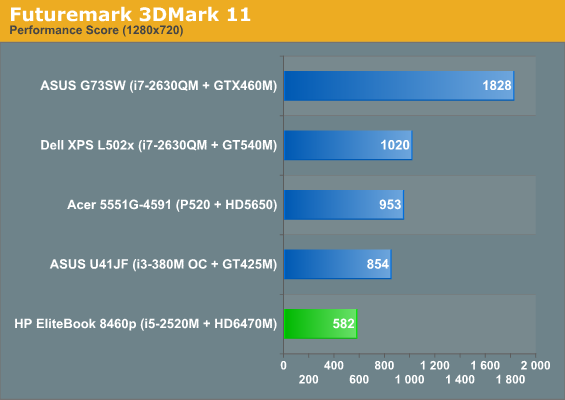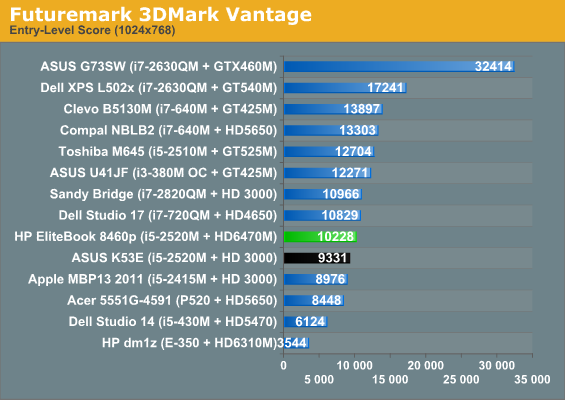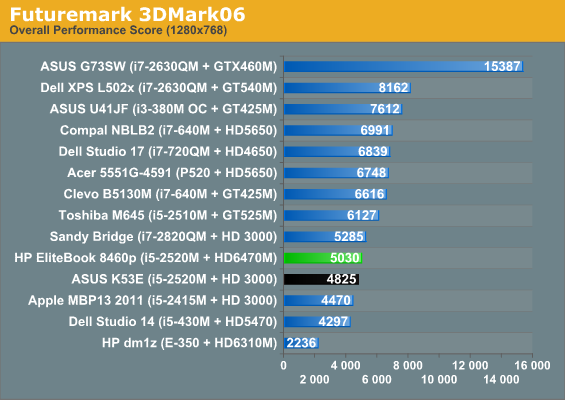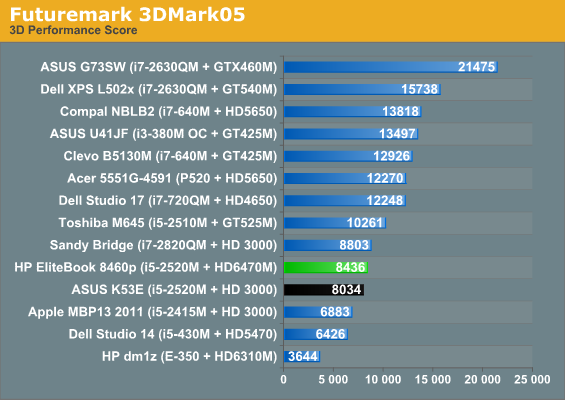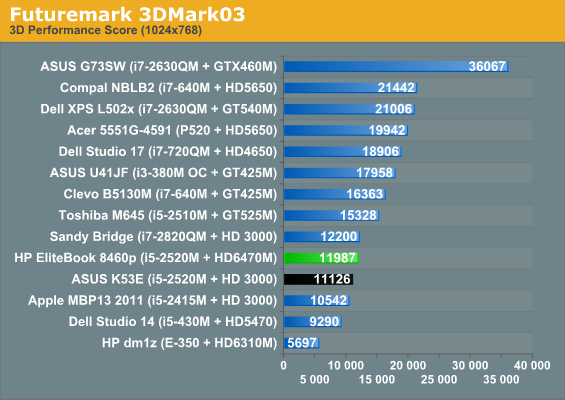 Unfortunately, doubling the shader count on the Mobility Radeon HD 5470 didn't do that much good in 3DMark testing, and the 6470M winds up a scant 5-10% faster on average. We'll see a larger increase in gaming performance, thankfully, and the drivers are still better, but even 20-30% faster isn't particularly impressive--it's just enough to get it mostly ahead of Sandy Bridge's integrated graphics. The 8460p's built-in support for EyeFinity as a result of including the 6470M is a nice benefit, but I have to wonder if end users wouldn't have been happier with a slightly faster NVIDIA part with Optimus.