Noise Levels
Hold Up Time
Load
time (ms)
+3.3V
24.52
+5V
21.84
+12V (best)
22.14
+12V (worst)
22.08
+5V (Standby)
73.00
-12V
36.00
In the FSP HQ we were able to measure the Hold Up Time at full load. With minimum 21-22ms all rails reach more than the required ATX values (>17ms). +3.3V is able to deliver stable power during a 24.52 ms long power failure.
Efficiency and PFC
115VAC, 60Hz
Load
Efficiency
PFC
10%
87%
0.953
20%
90%
0.976
50%
91%
0.996
80%
89%
0.998
100%
87%
0.998
110%
86%
0.999
230VAC, 50Hz
Load
Efficiency
PFC
10%
85%
0.904
20%
90%
0.950
50%
92%
0.985
80%
90%
0.991
100%
89%
0.993
110%
89%
0.994
Here we can see more uncommon results. At 10% load the PSU reached a high efficiency with 115V input voltage while the 230VAC measurements are worse. Lower current is usually easier to handle. With more than 0.904 the power factor is very high in all power grids. In addition up to 92% efficiency is a good result -- even for an 80Plus Gold power supply.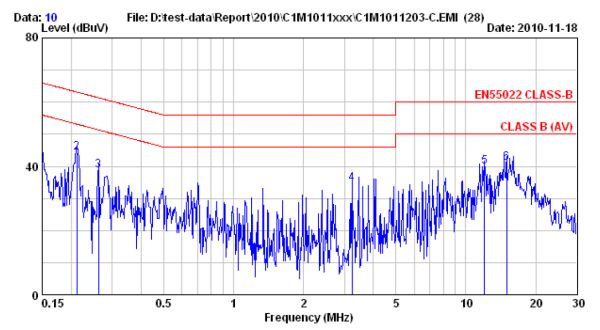 Neutral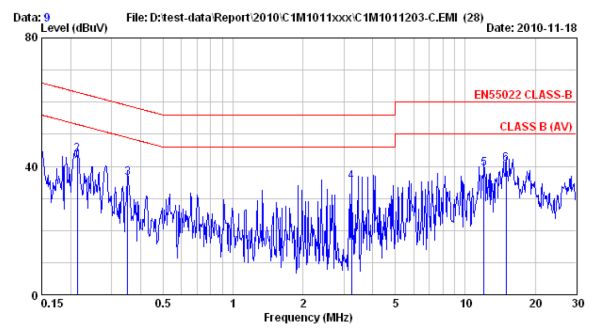 Line
Finally we added some EMC charts from the Audix Technology Corporation. These graphs show the EMI emission in dBμV over the phase and neutral conductor. Note that the X-axis is divided in different frequencies and not time like an oscillogram. As you can see the interference level is low and within the EN55022 EU standard. AV stands btw. for the arithmetic average of an envelope while the upper red line shows the QP limit. The QuasiPeak value is an "impression" of the overall emission (quantity and quality of the amplitudes).
This is an interesting aspect since most editors can't measure such things. Not entirely coincidental I know some results from other PSUs. The Sirtec 80Plus Gold design e.g. failed in these EMC tests many times and most cheaper PSUs have one or more frequency where they got problems with these limits. EMIs are a difficult problem. A single component can change everything here.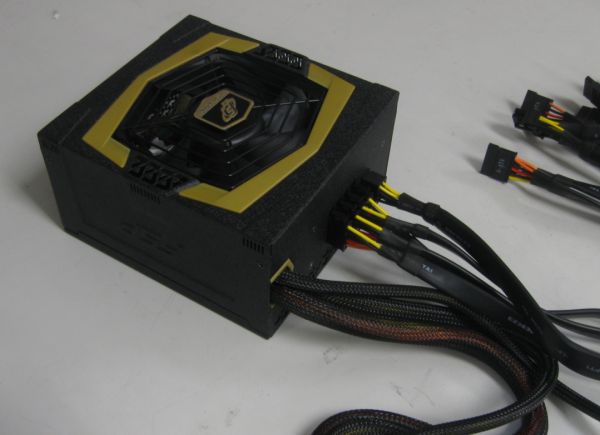 All Aurum CM models (550, 650, 750W) use flat peripheral cables while the fixed ones have a common cable sleeving. FSP offers 5 years warranty and a special case design with arrowy ventilation holes, which took a long time for planning. FSP uses a 120mm fan with a fluid dynamic bearing. These kinds of fans live long but they also have one disadvantage. During the start there is not much pressure which induces mixed friction.