Budget DTR: The Toshiba Satellite L775D-S7206
Since Llano's introduction, the value of AMD's new APU has been the subject of some debate, even between editors here at AnandTech. With notebooks sporting the new A-series processors trickling out from vendors (and Toshiba waving the banner) it's been fairly difficult getting a good feel for what the chip brings to the table for the end user, but thankfully that's changing. Today we have on hand the Toshiba Satellite L775D-S7206, a budget 17" model that also gives us our first look at the AMD A6-3400M.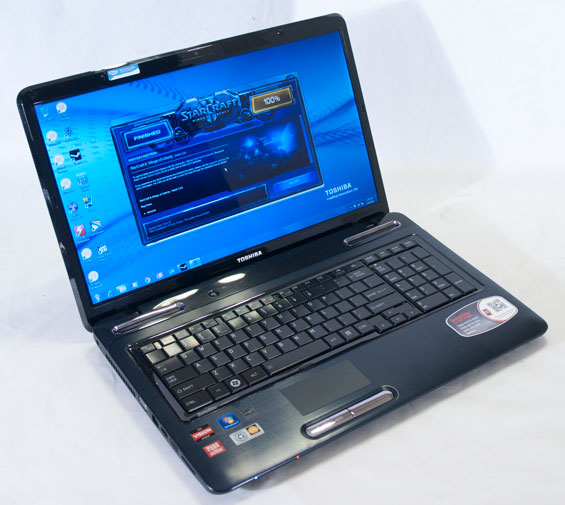 We had a chance to meet with Toshiba reps and preview their refreshed mobile line a couple of months back, and now I'm happy to say we have one of the new notebooks on hand for testing: the catchily named Satellite L775D-S7206. More than that, it's also an opportunity to further explore AMD's Llano APU and what it means for consumers at every point on the continuum as well as determine whether or not AMD's new offering can be price competitive with notebooks featuring Sandy Bridge processors and low end discrete NVIDIA graphics. Our review unit is equipped as follows:
Toshiba Satellite L775D-S7206 Specifications
Processor
AMD A6-3400M
(4x1.4GHz, 32nm, 4MB L2, Turbo to 2.3GHz, 35W)
Chipset
AMD A60M
Memory
1x2GB Samsung DDR3-1333 and 1x4GB Samsung D(Max 2x8GB)
Graphics
AMD Radeon HD 6520G
(320 Stream Processors, 400MHz core clock)
Display
17.3" LED Glossy 16:9 1600x900
(Samsung 173KT01-T01 Panel)
Hard Drive(s)
Hitachi Travelstar 5K750 640GB 5400-RPM HDD
Optical Drive
HL-DT-ST BD-ROM/DVD+-RW Combo Drive
Networking
Realtek PCIe FE 10/100 Ethernet
Atheros AR9002WB-1NG 802.11b/g/n
Bluetooth v3.0
Audio
Realtek ALC269 HD Audio
Stereo speakers
Mic and headphone jacks
Battery
6-Cell, 11.1V, 48Wh battery
Front Side
Speakers
Left Side
AC adaptor
Exhaust vent
DisplayPort
VGA
Ethernet
USB 2.0 (Chargeable)
HDMI
MMC/SD/MS Reader
Right Side
Headphone and mic jacks
2x USB 2.0
Optical drive
Kensington lock
Back Side
-
Operating System
Windows 7 Home Premium 64-bit SP1
Dimensions
16.3" x 10.6" x 1.1"-1.49" (WxDxH)
Weight
6.2 lbs
Extras
Webcam
Flash reader (MMC, SD/Mini SD, MS/Duo/Pro/Pro Duo)
USB charging
Blu-ray
Warranty
1-year limited warranty
Pricing
MSRP $699
Let's start at the top: the AMD A6-3400M APU is the second-fastest 35W mobile Llano chip available, behind the A8-3500M we've already reviewed with our introduction to Llano. AMD's Fusion initiative started grassroots with Zacate and the E-350 and its kin, sporting a single chip dubbed an APU to handle the CPU and graphics and then a single chip for the chipset, which AMD dubs an FCH or "Fusion Controller Hub." This is a major consolidation compared to what we're used to seeing from AMD in the mobile market: we've gone from a processor, northbridge, and southbridge down to just a single 35W-45W part and a low-wattage "northbridge" serving roughly the same functions as Intel's mobile 6 series chips.
Unfortunately, sacrifices were made. The A6-3400M sports four slightly-modified Stars cores with L2 cache per core bumped from 512KB to 1MB and no L3 cache, effectively putting the CPU half on par with an Athlon II. These cores are clocked at a low 1.4GHz, and while AMD has instituted a turbo feature to speed them up to as high as 2.3GHz depending on the workload applied to the chip, none of our monitoring software is yet able to actually track the processor speeds as they turbo up. We don't need to tell you the CPU half of Llano is nowhere near as powerful as Intel's Sandy Bridge, and if you've been following coverage of Llano this is going to be old news to you.
Yet I suspect AMD knew they were going to take it on the chin where the CPU half of Llano was concerned, and they dish it out royally in the GPU side. Llano sports a modified Redwood core (Radeon HD 5670) with 400 stream processors in the VLIW5 configuration, 20 texture units, and 8 ROPs. In the A8 chip, this entire GPU core is present, while the A6 is slightly crippled, sacrificing 80 stream processors and 4 texture units, putting its specs roughly on par with the Radeon HD 4650/4670 (but with DX11). GPU clocks also take a hit from the spec of 444MHz, but it's a mild one, dropping down to 400MHz.
Essentially AMD hedged their bets, trading off processor power for GPU power, and this is one of the places where our opinions of Llano start to diverge. While it's true Llano's CPU half is hopelessly outclassed in every respect by Intel's processors, and I do honestly think two faster AMD cores would've been a better call than four slow cores, the vastly more capable GPU opens new avenues for mobile users, and the processor half is going to be fast enough for general use and light gaming. Essentially what Llano does is enable laptops that can game south of $600. Llano may not make much sense on the desktop (where I still feel the CPU and motherboard are priced out of competition), but in laptops it basically serves an entirely different market from Intel. It's not direct competition, but it's a foothold.
Moving on from Llano, it's a shame Toshiba has essentially crippled the L775D from every other angle but RAM, which is a generous 6GB. There are two available mobile chipsets for the APU: the A60M and A70M, with the key differentiator being that the A70M supports USB 3.0 while the A60M does not. The L775D uses the A60M and thus is missing USB 3.0, and worse, Toshiba has even forgone gigabit ethernet in favor of ancient school 10/100 ethernet. The inclusion of Blu-ray is some consolation but not really enough, though if you need a Blu-ray-capable notebook for under $700 these sacrifices might make some sense to you. Finally, I'm happy to report Toshiba eschewed one of their own dog slow hard drives for a slightly better (though still 5400RPM) Hitachi drive.
Here's where things get difficult. All of the above would make for a fairly decent entry level laptop capable of moderate gaming, but the $699 MSRP would push into competition with better equipped offerings. Luckily, you can already find the similar L775D-S7226 for $599, which is very reasonable for a Blu-ray equipped notebook. As long as that sort of pricing holds, the L775D has plenty to offer.