LG L9
Ken was very excited to show us the G6 Series, a Smart TV line that combines their own UI and apps with Google TV 2.0. He excitedly cornered the product team members that were demonstrating the interface and stood by as I was walked through the features of the new set. When I was done he pulled me close and said excitedly, "That's our chip inside, that's the L9."
Late last April, chip designer ARM put out a press release announcing that LG had licensed some of their IP for use in SoCs. If you check the ARM news site, you'll see several such releases over the years with lots of different partners. The LG move seemed strategically sound; skipping the middleman and having the SoC specifications you want built by a fabricator could yield cost savings and tighter control. Nothing more was heard about the initiative until CES, when LG revealed it would be powering many members of their Smart TV line.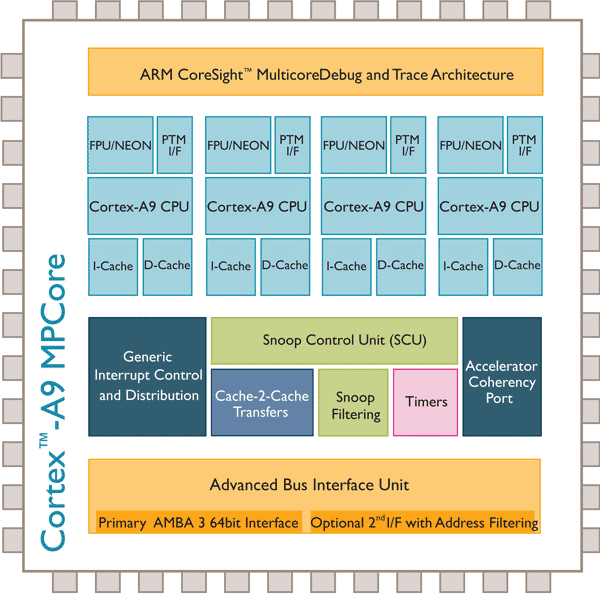 Looking back at that press release could reveal some clues as to what's included in the LG L9. It describes the licensing agreement as comprehensive and while it specifies access to the Cortex-A9, Cortex-A15 and Mali-T604 designs, it does not do so in a way that would not presuppose access to other designs. Indeed, the release describes the license as covering the Mali family of GPUs. LG expects devices with the L9 to ship during the first half of 2012. Having been described as a dual-core design with a quad-core GPU would make the L9 most likely an ARM Cortex-A9 with a Mali-400 GPU. Such a combination is rather familiar, but also rather competitive, particular with regards to the GPU. From our prior coverage of SoC's found in media streamers we know that these are generally more lightweight and focused on decoding and displaying video data. Traditionally streaming devices and smart TVs relied on lightweight UIs and functionality limited to just a handful of functions beyond media playback. Even the Roku 2, with its smooth UI and gaming abilities uses a relatively meager SoC compared to the LG L9.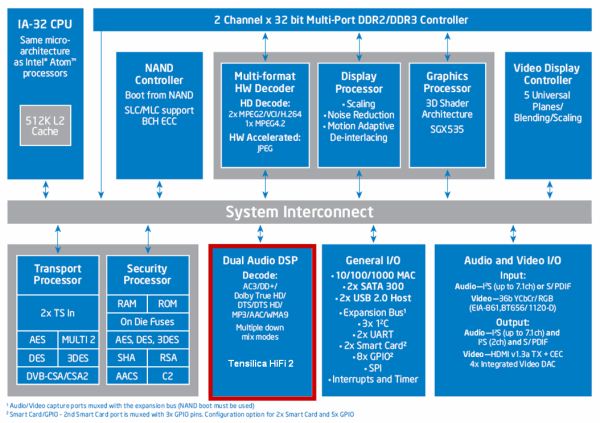 At the time that the original Google TV hardware was released, the use of Intel's CE4100 seemed a strange platform choice. Intel is fond of selling their products at high margins, a tendency that the consumer and enterprise PC markets support. Generally, SoC markets are CE markets, and only at the high-end do they tolerate high margins. The CE4100's power profile also made it an unexpected choices. ARM based decoder ICs meant for the Blu-ray market have even started migrating to powerful Cortex-A9 class processors, so it was just a matter of time before Google TV moved on to an ARM based platform such as the ARMADA 1500 and the Mediatek Blu-ray SoCs, and now, the LG L9. Granted that, when the Logitech Revue hit the market, the notion of playing back HD video from a smartphone seemed a futuristic concept. But since then, powerful low power GPUs have provided the differentiation within the mobile space. Many of today's mobile platforms provide excellent media playback, while also powering complicated UI elements at high resolutions. So it makes sense that the devices that power our TVs should be at least as powerful as our phones.
LG Smart TV with Google TV
LG has set its sales goals impressively high for their Smart TV platform. By their estimates, 60% of their TV sales should be Smart TVs. Achieving this goal will mean targeting a mainstream price point, though we're not likely to see Smart TV sets below the 40" class. Most Smart TV UI's are based around Java and HTML5, and developers have typically been required to work within a particular manufacturers SDK in order to get an app released on their platform. Recently, LG joined Philips and Sharp in an initiative to develop a joint SDK based on HTML5, CE-HTML and HbbTV. Ideally, after a successful joint SDK is released, app availability across the three platforms would reach parity with a unified storefront. This sort of partnership was always going to be a necessity before developers would seriously consider smart TV's a platform to focus on. Other manufacturers remain resolute in keeping their platforms and SDK closed off. Companies don't like sharing the spotlight, so collaborating on something that they could otherwise brand and promote all to themselves is anathema to some. Everyone wants to be the next Kleenex.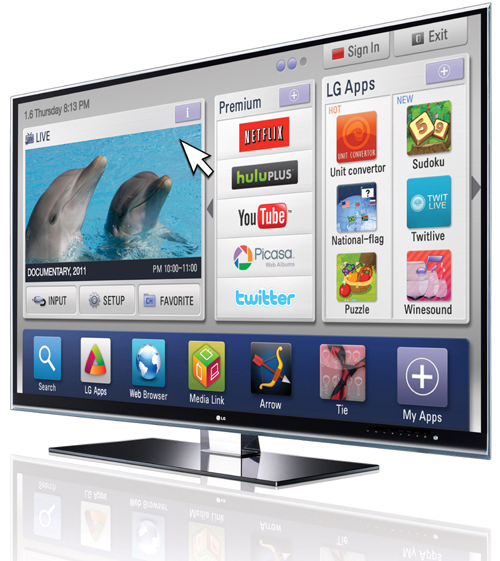 LG's Smart TV offering is attractive, and straightforward. The home screen features three columns, with the left most featuring a panel displaying the currently playing content. Spread across the rest of the home screen icons for installed apps and services. The center column is reserved for premium apps such as Netflix and Hulu+. The right column will include other installed apps, including games. Across the bottom is a dock with several core apps with room for user selected apps. Controlling the UI is done through something similar to an air mouse solution. It's referred to as motion controls, but it retains the point and click paradigm familiar to all; the intuitiveness of the solution depends on the accuracy with which the remote's position reflects the cursor's position.
When I first heard that LG would not simply be producing a Google TV but instead be marrying their own Smart TV solution with Google TV, I was trepidatious. Google TV's first iteration involved their own UI layered atop the output of your set-top box, and often the result was having two UIs colliding onscreen, obstructing their own utility and the content being viewed. Worse than this, I worried that the LG Smart TV UI and Google TV would be walled off from each other. That if a user wanted to play an LG optimized version of Angry Birds they would have to exit their Google TV session and effectively reboot into LG's garden. So, when I caught sight of the television itself I was quite surprised.