When Samsung introduced the Galaxy Note at IFA, we were excited, but a bit perplexed. The Galaxy Note's 1280x800 HD Super AMOLED display could be a big winner, but the phone's size seemed too ungainly to make an effective phone. Later PR seemed to confound expectations further by referring to it as a 'phablet' rather than a phone or tablet. After strong European and Asian sales, though, the phone has been released on AT&T in the States, and interest is quite high. So it should be no surprise to see other entrants into this oversized phone space.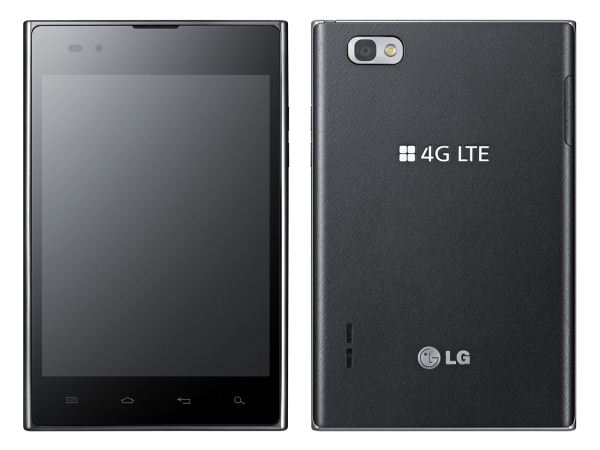 LG's Optimus Vu has been teased and leaked numerous times over the last few weeks, and so its announcement this weekend didn't come as a huge surprise. Unique to the Vu, versus the Note, is a 4:3 aspect ratio, which gives its 5" display a more squat appearance than the elongated 16:10 slates we're used to. The IPS display touts a 1024x768 resolution, so it's pixel density isn't quite as high as the Note's, though if it is an RGB screen its subpixel density should be impressively high and its color reproduction should be a bit more accurate than Samsung's SAMOLED display.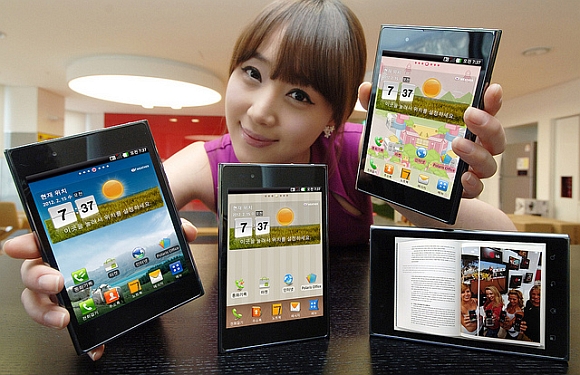 Most recent Optimus devices have put Qualcomm's S3 processors to use, with the MSM8660 finding its place in the Optimus LTE recently, alongside the MDM9600 for LTE connectivity. Though Krait SoC's are just around the corner, we expect based on development times that the Vu will feature a similar MSM8660/MDM9600 combination. We have AT&T's Optimus LTE variant in house and so we know what kind of performance we can expect from the device. From a graphics standpoint, the Mali-400 GPU in the Note's Exynos SoC clearly outpaces the Adreno 220 in Qualcomm's S3. Compute performance should be comparable, but with the GPU being leveraged to a greater degree in Ice Cream Sandwich, the user experience delta might grow when both are updated later this year.
When the 4:3 iPad was chased by 16:10 Honeycomb tablets, part of the discussion focused on the ergonomic differences of a slate that's so wide while in landscape mode. So while viewing widescreen content on a widescreen device might be a bit more satisfying, actually using the wider device can be a bit more of a hassle. LG is obviously hewing to the user data that says that larger devices benefit from the 4:3 form factor, and it'll be interesting to see whether the Note or the Vu feel better in the hand while being used as a tablet.
Physical Comparison
LG Optimus Vu
Samsung Galaxy Note
Dell Streak
Galaxy Nexus LTE
Motorola Droid RAZR MAXX
Height
139.6 mm (5.49")
146.9 mm (5.78")
152.9 mm (6.02")
135.5 mm (5.33")
130.7 mm (5.15")
Width
90.4 mm (3.56")
83 mm (3.27")
79.1 mm (3.11")
67.9 mm (2.67")
68.9 mm (2.71")
Depth
8.5 mm (0.33")
9.7 mm (0.38")
9.98 mm (0.39")
9.47 mm (0.37")
8.99 mm (0.35")
Weight
139 g (4.9 oz)
178 g (6.3 oz)
220 g (7.76 oz)
150 g (5.3 oz)
145 g (5.1 oz)
CPU
1.5 GHz Dual-core Qualcomm Snapdragon
1.2 GHz Exynos 4210 Dual-core Cortex-A9
Qualcomm Scorpion @ 1GHz
1.2 GHz Dual-core OMAP 4460 Cortex-A9
1.2 GHz Dual-core OMAP 4430 Cortex-A9
GPU
Adreno 220
ARM Mali-400
Adreno 200
PowerVR SGX 540
PowerVR SGX 540
RAM
1 GB LPDDR2
1 GB
512MB LPDDR1
1 GB LPDDR2
1 GB LPDDR2
NAND
32GB NAND
16 or 32GB NAND, up to 32GB microSD
16GB micro SD + 2GB integrated
16GB NAND
16GB NAND, 16GB Class 4 microSD preinstalled
Camera
8MP AF with LED Flash + 1.3MP Front Facing Camera
8MP AF with LED Flash + 2MP Front Facing Camera
5MP AF with dual LED Flash + Front Facing Camera
5MP AF with LED Flash + 1.3MP Front Facing Camera
8MP AF with LED Flash + 1.3MP Front Facing Camera
Screen
5.0" 1024 x 768 IPS
5.3" 1280 x 800 HD Super AMOLED
5" 800 x 480
4.65" 1280 x 720 HD Super AMOLED
4.3" 960 x 540 Super AMOLED Advanced
Battery
Integrated 7.7Whr
Removable 9.25Whr
Removable 5.661 Whr
Removable 6.85Whr
Internal 12.4Whr
But these are phones, and as such, we're concerned about the feasability of putting such a large device up to our heads. Anand spent some time with the Dell Streak as his only phone, and found the experiencing satisfying and the size a non-issue. What's notable is that the Streak, though longer than the Note and Vu, was also somewhat narrower. The Note and Vu are within a centimeter of each other in both height and width, but the Vu comes in nearly a half inch wider than the Streak. Portability could be a concern, too. With each device pushing six inches of length and over three inches in width, the ability to slip these devices into a pants pocket could be challenged.
So, this begs the question? Are you interested in a phone this big? Is this meant to somewhat canibalize the small tablet market? Could this be your next phone? Let us know in the comments, we'll have more on the Vu next week, at MWC.
Source: LG