Among a bunch of interesting Krait features is a noteworthy change in connectivity that represents some of the first fruits of the Qualcomm Atheros acquisition. We touched on it in our architecture piece a while back, but that feature is inclusion of the WiFi and Bluetooth 4.0 basebands into Krait alongside the traditional combination of cellular and GPS baseband.
Just like cellular is implemented today, that design still requires external RF, but the result is a WLAN and Bluetooth baseband that get to take advantage of the SoC's 28nm process geometry. Today I caught a glimpse of both 802.11n single spatial stream, and more interestingly 802.11ac single spatial stream running on an MDP MSM8960 utilizing the on-SoC WiFi basebands and the corresponding WCN3680 external RF chip.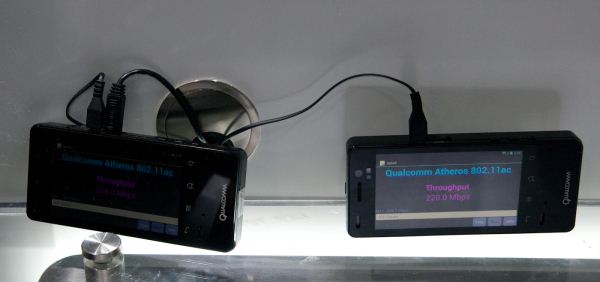 The demo itself was pretty self explanatory - Qualcomm was running an 802.11ac network with two MDP MSM8960s and seeing throughput of around 220-230 Mbps using their single spatial stream WCN3680 external RF. This was live on the crowded MWC show floor with other 5 GHz APs running nearby, and admittedly pretty brave to do considering other 802.11ac demos I saw at CES used wired links. The end result is pretty impressive, and it'll be interesting to see how many of OEMs choose to go this route for WiFi, Bluetooth and FM Rx/Tx (also inside WCN3680) as opposed to some of the more common discrete solutions. In addition Qualcomm had an 802.11n demo showing the same functionality.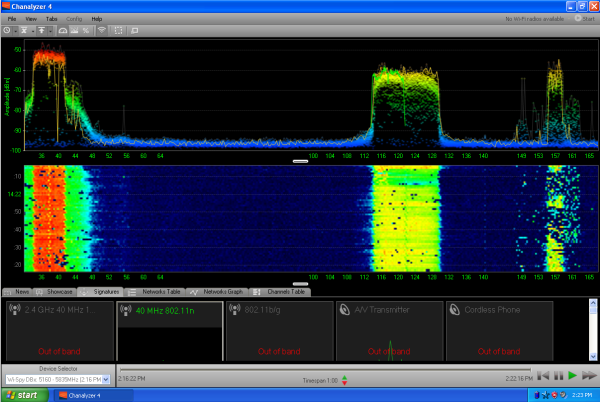 The 802.11ac network is the middle, 80 MHz wide one in the middle, between channels 112 and 132
Just like I did at CES with Buffalo's AP demo, I also had the WiSpy DBx handy and captured another sample of the 80 MHz OFDM waveform, just to take another peak.
Update: Replaced incorrect WCN3860 name with WCN3680 name reflecting June 4, 2012 announcement.
Additional: Qualcomm Atheros